Freshbooks vs Quickbooks vs Xero – An Unbiased Comparison Of The Accounting Software You Want
As we all know that accounting and bookkeeping plays a major role in driving any business growth in a piecemeal manner . Keeping track of all the accounts is indeed a tedious and tiresome task overall . So using accounting software is really need of hour .
In this post, we will look into the impartial comparison between the three most popular accounting software i.e. Freshbooks vs Quickbooks vs Xero .
All these three software are really praiseworthy for all your accounting needs .  As a small business owner or an entrepreneur , dealing with the spreadsheets and mundane calculations regarding the timing and billing details are now simply a thing of past .
You can now send invoices and billing details almost simply done by using this accounting software.
Bookkeeping and keeping track of all the profits/losses can eventually make or break your streamlined business process whatsoever. Moreover, you may also incorporate the business automation feature .
So in this post, we will compare each of the accounting software head to head based on the unique features and other important factors .
What Are These Accounting Software (Freshbooks , Quickbooks , Xero and Zipbooks)  ?
Today , we have four major accounting software present in the market i.e. Freshbooks , Quickbooks , Xero and Zipbooks . So we will look into this one by one .
If you are self-employed or own a team of professionals, now you just have to sit back and take rest without hitting your head against the wall anymore (for the complex accounting calculations) .
With this software you can easily manage all the balance sheets and tax calculations in one place without much headache and worries . If you don't want to use these tools , then you can easily manage your accounts by hiring an in house accountant  (who in turn use complex spreadsheets and excel data) .
By using the accounting software, you can eliminate the inclusion of a middleman and can handle all the things on your own. In the nutshell , you are saving time and money completely .
So without wasting further time , let's start digging in detail for each of this software. We will compare each by considering some basic points for each of these i.e
1. Simplicity and efficiency 
2. Economical in use (Pricing) 
3. Dashboard Functionalities 
4. Support and Tool Review
5. Features List 
So we gonna compare each of the accounting tool i.e Quickbooks , Freshbooks , Xero and Zipbooks based on the above factors in detail . So have a cup of coffee and keep reading .
Freshbooks vs Quickbooks vs Xero – An Honest Comparison Only For You
So now we can start the main topic of this post that is the main differences between the popular accounting software. So now we will start with our first point that is the ease of use . Let's start.
1. Simplicity and User Friendliness 
In this category , we can easily say that the Freashbooks software nails it completely . We indeed appreciate the Freshbook's simplicity and intuitive UI design. There are many tips you get in your help . Further, the setup is also not so tedious and complex.
You can get many walkthroughs in Freshbooks tool , also the usage is pretty straightforward as compared to the Quickbooks and Xero . Both of the software i.e. Quickbooks and Xero need some time to get used to its many useful (yet complex ) features as a whole.
Also you can easily import data in the form of spreadsheets from other accounting tool or normally saved documents easily into your Freshbooks tool . For this, you may take the help of the available spreadsheet templates in place without much difficulty .
Now regarding the Quickbooks tool , it is not much user friendly and you may have to spend some extra time and efforts in order to get accustomed to the features it offers . Overall we can say it is in the midway between simplicity and complexity rating for the ease of use category .
Don't be afraid of the complexity Quickbooks have , you may get the quality features in this (by providing some extra efforts). Also, there are many help videos present which you use right away to clear your doubts (if any) . This is also greatly customizable .
Here also you can get the importing options and also for large data sheets you have to integrate some other tools with it . Also if you are not an accountant then probably you may find this difficult initially . But in the long term, this tool indeed provides some cool accounting features those are missing in another tool no doubt .
Now regarding the Xero tool , you can take help from the setup wizard easily. Further it is worth mentioning that this tool is the most complex in terms of installation and use .
Also, there are many available spreadsheets templates you can use  . You can upload any amount of data for the invoices and customers easily in your Xero tool . Also, there are many unique features provided by this beast apart from the normal ones for all your accounting needs .
Xero is definitely the choice if you want to do full in-depth accounting , but the initial learning curve may dampen your spirit to some extent .
It is truly web-based software , but it has a few lagging issues (sometimes) . Additionally it offers necessary instructions for importing the excel sheets and also for converting from the Quickbooks to Xero platform .
2. Economical In Use – Pricing
This category is the main deciding criteria for any small entrepreneurs and business owners who are much serious about their single penny spent . So let's see how these tools go against each other .
The invoicing of Freshbooks is based on the number of clients you want to bill . So as the clients increase, you have to further upgrade your Freshbooks plan.
Like others, it offers 30 days free trial . The premium plan is for those who have more than 50 billable clients each month . Also extra 10 percent off if you pay annually (and not monthly) .
Check pricing here .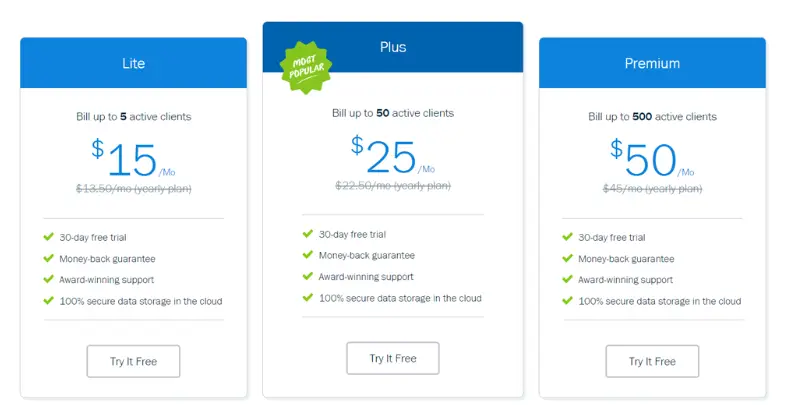 In Quickbooks we have pricing based on the number of users and the feature you want to use . The best part here is that you will get 50 percent off for the initial three months .
These plans differ based on the features you'll need access to and the number of users you want to give access to your account. In general, the smaller your operation and the fewer employees you have, the cheaper the plan you'll want to get.
Check pricing here .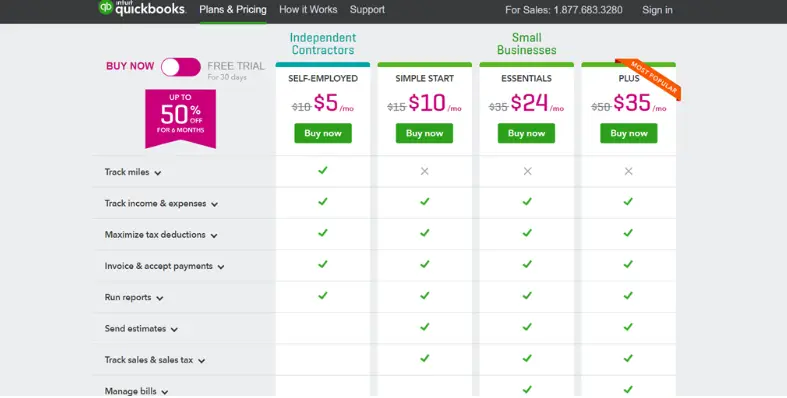 For the self-employed plan , you can start from as low as 10$ a month , ad also you can get many normal accounting features with it . So if you are freelancer then go ahead and try this plan right away .
Now comes the Xero accounting tool , the pricing here based on the number of employees on payroll .
It also provides almost the same feature for all the plans but instead, it enforces the limitation on the number of employees in payroll . Like others , it also offers 30-day free trial for you . So you may decide whether it will suit you or not without giving your credit card details.
Check pricing here .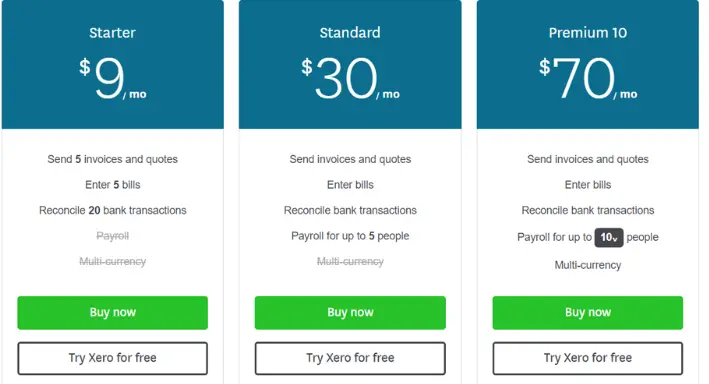 The starter plan is for 9$ per month , with this you can send upto 5 invoices and quotes . The premium plan is for 180$ per month , supports 100 people in payroll, and also supports the multi-currency features .
3. Dashboard Features And User Interface
When we talks about the dashboard UI , we have a look into all the usability checkpoints in each of these . The UI asthetics and intuitive design plays a major role here . So lets start the comparison now .
So first we will explore the Freshbook Software . Its dashboard is pretty simple and feature rich . It has all the required navigation links in the dashboard itself . You can view the important reports here and also clearly the five charts namely outstanding revenue, total profit, revenue streams, spending, and unbilled time .
Moreover you can not expect a detailed view in the dashboard , but anyways you can easily get a sneak-peek into each of the charts in the dashboard here . Freshbooks application is very much customizable , right from the logo , you can even change the font and colour .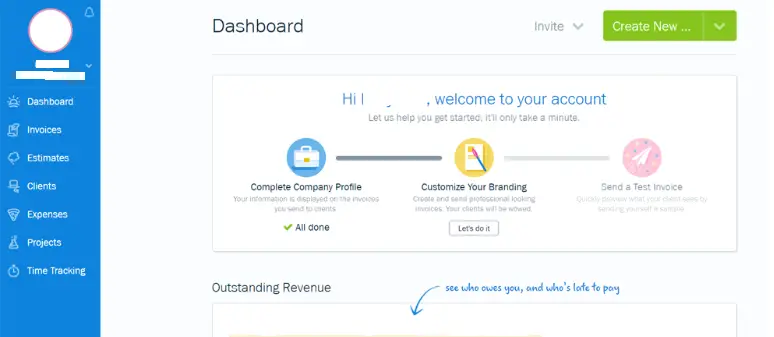 Further there is an option to run the reports like the profit/loss reports , tax summaries, and many more . (if you are premium user then you can get additional reports here ) .
One of the top features I like personally is the autosave feature with which , you don't need to fill the invoices each time for any returning client . The same goes for the report .
Also you can directly link your bank account with the Freshbooks software , such that you and your teammates keep track of all the expenses for you easily in one place. Overall we can quote that Freshbook gives a minimal interface in a way such that it makes the complete complex accounting process easy even for a novice there .
Now we should focus on the Quickbooks application . Before proceeding further , it is worth mentioning that the Quickbooks is not very user friendly. You should know some basics of the accounting  subject .
But as said earlier , Quickbooks offers a hell lot of more unique features as compared t the Freshbooks software .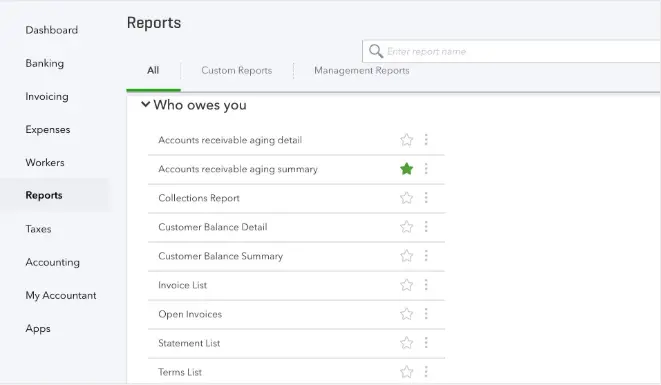 In the dashboard itself, you can track your current stock levels, organize payroll, or create budgets to follow .
This basically turns the Quickbooks application a true accounting tool rather than a mere invoicing and billing application . Also it is not so much customizable as the Freshbooks tool .
In the dashboard itself, you can see the details regarding the tax , profit/loss , expenses and all the required reports you want . There are dozens of different reports in the categories of Sales, Customers, Accounts Due, Payroll, Expenses, and a variety of others.
You can even share the details and also manage the customizable reports . Also you can get option to customize any reports after running them .
A note of caution is , if you are a beginner , then don't panic , relax and go through the video tutorials , and hopefully you can get into this software .
Now let us see the UI of the Xero tool .  The features provided are almost similar to the Quickbooks application . You can track the expenses , profit/loss sheets ,  various client reports etc . You can also view the balances and dues (invoices) in the dashboard itself .
The unique praiseworthy feature that Xero offers is the business performance tracker in the dashboard . You can use it to view the debt ratio, gross profit percentage, current liabilities to net worth ratio, and many more . You can get all the details in the form of detailed charts and reports .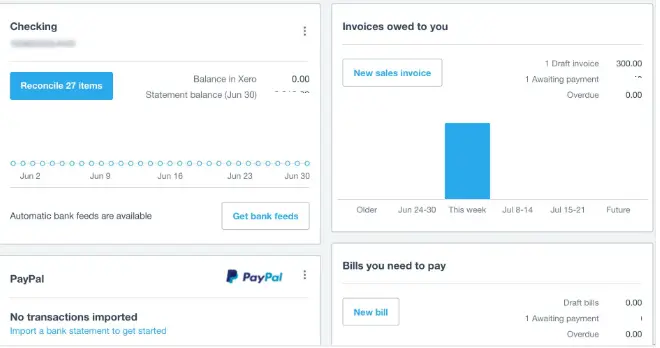 4. Support And popularity (based on user reviews)
Whenever we want to shell out our hard-earned money , it is indeed imperative to check out for the user support and help features . The customer support person should help us in clarifying our doubts .
Further the support associate is expected to know the application feature in-depth , then only he/she can help/guide us in our doubts .  So let's see who is the king in this category .
At first, we have the Freshbooks software , so to test this we personally contacted the customer support representatives . Then we asked our query to them , the technical person initially took some time ,but eventually replied with extreme politeness that they don't have the solution . He then replied by giving us some useful links and video tutorials and told us to go through them .
Overall we had a satisfactory experience from the Freshbooks customer support service . Of course they didn't reply to our query but the manner in which they guided us was so pleasant . Thus it was due to their behaviour , we are giving them the desired appreciation .
Freshbooks is a highly rated application among the users . One major complaint reported is for the crashing issue . It has been noted that the mobile app crashes a lot than the desktop version of the application .Also the Freshbook team do reply to user's complaints on a regular basis .
Now secondly , we have the Quickbooks software . In this also we personally tried the customer support feature .  We tried calling them , but most of the time it was busy . So little disappointment there . Then we mailed them with our issue .
We got a reply few times later . But the reply was great and detailed explanation . It was completely enough to clarify our doubt and issues .
Mostly Quickbooks receives positive reviews and it replies back for the handful of negative reviews . Also, one major issue noted is related to their phone support . Users say that most of the time the waiting time is insane and quite a difficult application to use for a beginner at first .
Now finally comes the Xero applications customer service support . As compared to other two , we must say that the Xero customer support is not that great . It is not the worst either .
We can basically say that Xero's support personnel are not that great technically and behavior is not as polite as the other two . The reply was fast but a little clumsy . It was not that simple and straight forward (as it should be).
Again for this mostly positive reviews and some for the limitations . Some complained about the steep initial learning curve for any beginner to start with . Also the mobile users reported the discontent for the crashing issues and lack of proper customer support .
Features List – The Main Decider !!
So here we will evaluate the three on the basis of the main deciding feature list . Again for our simplicity, we will divide this category into small modules to look deeper into each one of these separately . So our main focus will be on the feature namely :
Payroll
Tax management
Inventory management
Expenses tracking
Payments (includes invoicing)
So let's start with the first point i.e. payroll .
Payroll is indeed an essential feature if you are managing a team of employees in your business . So since you need to pay them salary , which means you have to keep track of the leave request, the tax liabilities, and various other things related to the employee payrolls . So managing the payroll accounting for all the employees will be a huge task for you.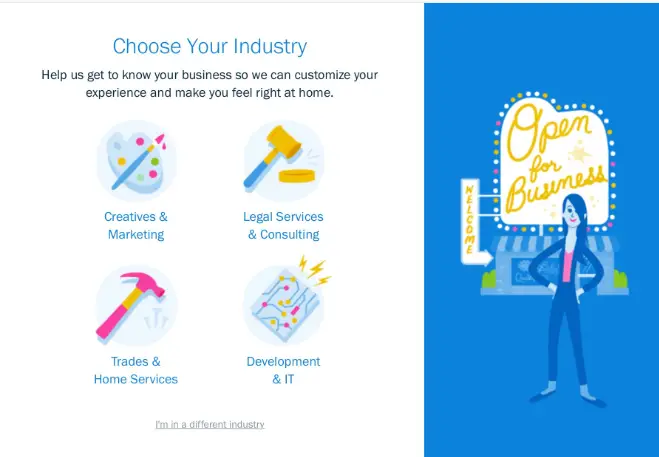 In this case, you may use the accounting software to do so for you . This will be very convenient and efficient also . So Freshbooks doesn't support anything like this sort of .
So a big limitation for the Freshbooks application . Also, Quickbooks offers this functionality with some extra price. Xero do support this feature but it is place specific. There is an option for payroll in terms of electronic transfer and the paper checks as well . This further depends on the place you are using for .
Tax Management : Taxation is a really headache for many . But with these smart accounting software , it will be far more easier . With Freshbooks , you can directly connect to the accountant . But there are no integration services provided for direct filling of any taxes , So again a limitation .
Quickbooks do offer tax management services by directly integrating with the Turbotax  module . You need to set the sales tax and custom tax rates and it will directly calculate the tax rates based upon the jurisdiction and required tax rates . You may further access the various tax reports in Quickbooks .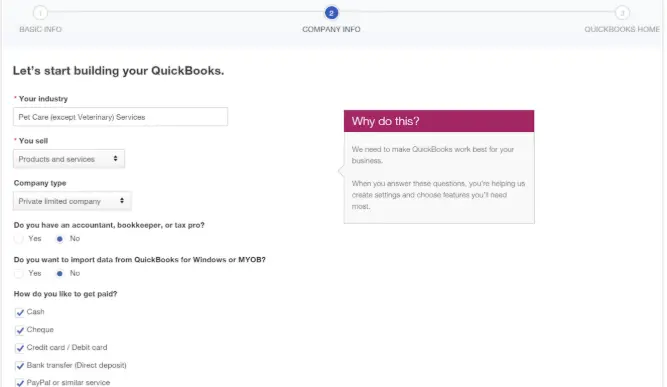 Xero also integrates directly with the Avalara . It will update the tax rates and give tax values based upon the jurisdiction and you can get a sales tax summary and audit report with just a few clicks . You can also access the tax reports almost instantly .
Inventory management : This is also a useful feature if you are managing any kind of inventory in your business .  So if you are handling a large amount of inventory then you may use your accounting software to use the functionality of the inventory tracking efficiently .
Freshbooks doesn't support any such feature for inventory management , but it does offer the integration service , using which you can integrate your Freshbooks tool with some other inventory tracking tool .
With a QuickBooks Online Plus subscription, you can create custom categories and subcategories, track quantities on hand. You can easily import the inventory spreadsheets and use it to generate the inventory reports .
Finally again Xero is the winner . It has a well defined inventory tracking and management module . All your inventory details are available while preparing the invoices and details can be easily integrated .
You may even import the inventory details from some other inventory tracking tool here. You can even mark tax rates and keep them as unsold inventory if you are not selling them .
Expenses Tracking : While running a business , expenses are the major concern and it has to be managed carefully . Your accounting tool must allow you to pay directly the expense from the software itself after integrating it with the bank account.
Freshbooks allow very simple interface for the same . You have to first choose the vendor in new expense , then give cost , expense, and done. Then you have to save it and you can even track it to see where the money is going .
Quickbooks is also offering a similar feature . You need to give the payee name , amount, and finally save it . Then yselect the bank account to pay the required amount . You can further print checks from with in the tool .
Xero also offers similar services , additionally it offers the integration service with the bill.com , from where you may directly process the payments . You can even pay by the bank transfer option . Moreover there is an option for the approval workflow for expenses, allowing the supervisors or any managers to keep an eye on how the employees are spending money .
Payments And Invoicing
This is the most basic feature every accounting software should provide .  The tool should create and send the payments and invoices efficiently.  It should also process payments by using credit cards and other payment options.
Freshbooks improvises the most basic functionality of invoicing without much customization available (unlike Xero and Quuickbooks) . There are already the sample templates present ,  you can further customize color, fonts, and change the email contents etc . It offers this feature in the most simple manner .
Quickbooks offers one of its kind card reader services . Thus you need not use any other payment service . It offers more customizable options than Freshbooks . It also integrates with QuickBooks' inventory options and a basic dashboard that shows you where your money is. And customers can pay directly from your invoices by credit card.
Xero is known for its extreme levels of customization offers present . You can design your invoices ad save up to 15 different templates in your account.
Further you can integrate the invoice with the useful inventory tracking module seen above . The unique feature it provides is the approval workflow . This is mainly useful for the company having a hierarchical supervision structure . If you don't need an approval workflow, then you can just click approve from the invoice screen instead of Save.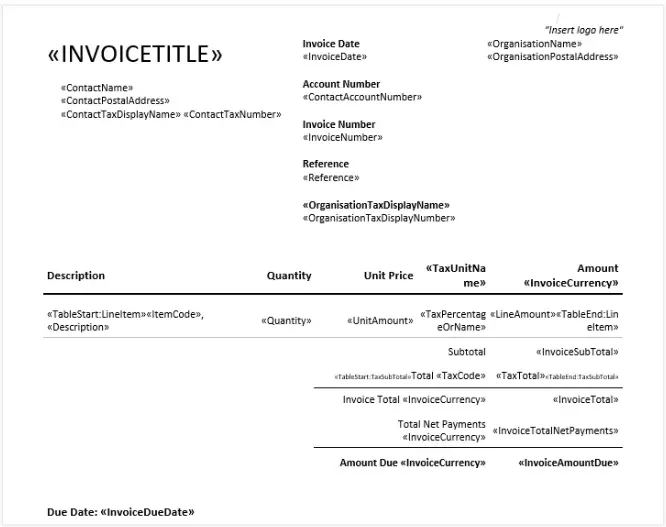 Freshbooks vs Quickbooks vs Xero – The Final Words !!
You are desperate to know the winner now .  So let's declare the winner's name . And the winner is all the three of them . Yes , each of them can be used for separate requirements as mentioned below :
1. Freshbooks is more suitable for small businesses which mainly deals with the invoicing part and not in need of the complete accounting features as provided by the other competitors in the market .
2. Quickbooks is suitable for small to mid sized firms which are scaling and in need of better tax management (with the help of Turbotax tool) . It also offers a card reader , and hence no need to use other payment services .
3. Xero is the complete accounting suite in our opinion , however, it might be complex initially to understand for any beginner , but eventually with few video tutorials , you will start experiencing its true magic .
It is a complete package for your accounting needs and it offers all the essential things you require to achieve the flying colors in your business . It's inventory tracking , approval workflow and the payroll features are worth mentioning . It basically provides all you need in the accounting arena . Also, it is a little pricey than others .
Hope you really enjoyed this long post . Let me know your selection in the comments section below . Stay tuned …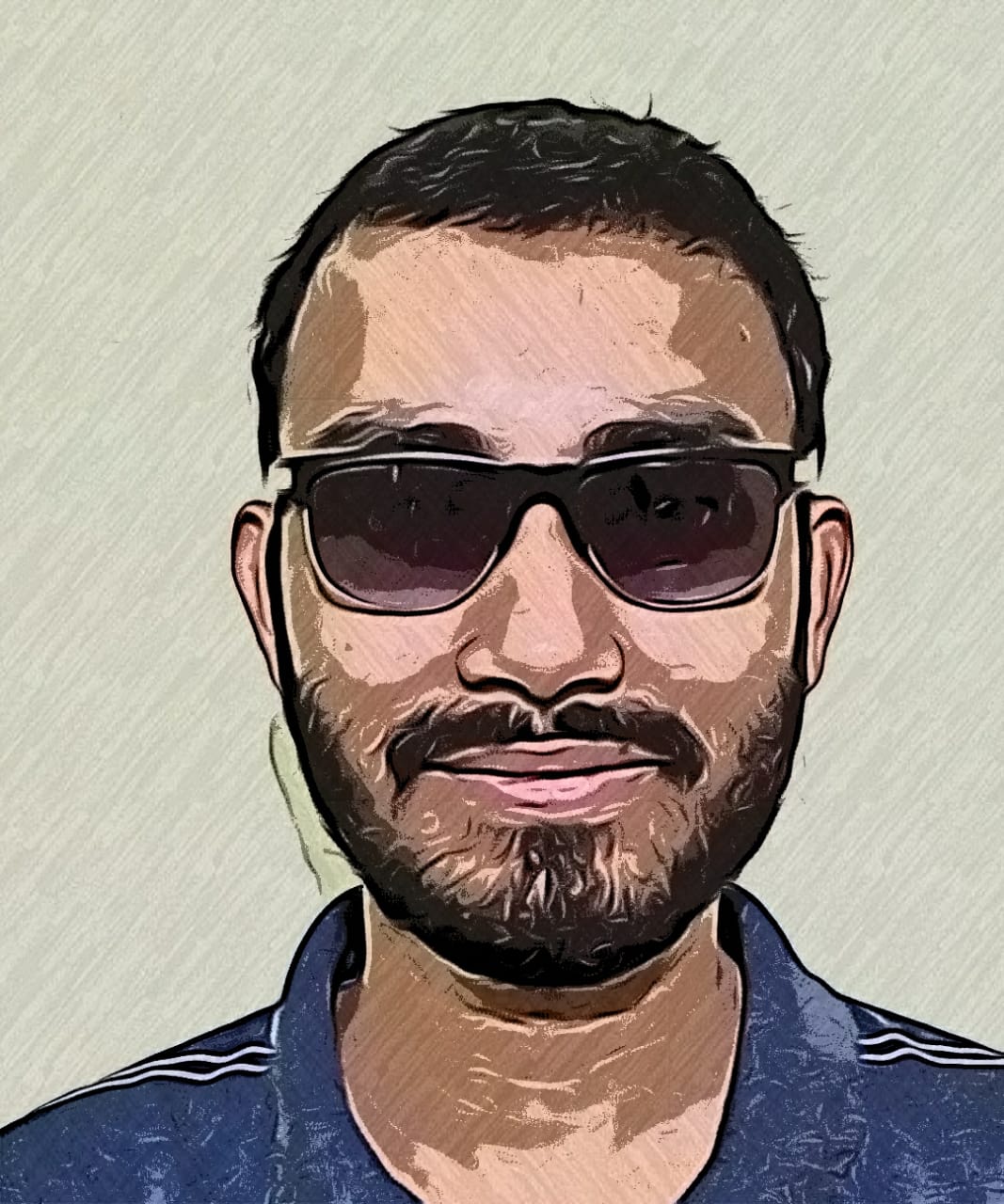 Aric is a tech enthusiast , who love to write about the tech related products and 'How To' blogs . IT Engineer by profession , right now working in the Automation field in a Software product company . The other hobbies includes singing , trekking and writing blogs .