VoIP Phone System For Small Business – The Complete Guide For You !!
The VoIP phone system is the latest buzz in the telecommunication industry. So if you indeed want to enjoy the best voice quality (via internet calls), or to own local numbers for your small business (in any country), and want to access it right on your mobile or you just wanna get rid of the old fashioned wired phone network, then VoIP is the only solution you want.
So in this post, we'll explore all the aspects of the IP phone system (VoIP) and also the exact working of any VoIP set up in detail.
Without wasting any further time, let's dig deep into this topic, and also in the end we'll reveal the much-needed buying guide for you to make a wise decision for choosing the best VoIP phone system curated to fit your needs.
What Is The Meaning Of  VoIP Technology?
"VoIP" is an abbreviation for the term "Voice over Internet Protocol" and it simply means Internet voice transmission. Hence, a VoIP phone system is a telecommunications solution that transmits voice and video calls and multimedia data using the Internet.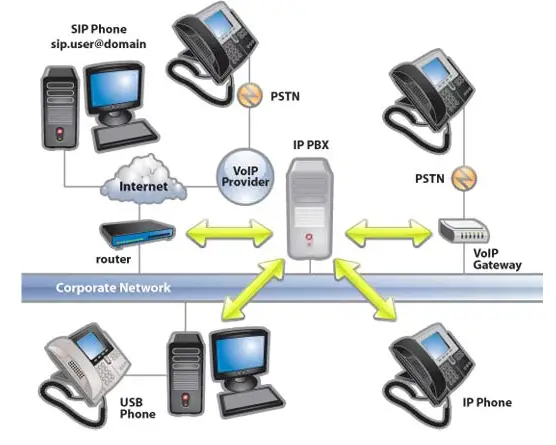 Unlike the analog phone systems, no special telephone hardware is required of VoIP systems. VoIP users are able to dial any landline, smartphone, or even device. All you need is a laptop, desktop, or tablet and a connection to the Internet.
VoIP is also known by many names, such as Internet Calls, Wireless Telephony, IP Telephony, Voice over Network, Broadband Telephone Service, and many more. So all these fancy names basically represent the same thing.
You can't know everything about VoIP in just one article of course. You can however quickly gain a thorough overview of VoIP phone systems. Hence to make your task easier, we have divided the details into the following sections for this purpose:
How does VoIP work?
What features does VoIP offer?
VoIP advantages for small businesses
Buyer's guide for VoIP system for medium business
So just be patient and proceed further for more details. Moreover one of the best advantages of VoIP is having local numbers in any country.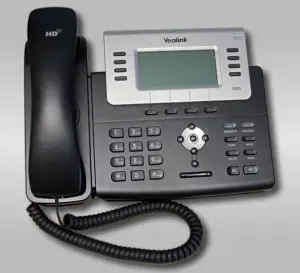 Once any prospect client dials your business's local number, then with VoIP service you can easily route this call directly on your mobile/laptop/VoIP phone using a SIP client precisely.
What Are The Types Of  VoIP  Phone Systems?
VoIP is an incredibly powerful communication network over the Internet. The VoIP telephone systems can be grouped into one of the following categories, based on their use:
ATA (Analog Telephone Adapter)
Can you use an ancient phone for VoIP calls? Yes, this is possible with an analog telephone adapter (ATA). A telephone has an Ethernet port that is connected to a network line to make a VoIP connection
Some devices also have a "Foreign Exchange Station" (FXS) port and other "Foreign Exchange Office" (FXO) ports that allow the conventional telephone network to be linked.
Computer to Phone VoIP System
VoIP systems that use a computer-to-phone interface operate similarly to those which use an ATA link. The difference is that it is connected via a connected computer or its router.
Most often such systems are used in call centers where agents use phones to call and computers to retrieve information.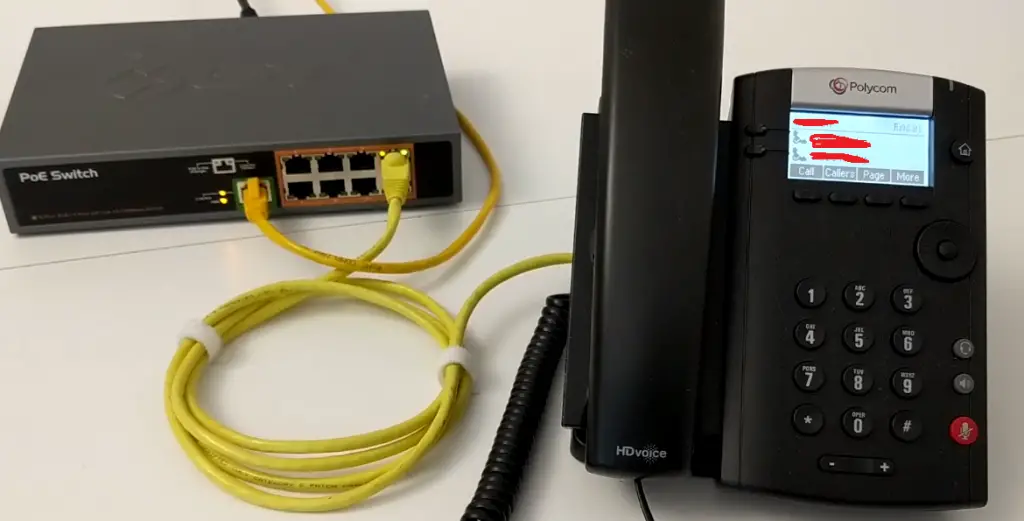 Computer To Computer VoIP System
These VoIP telephone systems take the form of computer programs or apps on mobile devices. Users can make or receive calls by dialing through the software's user interface.
These VoIP systems can also be integrated with third-party ERP systems or other tools for retrieving information. An example of this is the CRM program.
How Does A VoIP Phone System Really Work?
A VoIP phone takes advantage of Internet power. You don't always need hardware on the telephone, such as a desk phone or cable. Here is a detailed overview of how a VoIP system works in detail.
Let's divide the functioning of a VoIP system into a basic three levels for better understanding:
Analog Telephone Info
A closer look at VoIP
How does the changeover to the data packet work?
Now we'll dig deep in each of the sections above.
Analog Telephone Details
It is important to first understand how an analog telephone system functions to better understand how a VoIP telephone operates. Simply stated, a cable network connects an analog telephone network. Hence a huge physical infrastructure to maintain precisely (unlike VoIP) .
In an analog phone system, the cable network transforms voice signals into electrical signals transmitted over a distance before reaching the other end of the line.
Analog systems enable bidirectional communication, so you can speak and hear the person at the other end. If one of the users does not have an active telephone connection there can be no conversation.
A closer look for the functioning of VoIP !!
A VoIP phone system is built on the same principles as a standard telephone system. One difference to conventional telephone systems is that it does not require telephone cables and associated hardware.
Additionally, you need an internet connection instead of a telephone connection, which can be provided by any ISP ( Internet Service Provider). Mobile devices with capabilities in the LTE, 4 G, or 5 G network can also transmit voice over data networks.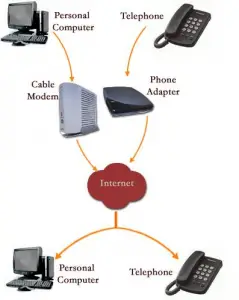 VoIP converts digital signals into voice signals. Such physical signals are divided into hundreds of packets of data and are distributed over the Internet.
The data is separated into data packets and distributed at random to simplify data transmission. When these distributed data packets arrive at their destination, they are then reassembled to their original form.
Data packet switching in VoIP allows for greater audio clarity and more effective usage of the network compared to the circuits of traditional telephone systems. It also makes long-distance telephone connections which are free of interference.
You can call a landline, a mobile phone number, or a VoIP phone line using VoIP. The receiver need not have a VoIP link. The person will acknowledge such a call via his analog telephone call, just like every other call.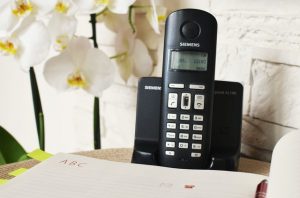 For instance, you can call a friend who has a cell phone or a landline. The friend can also call you from his or her landline or mobile device, using your VoIP number.
VoIP phone system working in detail !!
This is how the changeover of data packets works :
VoIP systems use a switch for the data packets. This is a smart solution for transmitting data packets via the most efficient route.
Data packet switching is the backbone of VoIP technology and allows the transmission of voice data in milliseconds over geographically dispersed networks.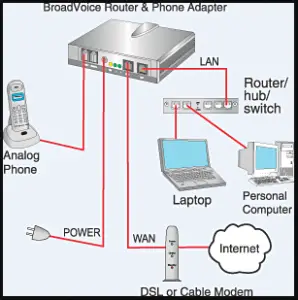 Around the same time, this approach avoids damage to or loss of data packets during transmission. Since such data packets are just within kilobyte range, even a standard broadband link will provide excellent voice quality.
Comparison of the system: VoIP, analog, and cloud telephony !!
Traditional telephone systems are based on networks of circuits which link callers to the receivers. Since the introduction of VoIP, such calls can be transmitted over a network packet transfer as the IP packets.
The main features of VoIP, analog, and cloud telephony systems are compared here:
| | | | |
| --- | --- | --- | --- |
| Functionality | VoIP Phone System | Analog Phone | Cloud Phone System |
| Connectivity | Broadband internet connection | Copper cable | Broadband internet connection, 5G, LTE etc. |
|           Server system | Cloud phone system or hosted phone system | Telephone system installed on-site | Cloud server |
|     Required bandwidth | 10 kbps | 64 kbps | 10 kbps |
|     Multimedia support | Allows voice, audio, video, and all other media files to be transferred over the Internet | Language only | Allows voice, audio, video, and all other media files to be transferred over the Internet |
|      System updates | Software updates via the ether | Manual installation and maintenance | Software updates via the ether |
| Installation | With a desktop computer, laptop or smartphone | A telephone system, switch boxes, desk phones, cable connections, and copper cables are required | Usually by subscribing to a SaaS product |
If you want to learn about the steps to set up any VoIP system for your small business on your own, then just check out the below article :
Learn about the steps to set up a VoIP system at your home/small business
Features of a VoIP phone system for business use !!
Because VoIP is at home in the cloud, it offers many features that help companies manage their phone systems better. Below is a list of the basic features that most VoIP providers are offering to their clients.
Dashboard in Realtime
An enterprise VoIP system has a centralized control panel resembling a dashboard for applications. From there, VoIP administrators can add or remove numbers, users, and teams.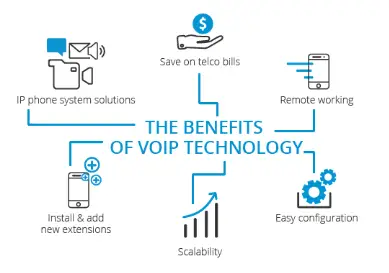 At the same time, they can use a real-time dashboard to make other adjustments.
Manage the queue call
VoIP offers its users a whole range of features for managing call queues, such as call waiting, call routing, call screening, call forwarding, call conferencing, automatic hold music activation, voicemail, and much more.
Routing Call
One of the key advantages of a VoIP telephone network is the ability to direct calls according to various criteria. Incoming calls can be routed by location, business hours, skills needed to handle a call etc.
Masking call
With VoIP, you can use masking outgoing calls to protect your company's contact number. The call masking shows an upstream number instead of the number the call actually originates from.
For example, if your business is based in Berlin and your clients are based in the UK, you can book a phone number from the UK. That makes it appear that calls for your customers from Berlin come from a UK business phone number.
Virtual telephone calls
Companies can book virtual phone numbers of all kinds including local and international numbers with a VoIP telephone system.
Because VoIP is internet-based, the technology gives you complete freedom of choice for mobile , fixed, and virtual phone systems between local, international, and toll-free numbers.
Monitoring output
VoIP telephone systems allow business owners to track the performance of their VoIP telephone system, and especially call center administrators.
They calculate the duration of the calls, the level of service, the solutions found, etc. Advanced analytical skills help optimize the call menus and allow them to provide even better service to customers.
A VoIP system does offer a lot of other functions, though. You can find more VoIP Telephone Systems features here.
VoIP Phone System For Small Business – Is It Really That Important?
The telephone network and management is the backbone of communication of every small business. The right telephone system can make a big difference in how well a company maintains a connection to both the external and internal telephone network.
Here are some of the advantages that a VoIP telephone system can offer small businesses:
Less IT workload
VoIP is a light-footed telephony tool that is at home in the cloud. Therefore, as a user, you do not see any telephone hardware for it. At the same time, this keeps the workload of your IT department to a minimum.
You do not need to buy any telephone hardware, such as a telephone system, circuit boxes, desk phones, cable connections, etc.
Latest Technology 
The fixed cabling-based network system is becoming increasingly unpopular. VoIP is seen as replacing outdated telephone networks.
The coming advent of the 5 G and LTE networks will also speed up the adoption of VoIP. Additionally, VoIP is hosted in the cloud, so it can be easily updated over the airwaves. It's also quick to incorporate bug fixes and enhancements.
Connection to Worldwide Telephony
We live in the age of corporate mobility, where employees can use their own devices for work ("Bring Your Own Device"-BOYD) too.
Companies face the task of holding together their multinational workforce while maintaining efficient telephone operations. VoIP helps businesses to communicate with their staff from remote locations.
Employees are no longer attached to a desk and a desk phone to keep telephone operations running.
Multi-device support
The average digital user today has at least three computers connected to the Internet according to GlobalWebIndex. As a result, customers increasingly expect all digital services to be available reliably on the Internet, mobile devices, and desktop systems.
The enterprise VoIP telephone system enables the interoperability of devices and offers quick access from any device.
Mobile phones
Wherever you go, you can take a number with you and use it with no heavy roaming or provider costs. As long as you have an IP connection, the number still works.
For small business owners who are always on the road, this feature makes VoIP phone systems the perfect option.
Continuity of operations
VoIP telephone systems are software and Internet-based. Hence you don't need any hardware on the phone. Failures can occur only when there is no link to the Internet.
At the same time, VoIP telephone systems are immune to problems with the circuit, which so often causes interference in analog telephone systems.
As a result, VoIP systems offer better business continuity with traditional telephone systems, which is difficult to achieve.
Strengthening dynamic capacity
Call volumes are hard for small businesses to predict. This is why small companies need solutions that can be easily scaled without the large initial investment.
A cloud-based VoIP system can be easily scaled while providing flexible payment options, such as a pay-per-use or subscription model.
Reduce the cost of telephoning
A basic VoIP phone system has an average cost ranging from $15 to $40. Traditional business telephone systems usually start at $40 to $50 and add costs for cable and equipment connections.
Additionally, a VoIP phone device provides small businesses with more cost-savings opportunities. These include saved line rental expenses, maintenance costs, extension fees, internal call charges, rental of desk telephones, service charges, and many others.
VoIP Phone Systems For Medium Business Requirements – The Ultimate Guide !!
It need not be difficult to select a VoIP phone system. You don't have to get an expert or consultant to help you make the right decision and you can easily make yourself a good choice nonetheless.
Here are some tips on how to make the right choice for a VoIP system that will make a worthwhile investment.
Calls from around the world
Global calls at a lower cost than local calls-this are the greatest benefit that you will be searching for when narrowing down your VoIP device choices.
If a system does not provide you with a cost advantage for international calls (or even domestic calls), you can search for a better provider of VoIP systems.
Installation
It should be easy to install an ideal VoIP phone network. It should ideally be designed to allow you to install it on your own, without a team of experts or technicians. Additionally, the system should be easily adaptable to your business needs.
Scalability
It should be straightforward to extend your VoIP program from ten agents to one hundred (or more). Especially fast-growing medium businesses have an urgent need for scalable, agile solutions that don't require a lot of work and capital investment.
Reviews and ratings
Check the Web for reviews of VoIP systems on popular software review pages and discussion forums to see what consumers are thinking about the experience of calling.
If the program of your choice has been able to achieve an average rating of four or higher stars in broad review forums, then it is a good option.
Consumer Service
As with any other software product, a VoIP device may sometimes experience technical problems. The frequency is lower compared to the telephone systems, but it is still important that you always have customer service available on all channels to get things right again in these cases.
You may also check out this article for the top free VoIP Phone service providers 
Hope you really enjoyed this article. Let me know in the comments if any further details required for this topic. Stay tuned for more interesting stuff in this series.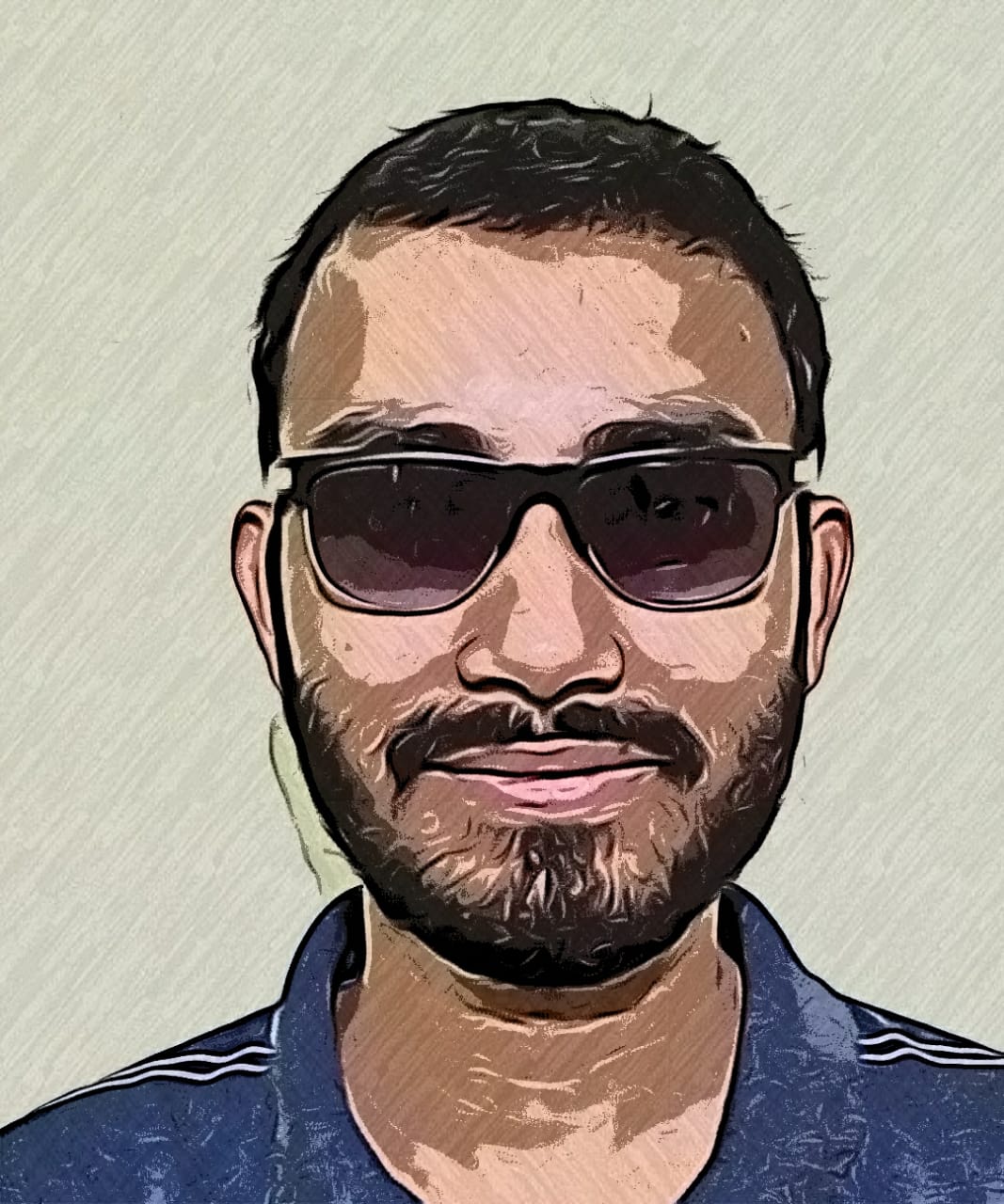 Aric is a tech enthusiast , who love to write about the tech related products and 'How To' blogs . IT Engineer by profession , right now working in the Automation field in a Software product company . The other hobbies includes singing , trekking and writing blogs .