Google Cloud Platform – Everything You Want To Know !! (Google GCP Console , Pricing , GCP Services, GCP Free Tier , Cloud Certifications etc)
In today's world , everyone is talking about cloud services and its vast list of merits for the data computation it offers (along with the security , scalability , flexibility etc) . In this post , we will explore the basic overview of the Google Cloud Platform and the various GCP services on offer (in brief) . 
Later we will further dig into the details regarding the Google cloud platform pricing , GCP console , free tier , cloud certifications you may pursue etc . So just sit back and enjoy reading further .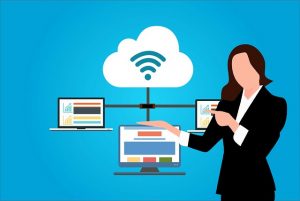 More formally, GCP is a blend of IaaS and PaaS services. There's the usual compute, storage, and networking that is the bedrock of any IaaS . So let's start understanding this by brushing up our knowledge regarding any generalized cloud platform working.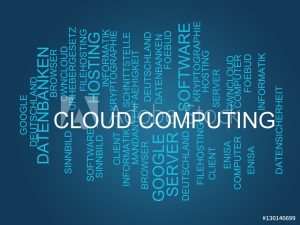 What Is Google Cloud Computing ?
In order to understand what the Google cloud platform exactly is , we must first acquire the prerequisites indeed . So GCP basically based upon the theory of cloud computing .
In layman terms , we can say that Google cloud computing is nothing but a remote server on the internet , which can be used for storing , managing , manipulating, and processing the data in order to get the desired results (instead of using the local server resources).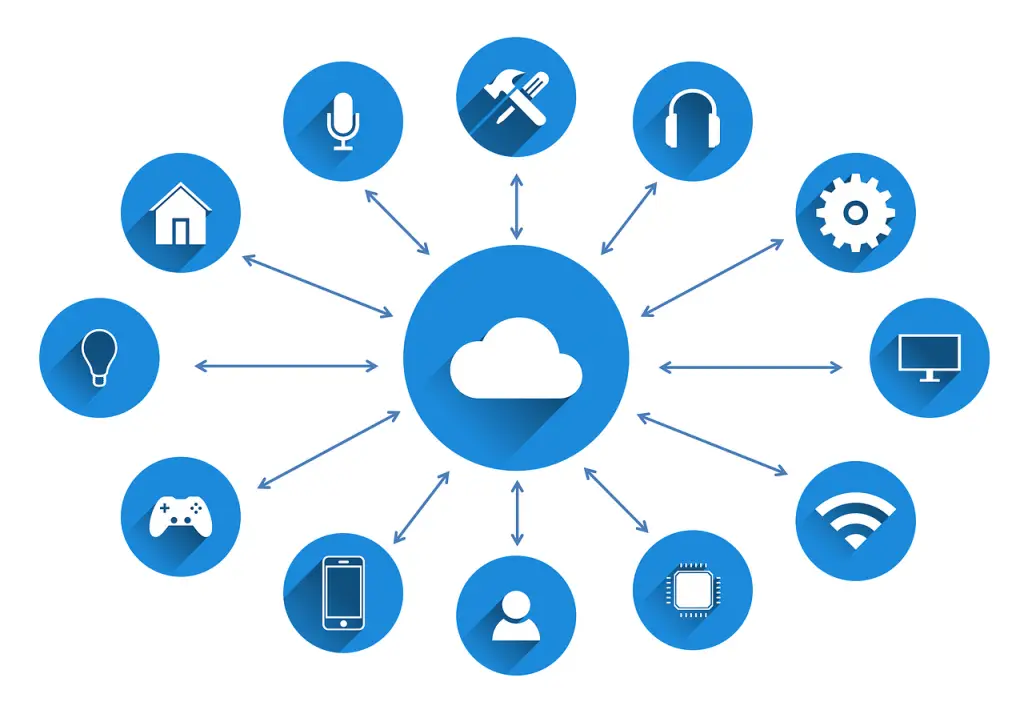 So a cloud computing model essentially based upon the notion of using cloud services rather than using your own hardware resources (local servers) , in turn, you have to pay for the resources you are using . These cloud services are provided by many companies which are called as the cloud providers . (AWS , Microsoft Azure, etc apart from GCP) 
 What is Google Cloud Platform ? (how Google Cloud Platform works)
If you understand the above cloud computing services model, then its easy to grasp the usage of the GCP business model. 
Google cloud platform basically provides the same infrastructure it employs to provide other Google services like the that it uses to build Google search, maps, Gmail, and all of its other products. 
Now, this Google cloud platform is providing the same infrastructure platform to public enterprise like the software developers , data administrators , other enterprise IT professionals over the public internet, or through a dedicated network connection with a credit card . (you need to pay for the services you avail from the GCP respectively)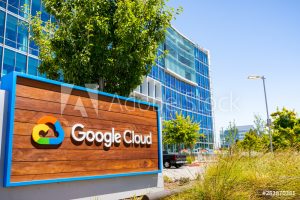 Thus the Google cloud platform is a suite of cloud space infrastructure providing the range of hosted services in the Google cloud hardware (the same hardware Google uses internally for its end-user products, such as the Google Search and YouTube applications) for the public domain usage for development and managing applications . 
Why Google Cloud Platform Is Better Than The Other Cloud Providers ?
To demonstrate this let us think of the first thing that you did when you were introduced to the internet . Precisely for most of us, it will be the Google search or Gmail or Youtube etc . So the point here is that if we want to check whether the internet is working or not, then we usually check by hitting the url Google.com in the search bar . 
 Hence there is a trust factor working behind this, that Google is always up and running . Google is also a service provider managed by real engineers in the back end comprising of the vast data base and a mighty search engine .
Now here comes the awesome part indeed i.e. all the services mentioned above i.e. Google search , Youtube , Google calendar , Gmail , Hangout etc are based upon this Google Cloud Platform infrastructure.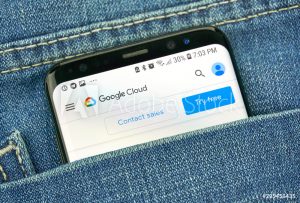 So with this Google cloud platform , you will get the same platform (with 100% uptime)  for developing your applications in the cloud along with the merits of scalability and flexibility of cloud services . 
So if you sign up for the GCP , Google will provide the same infrastructure that Google is using for its own internal products . 
So this is enough (hopefully) to convince you for this Google Cloud Platform services vast usage by various clients worldwide . Since its inception (in 2012) , it is growing exponentially with more and more companies are deploying the GCP infrastructure to move their application to the cloud . 
The main advantage here is that the Google is building products to scale and that behind them is a team of people who takes care that Google's products run smoothly all the time . 
Google Cloud Platform Services !! (what does google cloud platform marketplace offer ?)
From the above, it is indeed evident that the GCP is essentially a public cloud computing infrastructure provider that offers services for compute, storage, networking, big data, machine learning, and the Internet of Things (IoT), as well as cloud management, security and developer tools . 
There are a wide range of services on offer by the Google cloud platform , so to make the task simpler , we will first divide the services into three main verticals i.e. 
Compute
Storage
Networking  
Note :  There are other domains as well available in the GCP platform , but the above mentioned are the main pillars by which you can successfully execute your application seamlessly in the cloud space.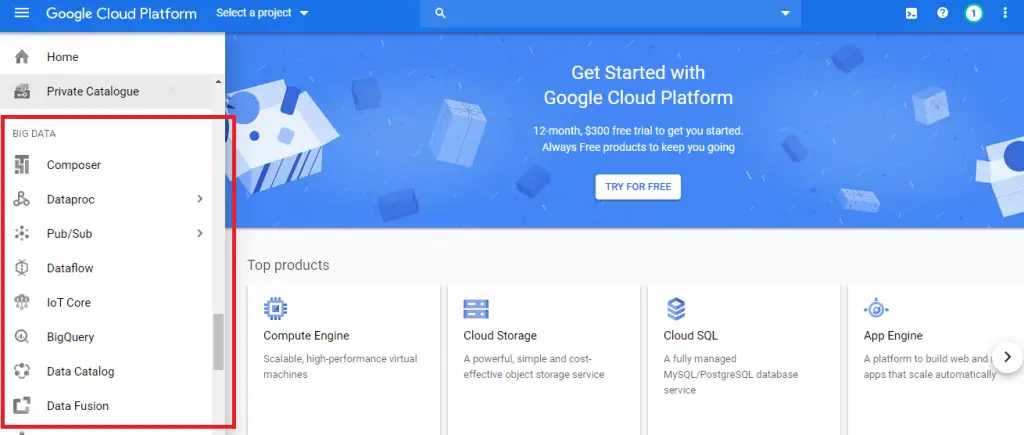 So using the above three verticals , you can create an application for any kind of requirements you have . Before we look into the services now we should first sign up for the Google Cloud Platform . 
What Is Google Cloud Platform free Tier ? (Is Google Cloud Platform Free ?)
So if you just want to use the GCP for your personal use, then you may directly try for the Google cloud platform free tier right away .
So the GCP free tier basically means that , you can use the GCP for free by clicking the 'Try Free' option . Let us see how to sign up in GCP for free , just follow the steps as below :
1. Hit the url cloud.google.com in the search bar 

2. Then you can see an option of ' Try It Free ' in the top right corner of the GCP home page 

Here comes the usage of the Google cloud free tier option . In this option i.e. GCP free tier , you will get 300$ of credits which will be valid for one complete year , until and unless you fully exhaust your 300$ credits . You can use this credit to deploy any kind of service/application in the Google Cloud platform .
Moreover, it is not easy to exhaust the free 300$ credit sooner , as the most basic plan includes pricing of 0.05$ per hour for 1GB of Ram , so 300$ is a pretty huge amount to get finish with (unless you used it for any business) . 
So just go ahead and opt for this Google Cloud Platform free tier option , to learn and deploy your applications with the assurance of Google and if you like it then you may further proceed with the higher versions of GCP (paid subscription) . Follow the below steps after the above two steps :
3. Click on the option ' TRY IT FREE ' , then sign in to Google with your Google mail id .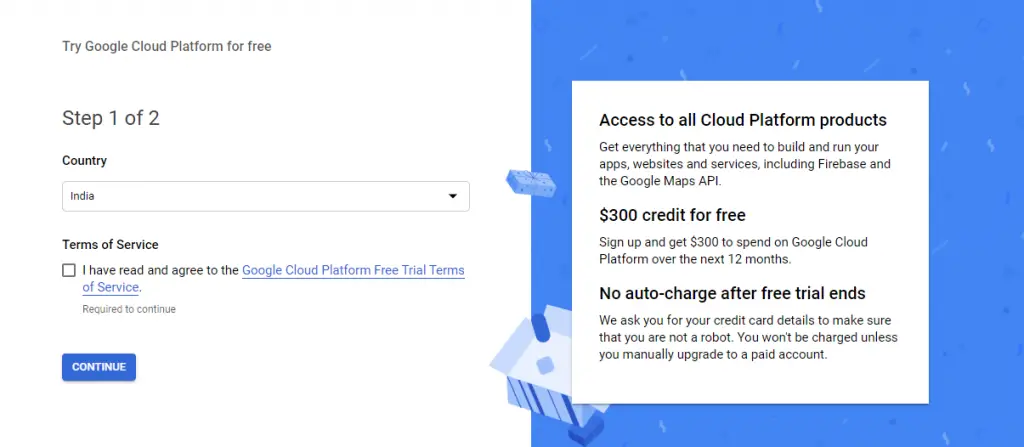 4. Then you can see the Google cloud platform free tier option page , you just click on the ' Agree and continue ' (after this you have to fill in the account details )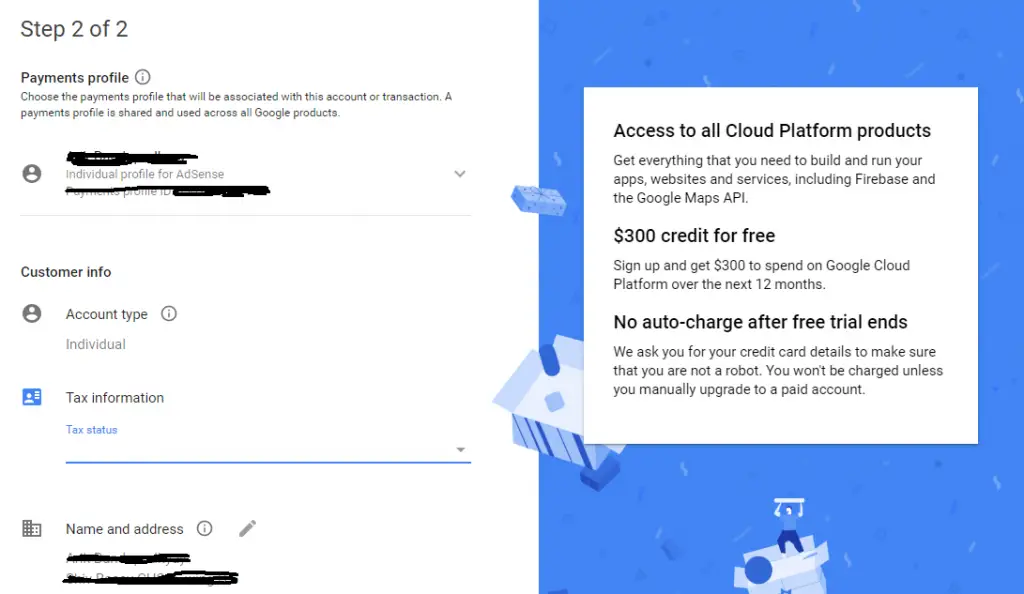 5. Finally, click on the 'Start My Free Trial' option 
The best part of this GCP free tier option is that , there is no auto-recharge after the end of the free trial . You will be prompted for your service expiration and once you updated the payment details , then only the GCP charges will start . So no auto renewal present . 
What Is Google Cloud Platform Console ?
So now once your GCP account has been created , you can directly view the Google Cloud Platform Console .  This GCP Console is the page from where you can easily explore the various GCP services provided by Google .
You can navigate between different GCP features/services as shown below i.e. the monitoring , API , debugging , tracking , etc .

So in a nutshell a GCP Console is the summary of all the Google Cloud Platform services you can use in your account .
Firstly you have to start a project from the dashboard , based upon your specific project the dashboard summary will change in the GCP Console . It contains the tutorials and the resources section as well .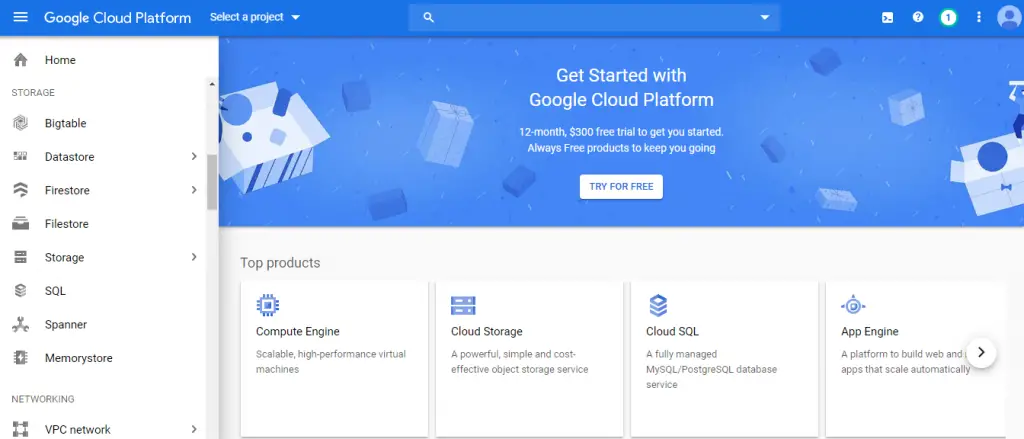 From the GCP console itself, you can view the GCP status , billing info, API's (project based) , and additionally the error reporting in any of our added resources or instances respectively. Here is also a documentation and latest news section related to GCP you may find useful .  

Google Cloud Platform Services Offered !! (In Brief)
So the GCP services we have already seen above , we categorized the GCP services into three main domains i.e. 
Compute
Storage
Networking  
So now let us see each of these in detail :
Services Related to the Compute Domain In Google Cloud Platform !! 
The Compute domain mainly consists of the following sub-domains and services provided by each is different than others  :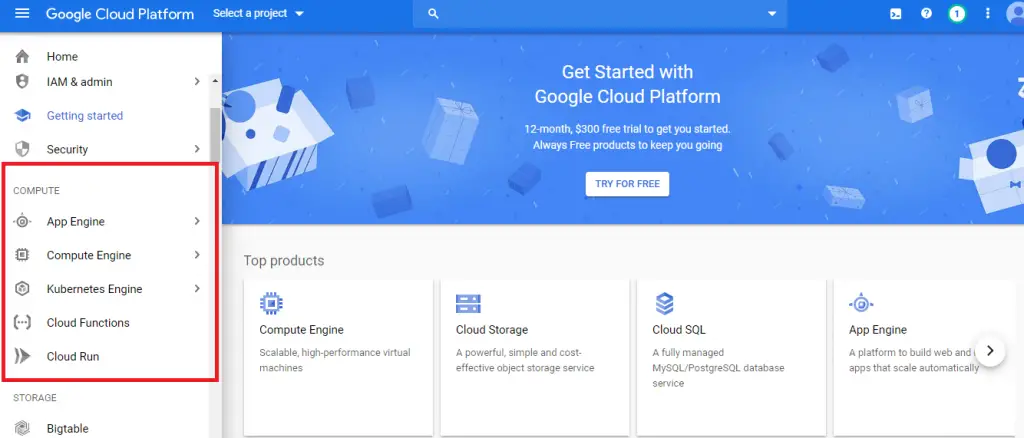 1.  Compute Engine : This basically helps in choosing the kind of configuration and operating system required as per your service requirements .
So you can precisely decide the amount of RAM , CPU resources required by your server . So once you click this you can select the virtual machines with the desired configuration and OS. Once done , you can now install any software into it .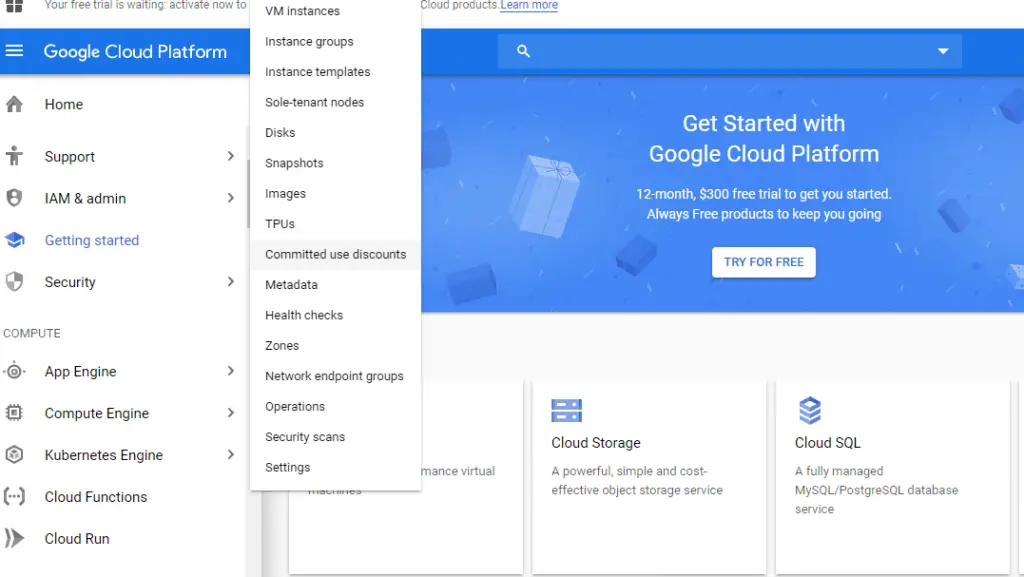 2.  App Engine : With the App engine you can directly upload your application in the cloud server , with no need to think about the server configurations or the compatibility with the OS .
So with this, you can easily deploy your service and no need to configure anything . With this, you need not think about the software installation which may be required by the web server . Just click on upload and your application will be deployed .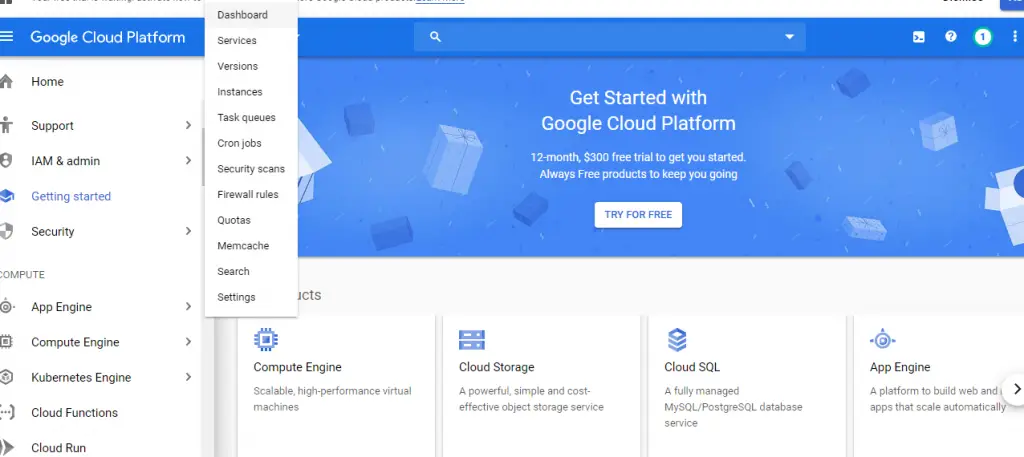 3. Cloud Functions : App Engine is used to host your application in one server ,  but it will not take care of the processing of data in the hosted app .
The back-end processing of incoming data is done by the Cloud Functions . So you just need to provide the code for processing of data in the server and then it will take care of the data processing part .
So even if your website is down in one server  , the processing of data will never stop as it is done by the Cloud functions in some other server . 
4. Kubernetes Engine : This is useful only if your application is running inside a Docker container in your local server . You just need to migrate the complete Docker container here . Then it will be deployed in the GCP in a similar way it was deployed in your local server. 
Services Related to the Storage Domain In Google Cloud Platform !! 
As the name suggests , storage domain is related to the storage services required for your database in the cloud . So let us understand each sub-services offered by this now :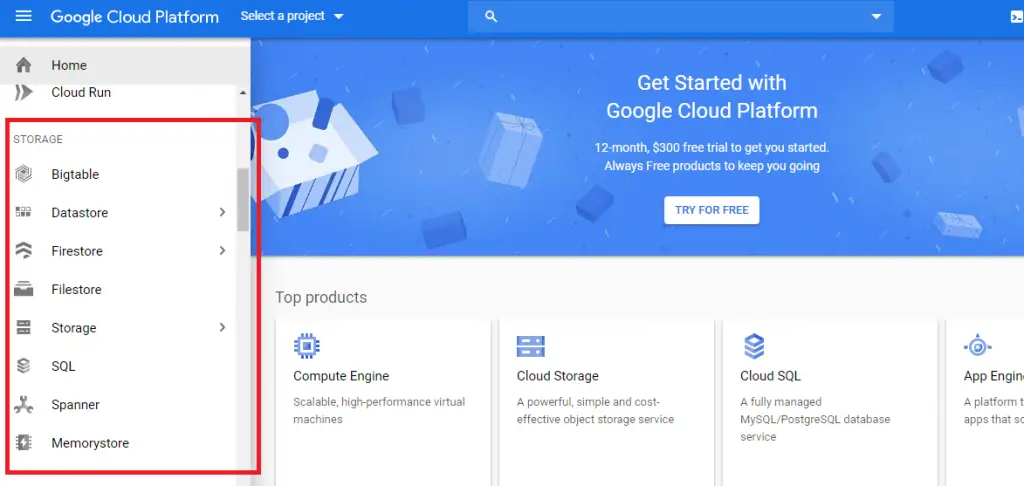 1. Datastore GCP Service : Ths basically deals with the NoSQL data . So if you want to store any data which is unstructured , so you can right away store the NoSQL unstructured data in the Datastore of the GCP . 
2. Bigtable GCP Storage Service : This is also used to store the NoSql unstructured data . The difference here is that , it can be integrated with the Hadoop and Bigdata database . So you can easily dumb hbase data into this Bigtable and manage your data .
3. Storage Service : The Storage is a basic storage file system , where you can simply upload and store your documents like files, images , videos etc just like your Google Drive application . 
With Storage service , you can store your applications data in the Storage present in GCP rather storing it in some unsecure place . 
4. SQL GCP storage service : As the name suggests , you can store structured data here . So if you want to store any structured data of your application then you can right away use this service . 
5. Spanner GCP Service : It also mainly deals with the structured data like the SQL . It is very much scalable , as compared to the SQL GCP storage service . So with this, you can easily store a large amount of data for your application . 
Services Related to the Networking Domain In Google Cloud Platform !!
In networking domain also we have further sub domains as given below :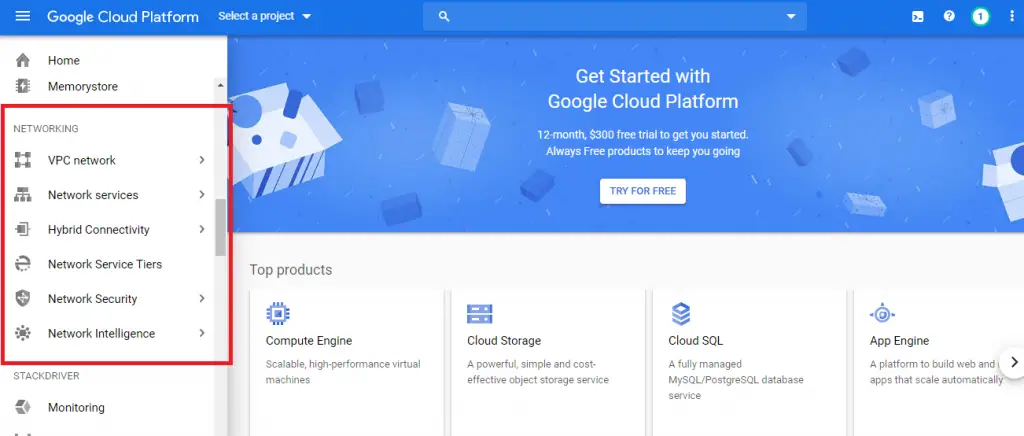 1. VPC Network GPC Service : Virtual private cloud network is the cloud network service provided by the Google cloud . If you are using more than one server for your application , now if you want to allow all the servers to connect and talk with each other . 
So for this, you want a virtual network for your servers to talk with each other seamlessly.  Without VPC you can not able to upload any instances or applications in GCP .  
2. Network Services : This is basically used to route the traffic from your application among your different servers. So if you want to route the traffic from one server to another then load balancing will work for you . You can direct specific server to handle a specific network request .
You also have Cloud CDN and DNS services , with which you can name domain and pointing it to specific server ip . With CDN , you can create a copy of servers (decrease latency)
3. Networking Service : It is mainly used it to connect two different network servers . Consider one server in GCP and the other is at your local premise . So it will create a vpn (virtual private network) to give access to all the servers seamlessly from within your GCP .  
Google Cloud Platform Pricing Details !!
Google has a pay as you go model, means you can only pay for the resources which will be used by your developer account . Well it is free , yes you heard it right. It's free for atleast 12 months with its generous free tier option available (discussed above) . 
GCP pricing mainly depend upon the resources and duration for which you are using the cloud services . For more info you may check the below urls : 
Also you can make use of the simple calculator to calculate the forecasted billing :
Google Cloud Certifications Available !!
Now you can earn a GCP certification and can able to showcase your expertise to manage , design , store , administer applications like a pro . There are many certifications present for Associate and professional GCP certifications .
Associate Exam :
Google Cloud Certified, Associate Cloud Engineer
Professional Exams :
Google Cloud Certified, Professional Data Engineer 

Google Cloud Certified, Professional Cloud Architect 

Google Cloud Certified, Professional Cloud Security Engineer 

Google Cloud Certified, Professional Cloud Developer 

Google Cloud Certified, Professional Cloud Network Engineer 
You may check the below URL for the updated pricing for the above-listed certification :
Google Cloud Platform Certifications 
Google Cloud Platform – Final Thoughts !!
GCP essentially a public enterprise cloud suite providing the required infrastructure to deploy your application in the cloud . It further provides data processing and analytics with the real-time data computation .
Google also provides services for IoT, such as Google Cloud IoT Core, which is a series of managed services that enable users to consume and manage data from IoT devices .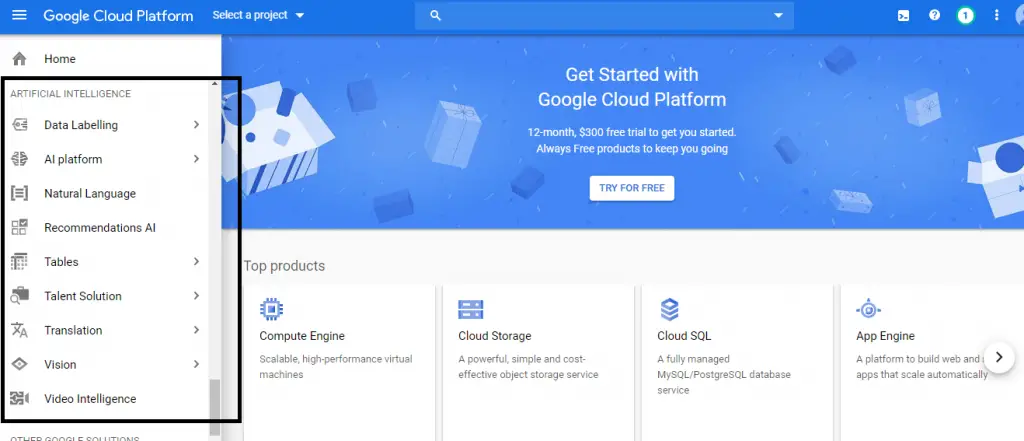 GCP is evolving every single day and thereby providing other users on-demand cloud services in order to compete with its main rivals in the cloud providers space i.e. the AWS and Microsoft Azure . With its free tier option, you can easily try the GCP for free and if it suits you , then you can further go for the paid plans as required . 
Hope you really like this post, let me know in the comments section . Stay tuned for more interesting stuff in this series .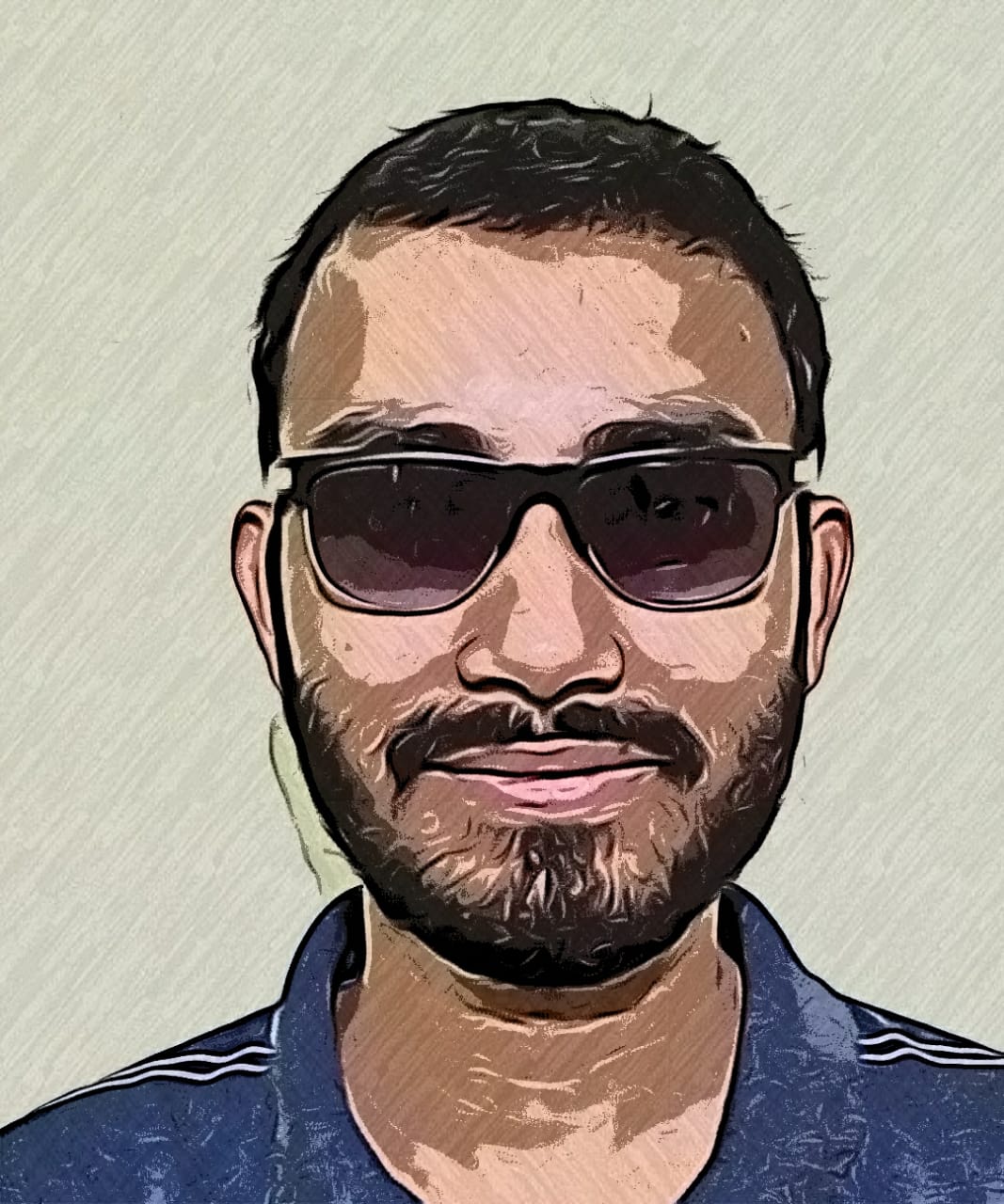 Aric is a tech enthusiast , who love to write about the tech related products and 'How To' blogs . IT Engineer by profession , right now working in the Automation field in a Software product company . The other hobbies includes singing , trekking and writing blogs .