Best Free Apps for Task Management On Mac And Windows OS (Top To Do List Apps)
As we all know that managing a crucial task and its on-time execution sometimes becomes a tedious headache for all of us at some point in time. So in order to accomplish any given challenging task (simple or tough) , we have to initially start with proper planning with all the execution time frames.
To make our life easier nowadays we have numerous task manager apps available. So in this post, we will mainly look into the best free task management apps for Mac and Windows OS required to furnish an organized implementation of tasks in a piecemeal manner.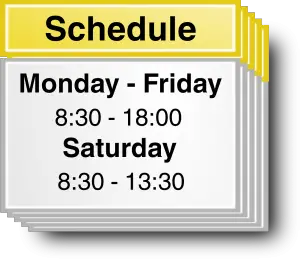 We will first start by looking into the features of these free task management apps for Mac and later we will review each of these apps in detail. Task managing in Windows will be taken care of in the later section.
Features of Task Management Apps in Mac and Windows !!
Some of the desired features these apps must possess can be listed down as below  :
1. Reminders :  Each of these task manager apps should have a feature of reminding of an upcoming event/task . Also, it should display a brief description of the task as required .  This feature mainly helps in providing timely execution.
2. Device compatibility: This is also a great and desired feature, for example, if you set an event in your Macbook , you should be able to view it in your Apple watch/iPhone device . The task management application should be accessible to all the popular platforms seamlessly .
3. Task Sharing : A task manager app must allow you to share the desired tasks with your team members on other platforms . Also, it should allow you to create/edit/delete/manage tasks or events efficiently along with the delegate feature for any task you want others to be assigned .
4. App UI and feasibility : The task manager app must have a clean and simple UI , also there should be plugins and browser extensions available to provide an all-round task managing performance smoothly .
Now let us look into the best free task managing apps for Mac at first.
Top 5 Free Task Management Apps For Mac OS ( Best To Do List Apps On Mac ) !!
There are many apps available , but we will review only the best of them (personal choice) , by using these apps you can easily create , manage, and organize your task efficiently. Without wasting further time, let us explore the list now :
Google Keep
WunderList
OmniFocus 3
Remember The Milk
Evernote
TickTick (bonus one)
Note : All the above task management apps are in no specific order, so everything is random and each one is great in some of the other specific aspect . 
Best Free Task management Apps For Windows OS !! (To Do List Apps For Windows 10)
As we have already seen the mighty list of to-do list apps used widely in Mac OS, w its time to look into the popular to-do list apps for Windows, it is as given below :
Microsoft To Do 
TickTick 
Google Keep 
Evernote
Todoist (already seen in my previous post)
Note : All the above task management apps are in no specific order, so everything is random and each one is great in some of the other specific aspect . 
We have listed some of the best feature based task managing applications above, in the list, you can find the simple and also the most efficient task organizer, and below their detailed review . So sit back and proceed further .
Unbiased Review Of The Best Free Task Management Apps For Mac OS !!
Now we will look briefly into each of the tool listed above :
1. Google Keep – Task Management App Review !! (Simple To-Do List app)
Google Keep is the simplest of all the tools listed above . With this task manager app, you can easily manage and store notes in the form of text , pictures , voice recordings etc . This is a completely free tool , you can even have a chrome extension along with its Android and iOS app.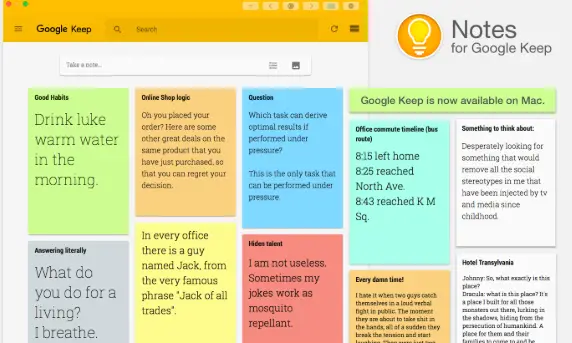 You can easily create checklists from text notes ,  also keep color-coded notes, and integrate the notes with all the other Keep users . It offers good synchronization options and a clean intuitive UI . You can easily access Google Keep from the Gmail , and also set location-based reminders seamlessly.
You can easily search for notes based on various attributes (color code, checklists etc) , also you can share notes with other Keep users online in real-time efficiently. You can even categorize various tasks and notes based on the labels assigned . Since it is from Google , so you can easily rest assured of its security and future updates.
2.  Microsoft To Do ( Wunderlist )  – Task Management App for Mac And Windows
Microsoft acquired Wunderlist in 2015 , and started developing more innovative to-do list features for mac and Windows users . This is available in almost all the device types i.e. the mobile , desktop, and watch.  In this, you can use #hashtag in order to organize the tasks .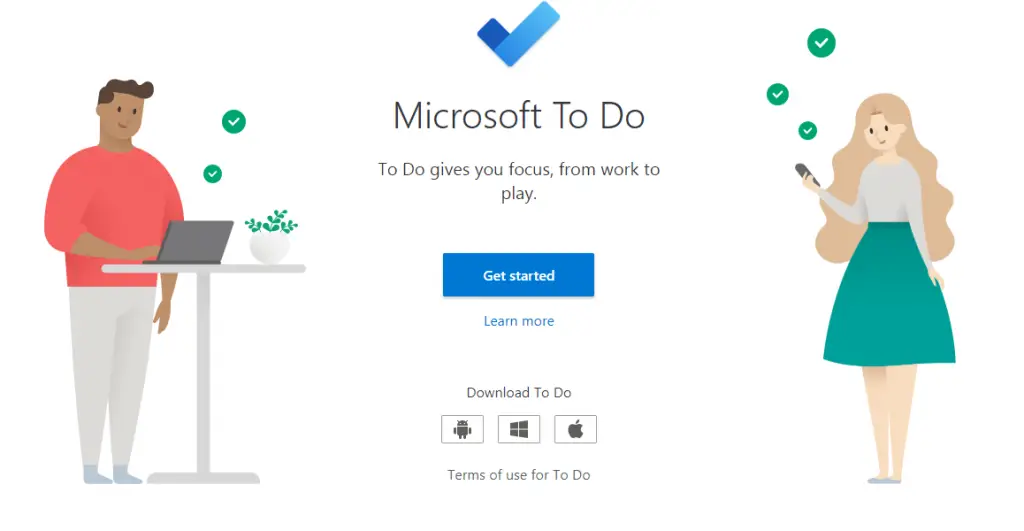 You may also share task with all other Wunderlist users . With the company's browser and sharing extension known as "Add to Wunderlist", content from the Web can be added to Wunderlist from Chrome, Firefox, Safari, iOS and Android.
This task management app is present in both i.e. the freemium model and a paid version. With this cloud-based task manager , you can easily create tasks, set reminders , assign tasks , due dates, etc from the 'Detail View' in the app .
After the acquisition by Microsoft , a new multi-platform app developed by the Wunderlist team that has direct integration with the company's Office 365 service .
In the paid version , you can enjoy some additional praiseworthy features like unlimited subtasks, unlimited upload size , unlimited assignee etc . You can even enjoy integration of this application with Microsoft Outlook , Dropbox , Google Calendar , Slack etc and also wide variety of background color options .
3. OmniFocus 3 – Task Management App For Mac OS Review !!
OmniFocus is a feature-rich task manager app for Mac and iPhone OS platform devices .  It is basically meant for the tech-savvy task manager who loves to organize tasks in different variations. Though it is present only for iOS macOS users , its Web version can easily be in sync with other devices .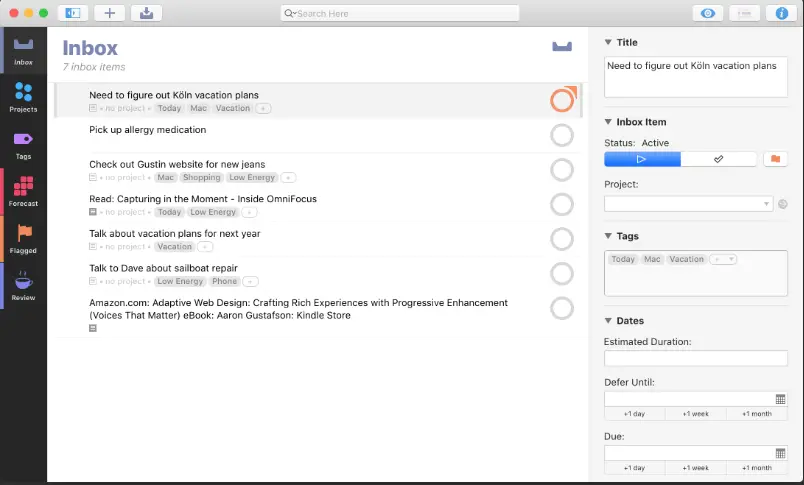 There are many integrations present through the Zapier , you can further create many subtasks , and it also offers the forcasting options for the tasks.
There is also a provision to review any task progress, there are a total of 6 different detail view panels available.  There is also a customization option present for creating your own views easily.
This task management app may initially take some time to learn , but gradually you will understand that it is worth spending the time .  With this GTD (get things done) application , you can easily  set recurring tasks and set reminders .
The biggest downside is its pricing , it is very costly (if you are not a heavy user then go for other options) .  Further this task manager app not present for Windows or Android platform , so certainly a set back. But then it offers great features , if you want to use it for managing crucial tasks .
The interface will look familiar to anyone who uses popular cloud-based business software, such as Slack or Asana. You see a three-paneled window, with core navigation on the left, primary information in the center, and additional details about whatever you're currently viewing on the right .
4. Remember The Milk – Task Management App for Mac OS (Best to-do app)
This is another time management app on our list . This can be accessed both online and offline in mobile and desktop . By this, you can easily create multiple task sublist . You can even add task and schedule task along with the due dates . Finally you can even edit the added tasks and set location-based reminders .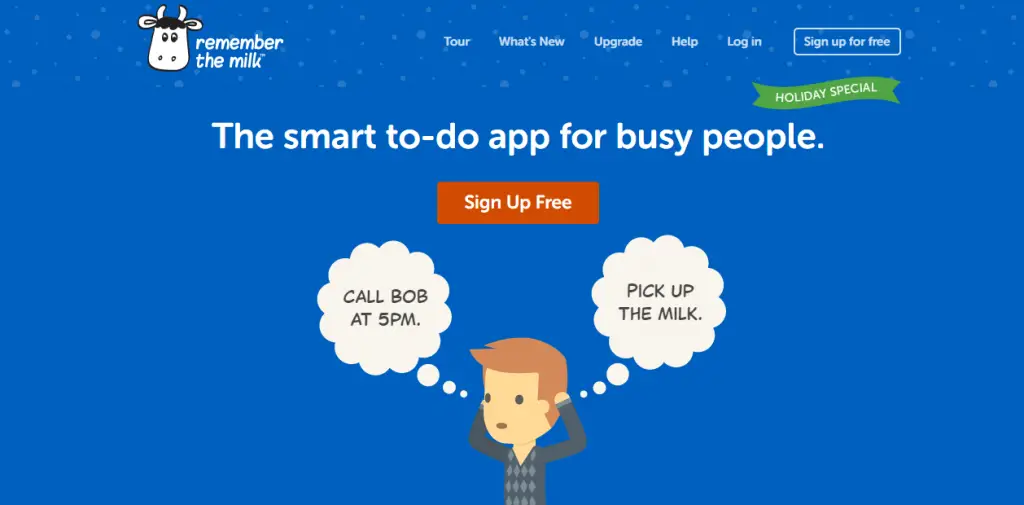 Remember the milk offers integration options along with the Google maps , Microsoft Outlook , Apple and Google calendars , Gmail  etc . You can easily share tasks with your team members . you can easily sync all your tasks and it will notify you the schedule changes if some tasks is being postponed or not .
This additionally offers an import feature , wherein you can easily import the task from the Wonderlist and integrate it within the application . You can even put separate tags for making the task sublist separated under a common master heading .
Remember The Milk's recurring task feature is the most user friendly that we have seen anywhere. Not only can you set up complex tasks daily, weekly, monthly, or yearly, but you can even set up any task to recur again the moment you complete it .
5. Evernote – Mac Task Management App 
Evernote is basically organizing and a task managing application . With this, you can easily create/edit intuitive notes , tasks , events , pictures along with the annotations if any. It is present in all the platforms i.e. in Android , Mac , Windows , iOS platform .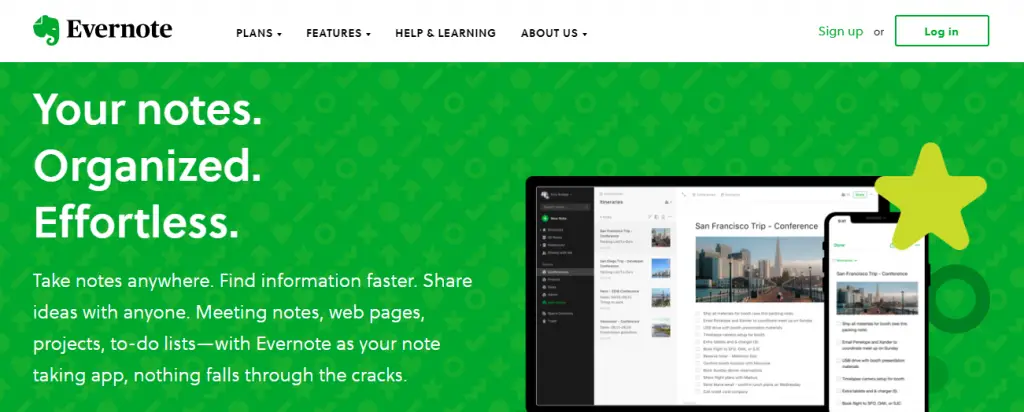 Web clipping is the most popular feature supported by this , it is present by default in IE and Safari , when the Evernote software is installed in any system .
Skitch is a free screenshot editing and sharing utility for OS X, iOS, Windows, and Android. The app permits the user to add shapes and text to an image, and then share it online. Images can also be exported to various image formats.
With the free version , the features will be limited like the uploading limit (limit of 60MB) , max device sync limit , number of subtask etc as you buy the higher paid versions , you can enjoy limitations free service .   
6. TickTick – Task Manager App For iPhone (iOS)
With TickTick , you can easily create tasks by adding texts , voice inputs , directly converting your emails into tasks .  Like other task manager apps , you can manage the tasks by using the due date, tags , creating sublist etc . Moreover you can set location-based reminders, recurring tasks and give voice inputs directly using Siri on your iPhone . 

The sorting feature is also very useful , wherein you can set the task priority based on the four priority levels pre-defined . You can easily manage the to-do lists by organizing them in the form of subtasks and folders . Finally you can view all your tasks in the calendar view , as per the dates .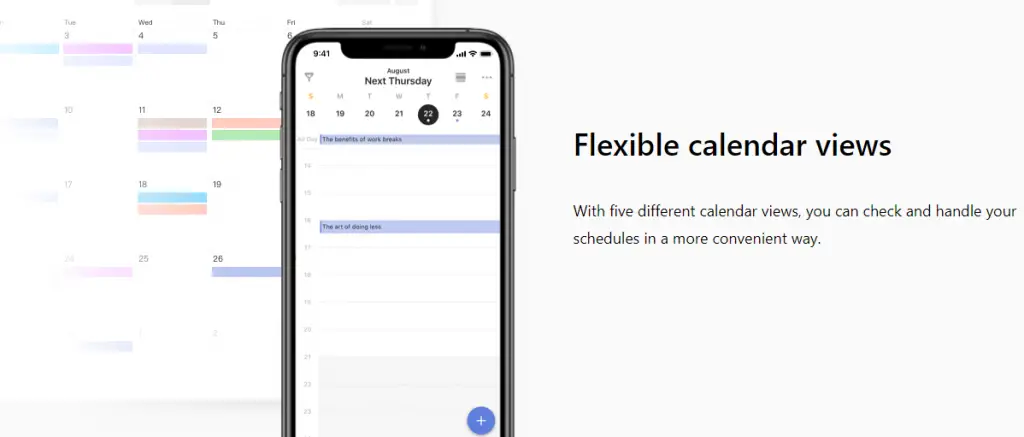 With TickTick , you can easily collaborate tasks with your team mates by assigning them any required tasks , also reviewing the overall task progress . You can easily access this great tool by syncing it in as many devices cross platform (iOS to Android etc). 
Best Free Task Management App For Mac and Windows (To Do List Apps) – Final Words !!
All the above-listed apps are curated in a way to make your life stress free , by assisting you in planning , timely execution, and managing crucial tasks proficiently. You should always try to use the task manager apps in the free trial period (which almost all offers) and decide wisely . So based upon your needs, hopefully you can eventually make a sagacious decision. 
Hope you really enjoyed this post, stay tuned for more interesting stuff in this series . Let me know your choices in the comments section.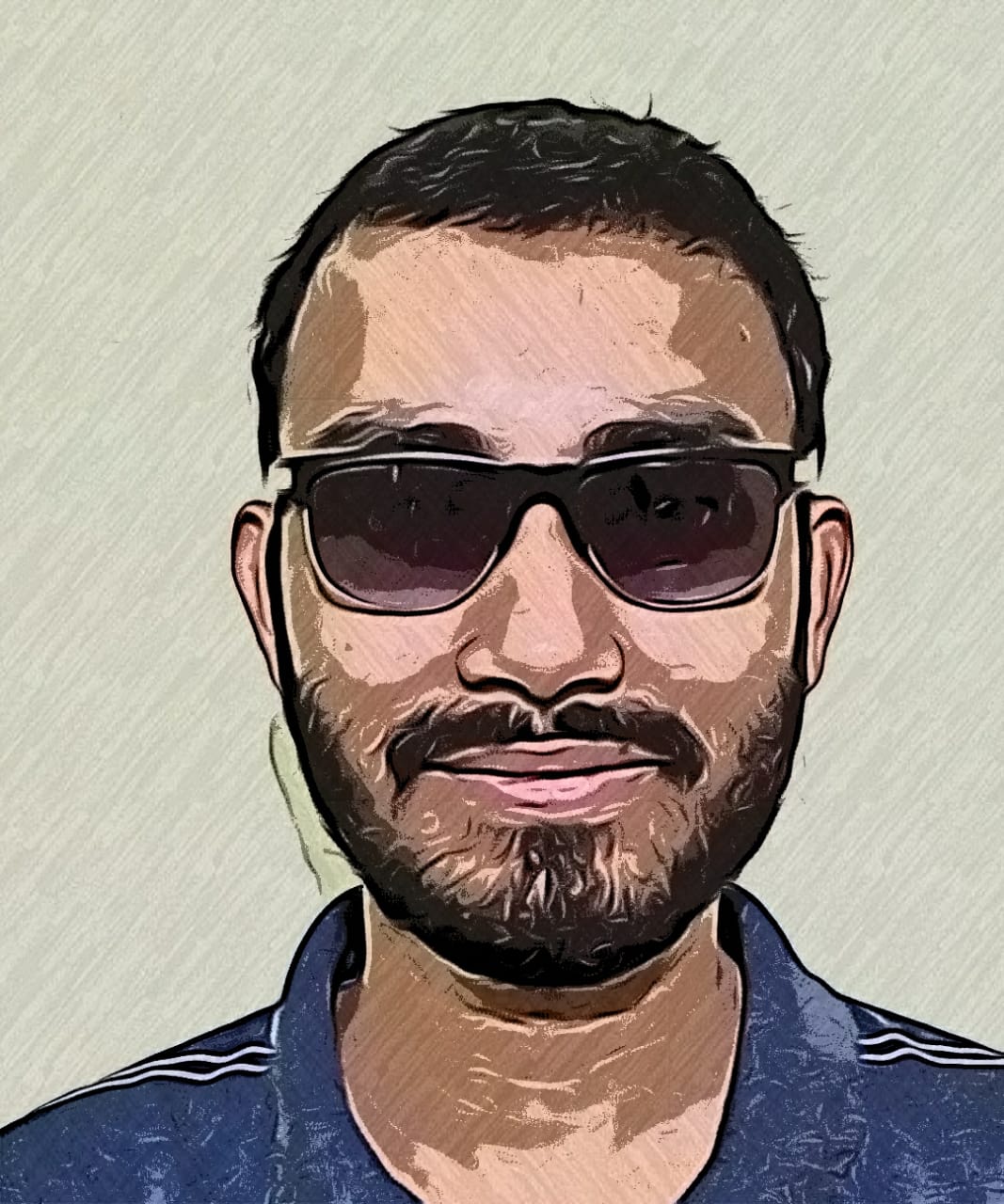 Aric is a tech enthusiast , who love to write about the tech related products and 'How To' blogs . IT Engineer by profession , right now working in the Automation field in a Software product company . The other hobbies includes singing , trekking and writing blogs .