Is There Any Feature Like AirDrop For Android Users – Let's Find Out Here !!
There are many great features present in the iOS ecosystem no doubt. But the one feature that is indeed very useful and praiseworthy is the 'AirDrop' feature. With this, you can easily share files (drop files to be precise) from your iPhone/Mac device to any other device in the Apple ecosystem seamlessly. 
So once you shift to the Android ecosystem, you probably miss this native file sharing feature and just wonder whether there is any AirDrop For Android alternative ?
The short answer is 'No' , and the longer answer will be 'Yes' obviously. How you think Google will not provide this amazing file sharing feature to its loyal Android users when on the other hand Apple is already pleasing its users with this innovative peer to peer file transfer application.
In Android we have many third-party app to achieve the sole objective of file sharing. But there is no inherent Google-powered app for doing the same . So let us dive deep into the Google initiated file sharing applications until now in the Android devices .
What Are The File Sharing Technologies In Android That Can Compete With The AirDrop App ?
Do you remember the NFC (near field communication) technology for data transfer. So for using the Android Beam file transfer process, we mainly deploy the use of NFC. The biggest demerit of this process is that you have to keep both your Android devices in close proximity with each other.
The moment you keep the device back to back, the file transfer will start right away . Unlike this in AirDrop method, no specific distance (should be within the range of the wifi router) is required as the data transfer will take place through Wifi.
So it's pretty obvious to understand the poor response for the Google initiated Android Beam process of data transfer . NFC is also known to give poor data transfer rates additionally.
What Is This AirDrop Feature ?
AirDrop is a peer to peer file transfer service which is exclusive to any Apple device . It mainly uses Bluetooth and Wifi technology to transfer the files on the same platform efficiently .
Bluetooth is used to establish a connection and Wifi is used to transfer the data wirelessly . The file transfer rate is much higher than the traditional Bluetooth file transfer .
AirDrop feature is very popular among Apple users to easily share/dropping files to another Apple device without any slowness and much securely.
Is There Any AirDrop For Android Users Right Now ?
Android has a version of AirDrop coming out and it was originally named as "Fast Share" . Now it's renamed as "Nearby Sharing". AirDrop is one of those things that iOS users opt for.
It also helps in transferring files from one android phone to another and it is remarkably similar to Airdrop. This obviously works similarly to airdrop. it uses wifi for connecting both devices. And it's actually faster than Bluetooth.
This app is still not released officially for its users. There is one more app named 'Files by Google' in the play store which you can use for the time being .
Files is also a great file transfer app for Android users . Google released this app for Android that was meant to organize files, storage, transfer files etc.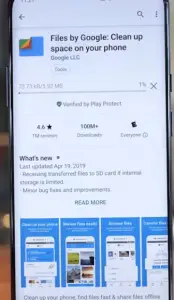 So we will now talk about how to use it and many more things about it. Firstly, download and install the app Files by Google from the play store . Here, you can use the clean and browse features to free up storage and manage your files respectively.
Also, there you will get a share option at the bottom right,tap that. If you want to send something then choose send option and obviously if you want to receive something then choose to receive.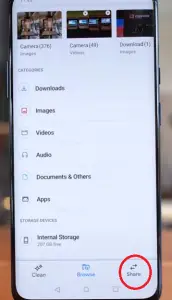 Both the device need to choose options respectively in order to connect both of them. Wifi and Bluetooth should be turned on. It will search for nearby devices and once you find the other Android device, then just tap on that.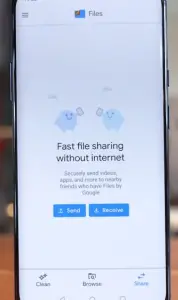 Note : In order to send and receive the files you need to tap on the option 'Send' (if its sending) and 'Receive' if the other device is receiving files on the other side (just as we used to do in AirDrop application)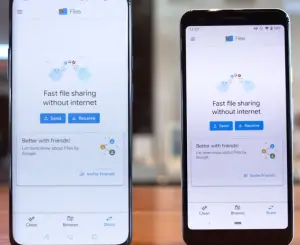 Once connected choose whatever files or pictures you want to share and then hit share. So it is much faster than Bluetooth , Android Beam etc all credits goes to its direct Wifi data transfer process (you will get to know itself by using it) .
One done you can close the connection/App to disconnect the transfer session . All the received files will be stored in the 'Received' folder at the top.So you can easily use this file transfer process from the share option in any file.
It is not as fast as airdrop in connection device but , once it is connected it is the same. Maybe Google will update it day by day .
But by now this is the best option for sharing important files in the minimum possible time and very similar to the AirDrop for iOS users .
One drawback every time you have to establish a connection first with the other device before sharing files. It is the best possible alternative right now for the Android users to use it as the AirDrop for Android version definitely.
Anyways Google is already working for any other better solution of file transfer (based upon the articles released by some tech insiders) . I hope you really like this post. Stay tuned for more interesting stuff in this series .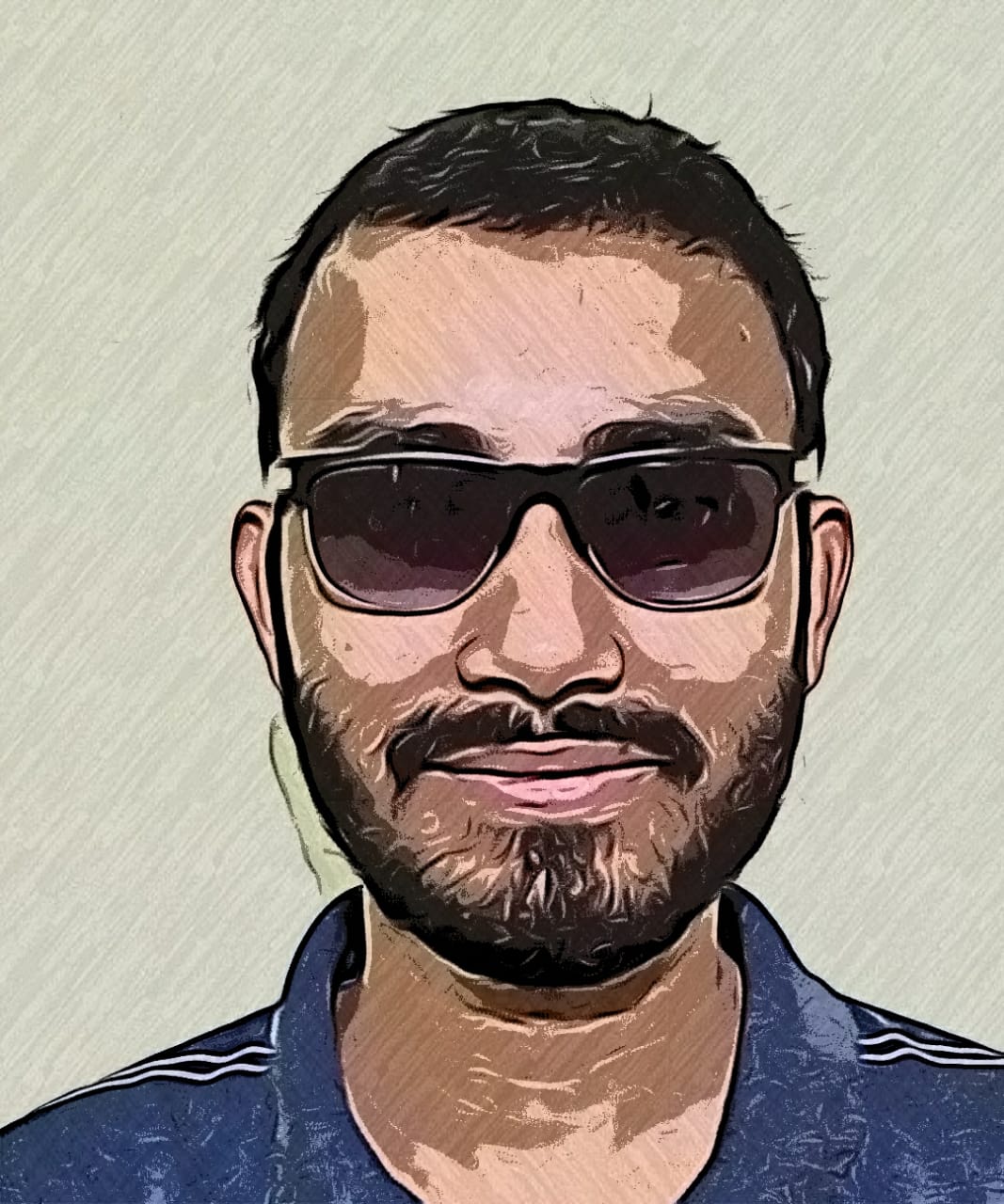 Aric is a tech enthusiast , who love to write about the tech related products and 'How To' blogs . IT Engineer by profession , right now working in the Automation field in a Software product company . The other hobbies includes singing , trekking and writing blogs .