Sharepoint Vs Confluence – The Clash Of The Team Collaboration Tools !!
Undoubtedly both Sharepoint (a Microsoft product) and Confluence (Atlassian product) are well-known team collaboration tools implemented on the intranet platform precisely . Today many businesses are opting to deploy their products in the cloud and make full use of these kinds of enterprise content management platforms.
Everything is shifting to the cloud i.e. the task workflows, team management, and communication is now occurring at a much faster rate as compared to earlier days (due to the advantages that the intranet platform offers) .
We will now explore the main areas where both the Sharepoint and Confluence will compete with each other. So just sit back and enjoy reading this in-depth Sharepoint vs Confluence post . 
Note : You may consider intranet as a private version of the internet that your company uses to collaborate among the teams .
The market for cloud collaboration software is booming with many startups now starting to participate (recently) in the team collaboration space . But the companies making two of the most popular products for the intranet team collaboration is the Confluence and Sharepoint .
Sharepoint Vs Confluence – A Tough Competition Indeed !!
The top differing point we have noticed while using both the software is in their ease of use and usability . Confluence is really very easy to use for any novice user at first .
This is mainly due to the reason that Confluence doesn't offer as many advanced functionalities that the Sharepoint already does .
Confluence is a great tool for editing and reading content directly on the page and is very easy to understand, for any less technical user .
SharePoint is stronger at managing documents which can be a very tedious job in Confluence. SharePoint is more flexible and scalable with a bit of work. Both tools have great APIs and add-ons /workflow connectors.
If you are using Jira for managing workload (and logging bugs additionally) then Confluence makes a truly integrated documentation tool precisely. You will also have access to revision history. 
Confluence is much more similar to a Wiki page . It mainly offers a designated space (in its database) for any user to store/edit/manage pages and documents within other teammates.
Confluence can be used by Companies to manage workplace blogs etc . Within the designated spaces, users can create pages and their teammates can edit, upload files to, and manage projects at your workplace.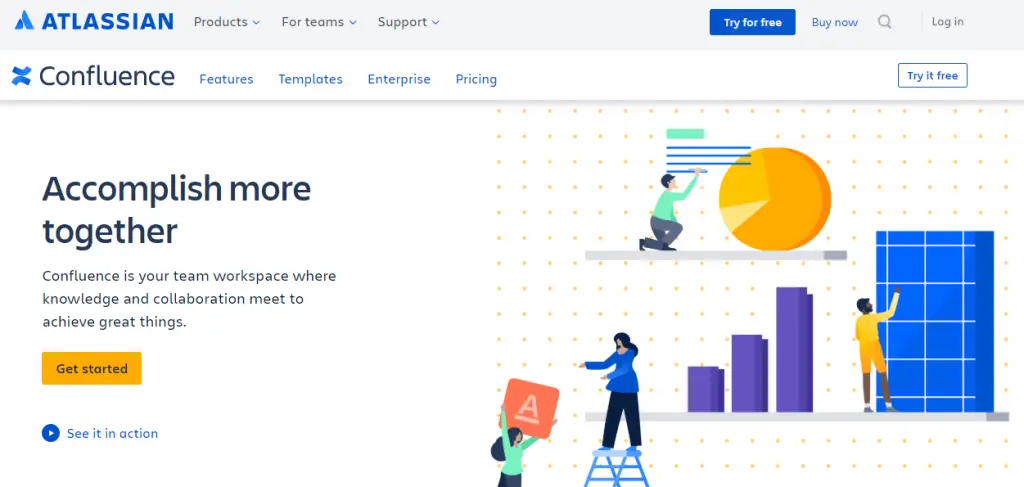 All the users can even comment and discuss specific documents as well by using its integral HipChat application . It can even support sharing and managing the team meeting notes.
There are already pre-existing templates for your use . In Confluence, you can even provide feedback with inline commenting . You can even collaborate with others in real-time using the integral team chat application.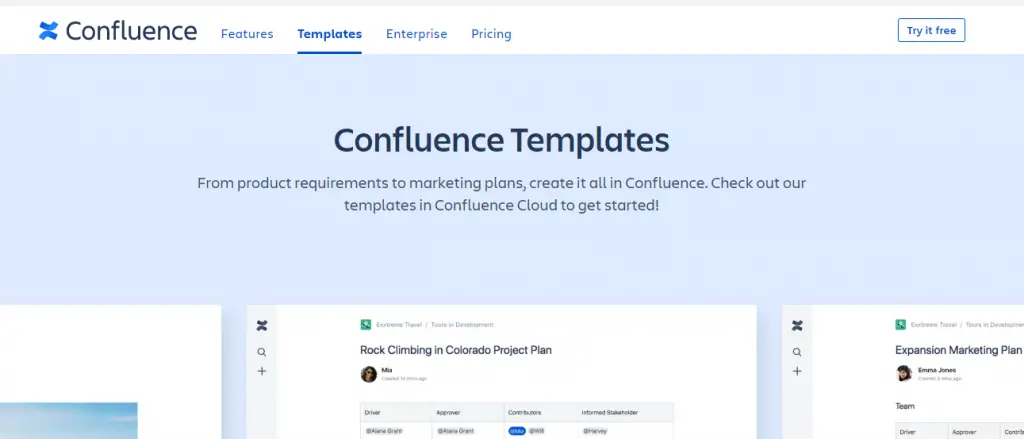 Sharepoint is much more than a Wiki tool (unlike Confluence). It has extended content management and collaboration capabilities, search, workflows, advanced permission management, etc .
Moreover, Sharepoint is also a content repository, workflow engine, eform hosting, intranet, development platform, excel graphing, task manager, version control, content approval, business information etc.
In terms of the advanced customization options, and a robust data warehouse the SharePoint comes out as the winner in this comparison eventually. But at the same time Confluence comes out as winner due to its simplicity and flexibility .
Confluence further integrates with HipChat and JIRA. Microsoft, additionally integrates all of its tools like CRM ,ERP, office tools, and more with the Sharepoint .
Confluence explicitly offers the team and document management services in a very easy and efficient manner . The pricing is set as per the team size. It precisely makes the uploading/editing/sharing/managing of documents and tasks easy . 
Now comes the Sharepoint enterprise data management services . Sharepoint basically offers a complete package in this module . You can manage and work on a complete site (and not in designated space for each member like in Confluence) .

This truly provides more customization options required for managing any full fledged websites. With Sharepoint , any team member can seamlessly edit and share documents in real-time (in cloud) .
Moreover, it also furnishes a very powerful data warehouse and it costs a lot more than the Confluence service . 

For Sharepoint there are a total of three pricing tiers , at $20 per user per month, Sharepoint costs a lot more than Confluence . If your company uses those apps, check your next bill from Microsoft. You might already be paying for Sharepoint. 
Despite of many advanced functionalities as compared to Confluence , it lags behind the Confluence due to its complex usability . It can be difficult for Sharepoint users to tag and access right folders and even to share documents link is really a tedious job indeed .
These majorly create a kind of hindrances for many growing teams out there . However, you can further make use of the other Microsoft Office Suite apps like the excel and inherent Word programs efficiently. 
There are many things that are common between both like strong customer support , cross platform usage , real time editing , API's , email integration and discussion platforms etc . 
Confluence Vs Sharepoint – The Final Conclusion !!
If you want a team collaboration solution, go with Confluence. Precisely if you are low in budget then Confluence will work fine for you. Confluence is more suitable for startups , freelancer, SMBs, or enterprises. Its stronger collaboration feature makes it an apt option for the growing teams that truly care about simplicity and transparency . 
If you want a fully-featured tool for records management, intranet solutions, file store, robust application hosting platform, search tools that can index your entire network in one place all tightly integrated with your Microsoft enterprise, then go with Sharepoint . 
Hope you really liked this blog about the comparison between Sharepoint and the Confluence file management software . Stay tuned for more interesting stuff in this series .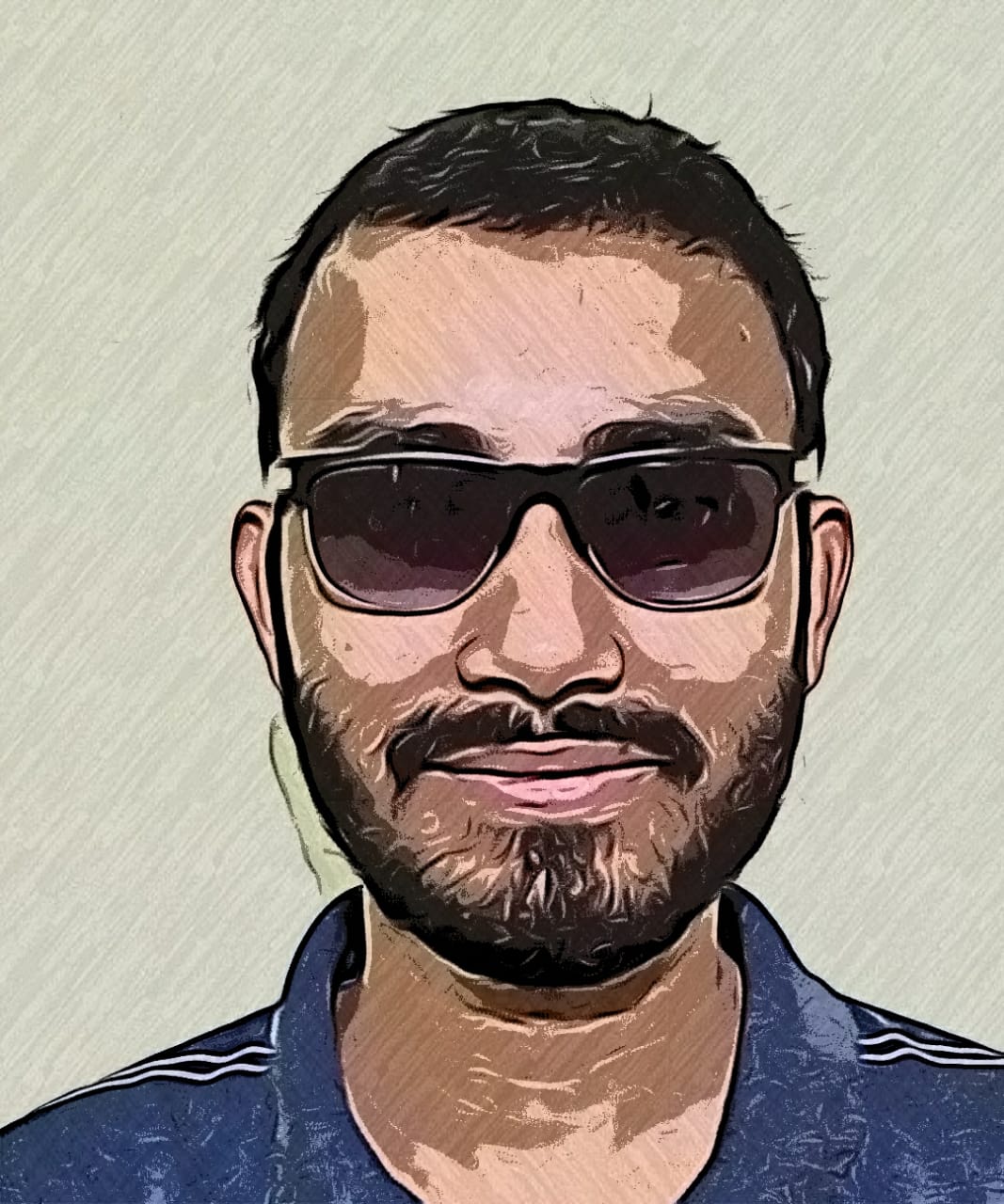 Aric is a tech enthusiast , who love to write about the tech related products and 'How To' blogs . IT Engineer by profession , right now working in the Automation field in a Software product company . The other hobbies includes singing , trekking and writing blogs .