Windows Defender Vs Avast Vs AVG – Which One Is The Best ?
As we all know the Windows Defender is inbuilt in all the windows 10 systems nowadays . So you might be thinking what is the use of any additional antivirus in your system .  So in this post, we will do the complete in-depth analysis of Windows Defender Vs Avast Vs AVG antivirus package offerings and help you to do a well-informed decision for your next antivirus purchase .
First, we will concentrate more on Windows Defender Vs Avast (the clash of the titans) .
Which One You Should Choose In between Windows Defender and Avast Antivirus ?
Microsoft has done an incredible job by integrating the Windows Defender Antivirus package built in the Windows system which can help to eradicate the hassle of installing any other antivirus protection software .
Further, Microsoft also offers a number of competitive features which make it really a very real competitor for other paid antivirus companies altogether.
On the other hand, Avast Antivirus is the most widely used and renowned antivirus firm out there .  Avast is the leading research-based cybersecurity firm that blocks roughly around 2 billion ransomware attacks worldwide every month .
Avast is also known for incorporating many advanced virus and malware detection and eradication techniques in a piecemeal effort .
Note : Windows Defender by default enabled in all the Windows-based Laptops . It replaces the Microsoft security essentials and comes inbuilt with Windows 8 and later updated versions .It will automatically disabled if you install any other third party antivirus software .
Avast Vs Windows Defender Antivirus – Features Based Comparison
Now its time to do the head to head battle between the two by comparing the features list along with the supported data to counter the results. The features might differ for the two , so we first note down the main categories in order to make the task of comparison easier between the two.  So our main categories will be  :
User Interface (Simplicity in daily usage)
Malware and Virus Protection
Overall security and threat protection offered
Application performance and system resources usage
Pricing
Now based upon the above comparison points , we may proceed further  .
User Interface – The Simplicity
One of the main things you should be careful about is the interface for any application . It should not be a clumsy and complex navigation interface .
So for any novice user also , the application should give a nice simple aesthetic ambiance that the user eventually falls in love with it .  So let's see the application interface for both of this antivirus one by one .
Avast Interface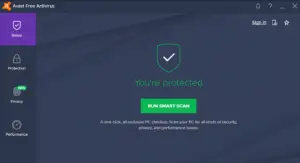 Windows Defender Interface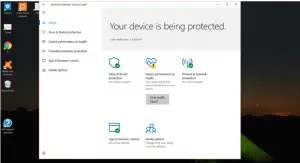 In order to start with the Windows Defender application , you need to just go through a few clicks, and then possibly you reach the main dashboard of the Windows Defender .
It offers a very minimalistic and intuitive interface   . You can now enable/disable many controls from the dashboard of your Windows security center. So overall I have found the Windows defender UI much easy to use and convenient than the Avast antivirus. (also don't contain any annoying ads like that in Avast )
On the other hand in Avast , the UI is also clean but you will see the ' Upgrade to Pro ' pop up every time you open the main Avast dashboard, also whenever you open the application you will be greeted with a huge green check mark , which resembles that everything is fine and working .
The left-hand rail organizes all the major features and into four self-explanatory categories: Status, Privacy, Protection, and Performance. All the major features of the software are just a few clicks away from the main screen.
Clear Winner in this category – Windows Defender !!
Overall security and threat protection offered – The main Decider
This is the main category you should be caring about. Antivirus is mainly meant for providing you with all the security against threats and malware attacks. So let's compare both based upon their capability to keep your system safe and secure .
Windows Defender is the built-in security module provided by Microsoft in Windows systems. It precisely offers all the basic security against the threats and viruses you want . But it surely lags behind the more advanced Avast antivirus .
The schedule scan feature is missing in this. But it provides you the real-time protection you want along with the custom scan option . Also, the builtin firewall and smart screen functionalities are extra add on available with the Windows Defender . It further scans the files you want to download before you use them .
Windows defender provides the signature based scanning feature and offers a check on the incoming/outgoing traffic , also prevents the unauthorized access . The threat signatures are periodically updated as per the Microsoft cloud based threat management system.
Additionally it offers parental control features and the real tie firewall functionality.You can use it to monitor the web activity of your children, restrict screen time with automatic timers, and block your kids from visiting certain sites or apps that are not appropriate for their age.
Now let us see what Avast is offering.
Avast free antivirus is the first product of Avast . It offers all the basic protection you want for your system . But it doesn't offer any extra high end features . Avast Free Antivirus has got advanced security features.
Usually, these features come with premium suites of other Antivirus Software. Just like Windows Defender, Avast has also got a variety of scans which include Smart Scan, Full Scan, and boot-time scan. The Wifi-Inspector tool helps you in finding suspicious Wifi-Networks that can harm your system .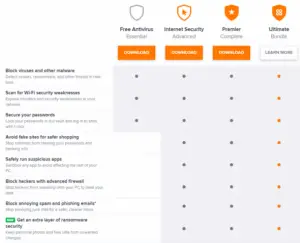 Avast premium offerings are having far more features to offer as compared to Avast .  The Avast Internet Security suit offers many things you crave for in any antivirus package .
It offers more advanced malware and internet security features . Additionally, you will get junk mail filter and it helps you to keep your inbox clean without any spam mails .
The next offering you have from Avast is the Avast Premier Suit . It is the next level Avast offering which incorporates many add on features above the internet security package .
It provides the file shredder facility in order to fully delete any compromised files that you don't want to get hacked by hacker .
The final offering from Avast is the Avast Ultimate – the complete premium security software on offer by the company .  It includes all the functionalities from the previous packages, along with many high-end security solutions .
The password manager is one of the features that allows you to store all your passwords in a digital vault, a VPN utility that lets you anonymously access content that is restricted in your geographic area.
The Cleanup premium feature is also builtin the Avast ultimate offering . Avast cleanup module basically helps in cleaning up the junk files and trash . And hence clearing the memory space required for your system .
Moreover the Wifi-Inspector tool helps you in finding any suspicious Wifi-Networks that can harm your system. The Software Updater updates the outdated applications automatically.
The Gaming Mode lets you enjoy your games without any interruption. Email Protection, Password Manager, and Rescue Disk are some of the other features that make Avast much better than Windows Defender when it comes to Security-Related features.
Clear winner here – Avast Antivirus
Malware and Virus Protection
Threat protection and detection form an integral part of any antivirus core suit. So in this category we have to compare the threat protection ability of both the software .
In order to support our claims, we are further giving the data that we got from the AV Comparatives Tests . The threat-detecting mechanism of Windows Defender and Avast Antivirus is implementing the same signature-based scanning detection method.
Both of them use the database of previously detected malware and virus (by comparing their digital signatures) to detect known malware. In the case of Zero-day attacks both of them monitor and analyze the behavior of the file to see whether it is suspicious or not .
AV test has done evaluation in April 2019 , it gives the result based upon the three categories i.e. Protection, Performance, and Usability .
In the Protection test, Windows Defender scored a perfect 6 out of 6, showing excellent anti-malware capabilities .
Avast scored a 5.5 out of 6 in the test, which is still a good score.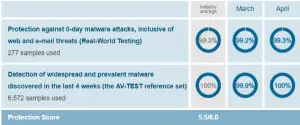 AV-Comparatives is the independent authority that regularly runs several important tests to evaluate the performance of various antivirus software. In their recent Real-World tests, both Avast and Windows Defender gained the second-best ADVANCED award, which is indeed remarkable .
Winner –  Tie as both the software have comparable results from two independent sources.
Application performance and System Resources Usage
One of the top priorities of installing any third-party antivirus is that , it should not slow down your system at any cost . So the antivirus software should not take any overhead resources like additional system memory etc . In short, the system performances should not impact the performance of your system .
Again we will look into the AV- Tests data , Windows Defender scored a 5.5 out of 6 in the Performance category.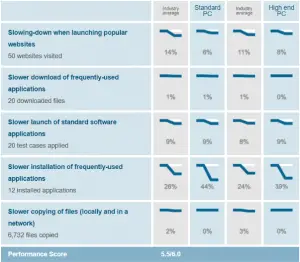 Avast scored a perfect 6 out of 6 score in the same evaluation.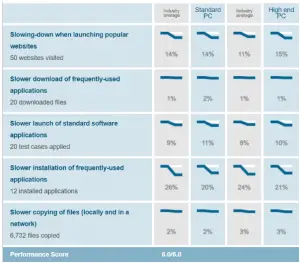 Every Antivirus should provide with real-time protection while consuming as few resources as possible . The working of an antivirus should not slow down the respective system at any cost .
In the same test , Avast earned the highest ADVANCED+ award, due to its remarkable impact score. On the other hand, Windows Defender's performance was extremely disappointing , it came last among the 16 products that participated in the test and received the STANDARD award.  The standard award is the last in the rating category .
Winner : Clear winner here is Avast , (minimal impact in the system performance)
Pricing 
Our last ( indeed vital) category is pricing for both the antivirus software . In this category there is no competition at all . Since the Windows defender is the free application that comes builtin in all the windows based OS . So you need not spend any penny on that .
On the other hand we have Avast, which has both the options available i.e. free and paid . Taking Avast free antivirus is not advisable as it works similarly to the Windows defender application . Regarding the paid option available , there are many plans to choose from .
Avast Internet Security, the company's first premium offering, costs $59.99 per year for one PC. Avast Premium, the next step up, costs $69.99 per year for one PC license. Avast Ultimate, the highest tier of protection from Avast, also gives you one PC license for $119.99 per year.
Winner  – It's up to you , if you want a completely free antivirus then go for Windows defender/ free Avast antivirus. If you want to spend some penny then try the paid versions of Avast antivirus (Recommended) .
Now its time to make the next set of comparison that is between Avast and AVG antivirus .
Avast Vs AVG – The Points You Should Be Caring About
In the above section, we have already seen a lot of points regarding the Avast antivirus in detail . So now we will again understand the complete details about the AVG antivirus .  Our results will e based upon the 5 categories that we have listed above i.e :
User Interface (Simplicity in daily usage)
Malware and Virus Protection
Overall security and threat protection offered
Application performance and system resources usage
Pricing
Note : It should be noted that in 2016 , Avast company already completed the acquisition of the AVG antivirus company . Now both exist in the market and both remain separate brands altogether for end-user perspective .  There are however some minor changes in both of these applications .
User Interface 
For Avast we have already seen above . The interface is very simple and easy to use . Now we should look for AVG UI . The AVG interface is also simple and from the main screen you have to select different navigation components which further makes your life easier .
In the AVG interface , you can see a large circular checkbox indicating your protection plan and there is five different modules you can select i.e. Computer, Web & Email, Hacker Alerts, Privacy Data, and Payments.
It uses the black – green color combination. So the screen always seems very dark and responsive . On click of each of these components , with few clicks you can get hands on the advanced settings and controls .
When some of the shields are disabled, you will see immediately which ones as they will also turn in red in the main dashboard . So no worries .
Winner  : It's a tie , but personally i feel Avast is the winner (completely my opinion though )
Malware Protection 
The protection against the malware and invader attack is the top functionality offered by any antivirus company . So in case of Avast we have already seen above the protection ability and the advanced features present .
In the case of AVG , we should again refer the test data by AV-Tests in 2019 . AVG got a modest 5.5/6 score in the protection category . For Avast we already saw above .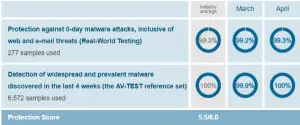 In the AV-Comparatives' 2019 Real-World Protection tests, both Avast and AVG got the second-best ADVANCED award, because of their good malware detection rates.
Winner : Again a tie between Avast and AVG
Overall Security Features 
Both the antivirus software offers similar protection levels with some tweaks here and there . AVG offers spying and data theft protection controlling what kind of data you are sharing with the other applications . Also it offers the real time protection from the online threat and also the file shredding ability .
AVG also offers a free protection plan , it is also very much similar to the Windows Defender protection support . Additionally it also offers the much needed gaming mode and the email protection support .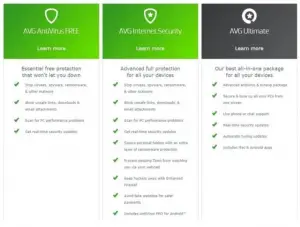 Webcam protection software that prevents surreptitious spying is also part of the suite , as well as an email filter (filters malicious emails and blocks potential harmful links) and a fake website detector (thereby reducing the financial info theft) .
Winner : Avast (with a negligible margin) , for its other great advanced features
Effect on System Resources and performance 
One of the first factors we look into any antivirus is the less overload on the resources and less data consumption . In the boot time test where less is better, it took only 28 seconds (on average) to load Windows desktop when Avast Free Antivirus was installed. The same operation took 33 seconds (on average) when AVG Antivirus FREE was installed.
In the performance category of AV-Test evaluations, both Avast and AVG received a perfect 6 out of 6 score , this basically means that both this software is really awesome by negligibly affecting the system resources .
In the AV-Comparatives' recent performance test, which was held in April 2019, both Avast and AVG got the highest ADVANCED+ award form the company, because of their low impact scores .
Winner : Again a tie between the two
Pricing 
AVG Internet Security, which works on both PCs and Macs, protects up to 10 devices for $79.99 per. Also, you can protect more devices by spending less penny for AVG antivirus thus in this category we can say that the AVG is the clear winner .
Popularity and Customer satisfaction 
For popularity , we have referred a report  . According to which  Avast is leading the market share for antivirus with around 18 percent share , whereas the AVG antivirus is present for around 4 percent of market share (this report published before the recent takeover of AVG by Avast company).
For customer satisfaction index , Avast has an excellent A+ rating from the BBB (Better Business Bureau) , showing great company reputation and exceptional customer service. AVG has an A+ rating as well . So both at par in this criteria .
Final Conclusion for  Windows Defender Vs Avast Vs AVG
As we have seen a feature list for all the three antivirus package and we can say that among all three , Avast antivirus should be your top choice .
If you are looking for a free option then any of the three free antivirus version might work for you . Also Avast won more number of challenges above (for Avast vs AVG ,the competition was neck to neck , still Avast won by a thin margin )
So I hope that you are really impressed and determined by now about which one to choose from , let me know in the comments section . Stay tuned for the next battle that is the Bitdefender vs Avast .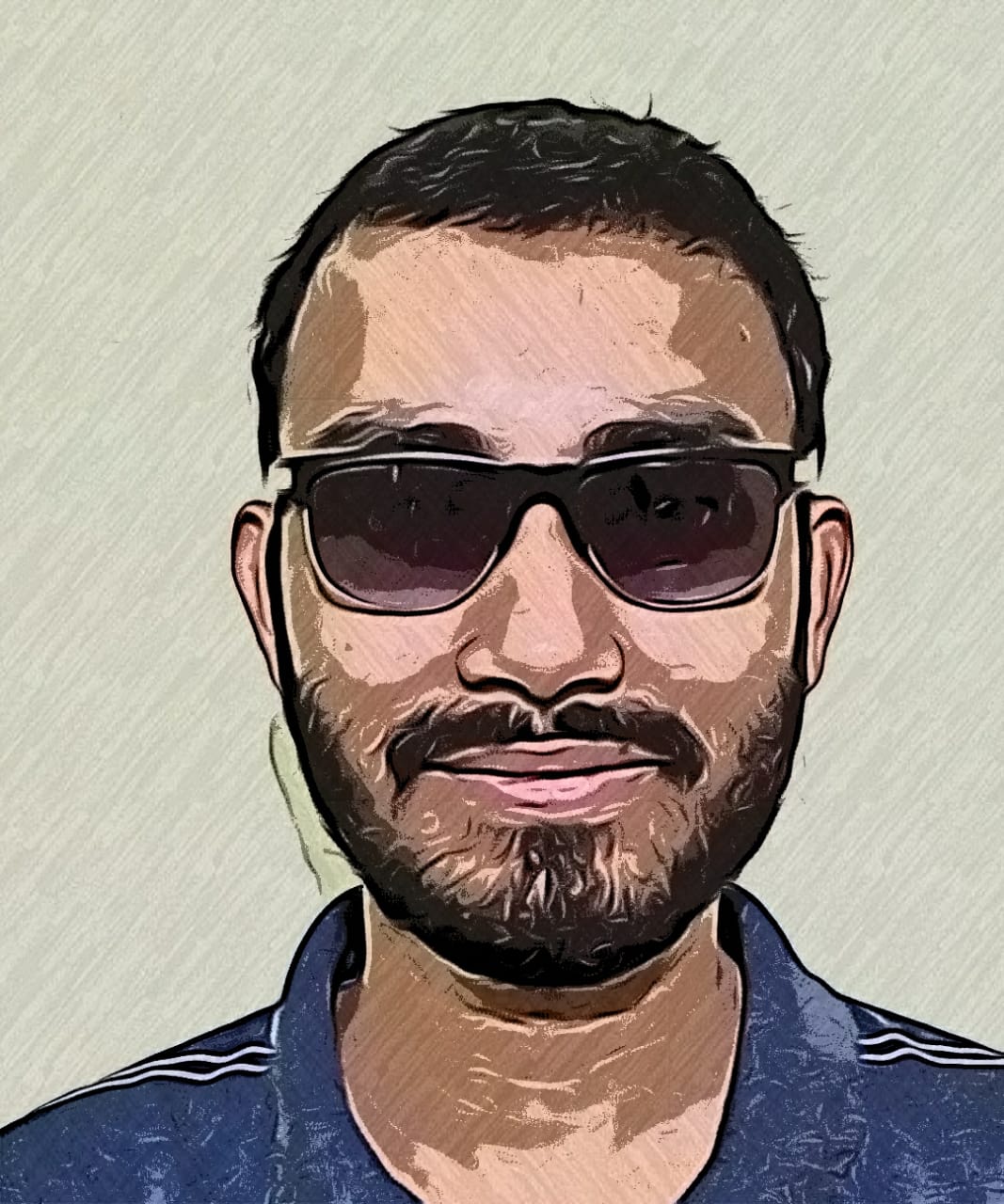 Aric is a tech enthusiast , who love to write about the tech related products and 'How To' blogs . IT Engineer by profession , right now working in the Automation field in a Software product company . The other hobbies includes singing , trekking and writing blogs .