How To Delete Skype Account And Messages Permanently ? (Best Skype Alternative And Skype For Business Alternative Available)
Skype is undoubtedly the oldest and a trustworthy VOIP (voice over internet protocol) application. You can easily make text/voice/video communication with others using this application. There are many users who actively use this Skype tool daily to connect with others, but now with the inception of other VOIP tools, Skype is losing its stronghold.
In this post , we will learn the steps required to completely delete Skype account. Further, we will also explore the various alternative to Skype available later in this post .
Skype is now an integral part of your Microsoft account (after the acquisition by Microsoft). So if you permanently delete the Skype account , you have to delete the linked Microsoft account too. And it may happen that the same Microsoft account is linked to other applications like Xbox , Outlook etc .
Unfortunately there is no specific straightforward delete option available in the Skype account , so it seems pretty difficult to delete the Skype account at first . However, it is not impossible to do so. Now since you don't want to further engage with this tool, proceed further to learn the steps to get rid of it fully .
Note : Skype removal process usually takes time and if offers around 60 days of the grace period. Within that period you can again change your mind and reinstall the application without losing any data and contacts.
Best Skype And Skype For Business Alternatives Available  !!
For the top Skype alternative available, please refer the below list (in no particular order) :
Slack 
Zoom
Whatsapp 
ooVoo
Google Hangout 
Discord 
Later in this post, we will explore each of these applications in full detail . Till then be patient and read through (or you can directly jump into this topic by skimming through the article quickly)
How  To Initiate the Skype Account removal Process ? (Skype Account unlinking process)
Remember that if you don't want to completely delete your Microsoft account, then you need to first unlink the Microsoft email id that you use for logging into the Skype account , if you forget to do so , then you will lose all the data and accounts linked to that email id all together.
So the first priority for us is to unlink the email id from the Skype account and proceed further into the deletion process . So let us understand the unlinking process first :
1. Go to your browser and enter Skype.com , then sign in with your Skype credentials.
2. Then once you are into the Skype application , go down the page and search for the option 'Account Settings' , which will be present under settings and preferences (in account details section).
3. Now search for your Microsoft id and also an option  Unlink/Not linked adjacent to it .
4. If it is linked , then go and click on the option 'Unlink' right away . It will eventually de-link the id from the Skype account .
5. Then in the final step, it will ask for some confirmations , click on the 'Continue' option to proceed further with your selection .
Note : If the option displayed as 'Not Linked' instead of  'Unlink' , then your Skype account has not been linked to your Microsoft account , so you can quickly jump into the next section .
So now once we unlink the Microsoft id from Skype account , we can now enjoy uninterrupted services in other Microsoft services like the Onedrive, Xbox etc seamlessly .
Also, keep in mind that Unlinking accounts may sign you out of your Skype account. If so, just sign in again at Skype.com to proceed with the account deletion process .
Skype Subscription and Recurring Payments Service Cancellation !!
Now once we have successfully unlinked the Skype account (in the previous section) , its time to cancel the paid subscriptions and stop the recurring payment options (if any present) .
In the account settings section , search for the paid subscription you have in the left you want to cancel . Then click on the option 'Cancel Subscription' to proceed with the cancellation . Then finally  click on "Thanks but no thanks, I still want to cancel" to confirm subscription cancellation  .
Note : After canceling the paid subscriptions , you may now ask the Skype support personal to delete the account, for this you have to fill some online form or directly ask them over live chat . You can further cancel out the Skype number by clicking on the Cancel Skype Number in the managed features section .
If you have set the recurring payments option to have your Skype credit automatically topped up if the balance falls below a specific level , now you can disable the Auto-Recharge feature i.e.  go to the Account Details section on the web click Billing & Payments, then hit Disable under the Auto-Recharge tab right next to Status . 
How To Delete Skype Account Permanently in Your Desktop (Windows/Mac OS) ?
Now once all the above prerequisites checked , you may proceed to directly delete your Skype account from your desktop device in Windows/Mac OS . Follow the below steps :
1. Firstly launch the Skype application on your desktop by giving proper Skype credentials correctly .
2. Click on your Skype Name, present at top left corner in your desktop screen
3. Then a pop up appears, scroll down and click Settings (a pop up window appears for settings)
4. On the right-side panel, scroll down and click Close your account present at the bottom
5. Then finally verify your id and password to proceed
6. On the Ready to Close window, just go through the information provided regarding the things you will lose possibly , then click Next 
7. Then check the required checkboxes , that will make sure you understand the consequences of deleting your Microsoft account
8. Ultimately select the exact reason for the Skype account deletion  (or select My reason isn't listed)
9. Click Mark account for closure to proceed for final closure .
So once you have initiated the closure process , you have to be patient now for around 60 days. You may change your mind in between to again return back to your favorite VOIP app .
How  To Delete Skype In Android / iOS devices Easily ?
The process is very similar to the above steps (seen in the previous section). Let us understand them :
1. Launch Skype application on your mobile
2. Tap on your Skype Name present in the Skype app . 
3. Go to Settings  section by tapping the Gear icon present on the top right corner
4. Then tap on the Account & Profile option and then select  Close your account
5. Verify your id and password to proceed further
6. Go through the list and click Next
7. Mark the checkboxes and list the Reason for your decision to delete the Skype App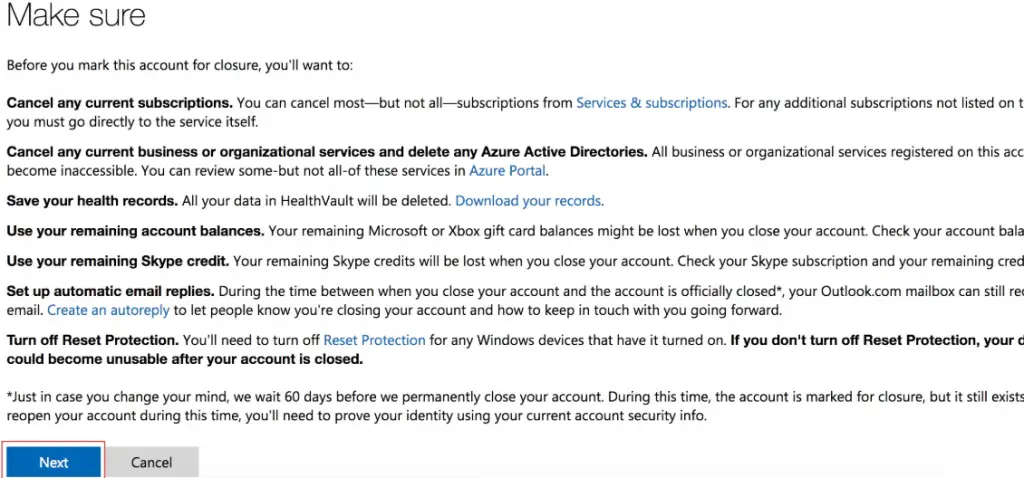 8. Now, tap on the option Mark account for closure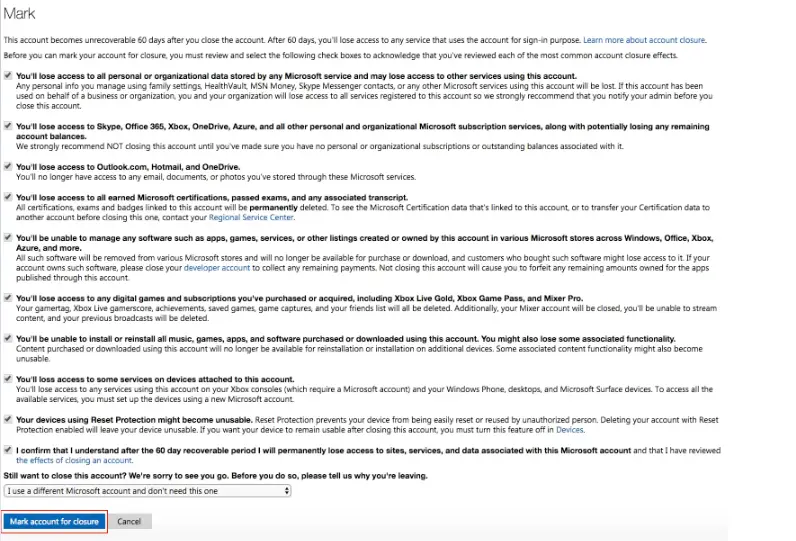 How To Remove Personal Information From Skype Account
Removing the personal information from the profile section, it will further make it difficult for others to search your profile in the Skype search section. First step is to remove the Skype profile picture right away. (replace it with a generic pic)
The second step is to change the Skype status, so that your Skype contacts can easily find your inactive profile while searching you in Skype.
Now at last change the Skype status , by navigating to 'My Info' and then click on the Status and change it to invisible or Offline .
Now finally sign out from all your Skype logged in devices (including the present device) , to sign yourself out of Skype on any other devices you might be using, type the chat command /remotelogout into the chat window on one of your Skype devices.
How To Delete Skype From The Log In Screen ?
In order to delete the Skype icon from the login screen , just hit start menu, then type Run , click Enter ,
Then, type  %appdata%\Skype , and click OK.  Then delete all the Skype account folders respectively. In this way, you finally get rid of Skype from your life completely .
How To Delete Skype Messages or conversation ?
If you want to delete the Skype messages and the desired conversation (from both the sides) , you may follow the below steps :
1. If you want to delete a specific message in any particular conversation, just click on the conversation and on opening the conversation, just select the message you want to delete , for this click on the three dots present adjacent to the message , then you can view various options you want to execute with the message .
2. In your mobile Skype app , go to the chats tab and tap on the conversation that contains the message you'd like to delete. Then hold the message for some time, it will then display the various options you want to do with the message .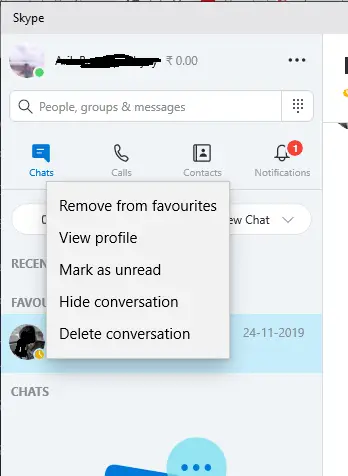 Delete Skype Account – The Conclusion !!
It is indeed very common nowadays for any service provider to not directly give the delete or remove options right away ,  so that the user will not accidentally delete the application .
Hence on Skype too , you have to go through a pretty long process (by marking various checkboxes) of deleting the Skype account from your mobile or desktop completely .
Please be patient after you clicked on the option ' Mark account for closure ' for around 60  days . During this period you can still recover your account by signing in and it will still be discoverable in the search directory. After that, they will delete your Skype account permanently.
Is there Any Alternative for Skype and Skype For Business Alternative Available  ?
So here comes the million-dollar question i.e. after deleting the Skype account , now what ? Fortunately, there are many other feature-rich VOIP applications available today which indeed provide well-crafted voice , video and text communication .
As you decided to delete the Skype tool , hopefully you have already decided on its replacement beforehand . So we are here with a simplified list of all the top alternatives available for Skype application which will be worth mentioning no doubt .  So let us explore each at a time briefly :
1. Slack Application (Skype for business and Skype Alternative)
Slack is a popular cloud based messaging platform developed by the Slack technologies . You can easily create chat rooms and share instant messaging with your team members at real time . You can even do private conversations , also organize public workspace which will be open to all . 

It also offers good integration services with other third party applications like the Google Drive , Zendesk , Zapier , Trello etc . It further offers services in both i.e. Android and iOS platform  . In the freemium model , it will store up to 10000 most recent messages , you can have multiple teams for a single user account , you can also have teams , and better notification levels . 
Slack provides an application programming interface (API) for users to create applications and automate processes, such as sending automatic notifications based on human input,  sending alerts on specified conditions, and automatically creating internal support tickets . 
2. Zoom Conferencing Application (Skype for business alternative)
Zoom is a cloud-based communication platform , where you can seamlessly share text , video, or voice messages with other members .  Zoom relies on client-side encryption using the Advanced Encryption Standard 256-bit (AES 256) algorithm for presentation content. It can support up to 100 video participants at a time . 
It also offers integrations by providing native support for Slack and Skype for Business application . It offers the best video, audio, and screen-sharing experience across Windows, Mac, iOS, Android, Blackberry, Zoom Rooms, and H.323/SIP room systems . This is mainly known for its quality video conferencing service and also its generous free trail . 
3. Whatsapp Application (Skype Alternative)
This is the basis of all the application we have mentioned here . Also if you want to switch to some simple and UI friendly chat application , then Whatsapp is what you should try once . You can easily create groups and share files as required seamlessly with others. 
Further the messages are end to end encrypted , so there is no need for extra security .  But being a free application , video conferencing will be the main pain area . One to one voice call is clear and efficient . You can even use it for business with the standalone launch of the Whatsapp Business tool . A cellular number is required to start this application . 
4. Google Hangout Application (A great Skype for business and Skype Alternative)
Google hangout is another communication software developed by Google, it was earlier a part of Google+ . It is truly the amalgamation of Google+ messenger and  Google Talk . Now it is being developed as the enterprise graded communication platform by the launch of the Google Hangouts Meet . You can easily share files and documents with others here .
Hangouts include the ability to make free voice calls to other Hangouts users, and charge users (via pre-registered credit) to call landline and mobile phones internationally except for calls to the United States and  Canada which are free of charge . It has separate Android and iOS apps . 
With Google Hangouts Meet , you can do video conferencing with upto 25 (30 for G suit users) users in one call . It also offers integrations with the Google calendar for meeting calls and schedules. 
ooVoo is one of the best video telephony , video conferencing, and VOIP application . It is completely free and supports video conferencing up to 12 members at a time .  ooVoo has applications for Android, iOS, Mac OS X,  Microsoft Windows, Windows Phone, and Facebook  . 
6. Discord Application  (A worthy Skype alternative)
It is a renowned messaging platform for gamers out there . But it can also be termed as a crucial instant messaging service . You can easily form discussion forums and start any separate threads , share files , voice messages with ease. You can even start a video conferencing with specialized voice gears and quality features like noise cancellation etc in this platform .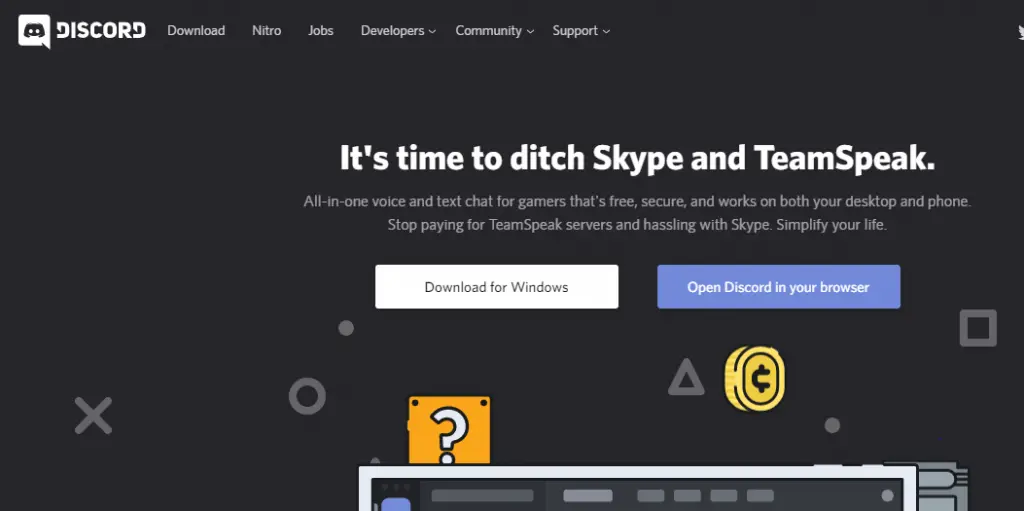 It is also present in almost all the OS i.e. Windows , Mac OS , Linux, and iOS platforms . You can easily create different channels and start live streaming right away . This is indeed known for its nice intuitive UI and simple interface (offers great ease of use) .  
Skype And Skype for Business Alternative – Final Thoughts !!
In today's date , there are many VOIP applications present that offers feature-rich built-in voice/video chat functionality along with group messaging and video conferencing facility .
So you should try and test each of these great tools once and decide as per your requirements depending upon the free version usability (or during the free trial period) , then if you want you can invest further for the paid version . 
Hope you really enjoyed this long yet informative post. Stay tuned for more interesting stuff in this series .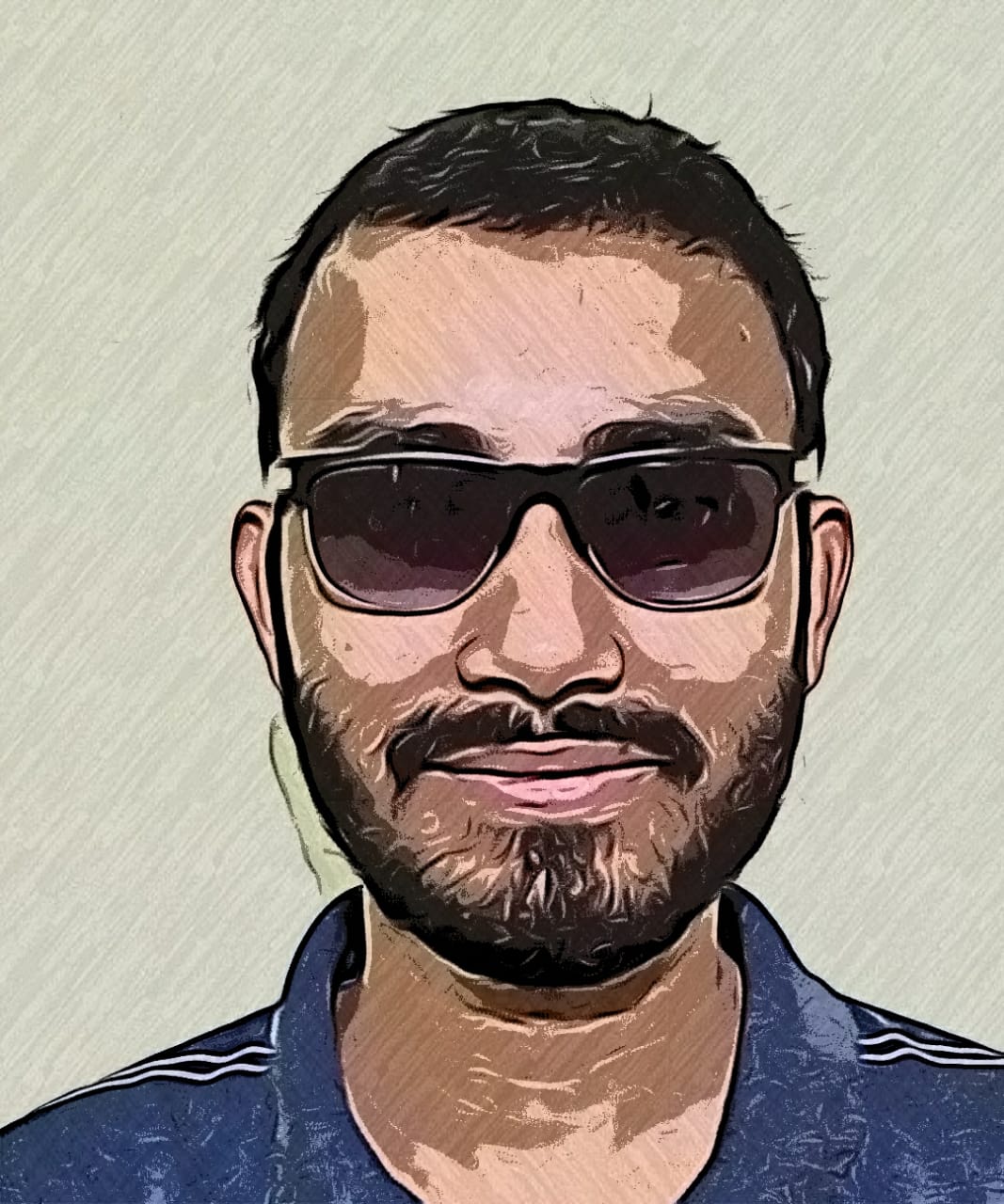 Aric is a tech enthusiast , who love to write about the tech related products and 'How To' blogs . IT Engineer by profession , right now working in the Automation field in a Software product company . The other hobbies includes singing , trekking and writing blogs .