Salesforce Einstein Analytics – The Ultimate Guide !! ( Sfdc Meaning And Salesforce DMP In Detail)
Slaesforce is indeed the leading CRM tool available in the market today . In this post, we will explore the in-depth insights regarding the meaning of CRM , Sfdc , Salesforce DMP, and lastly the Salesforce Einstein Analytics in detail. So just sit back and enjoy reading further.
What Is CRM And Why Do We Need It ?
To understand this , let us first understand the difficulties for any sales team managing a large number of B2B interactions on a daily basis .
If you are keeping records of each of your potential leads or customers manually , then eventually you will realize that you are spending more time adding/updating customers or leads records than actually selling your product/services in the market .
In order to automate the tedious process of managing customer records , emails , contact numbers of any potential leads etc you can now rely on the CRM tools available in the market . CRM is the Customer Relationship Management tool that can be used to make the relationship of a company with the potential/existing customers smooth and efficient .
It uses extensive tech and data driven analysis about customers history with a company to improve business relationships with customers. With CRM tool you can undoubtedly enhance the customer experience and further help your prospective client to exponentially grow in their respective field .
What Is The Meaning Of SFDC ?
SFDC is nothing but an abbreviation to Salesforce Dot Com . Salesforce is the most popular SaaS (Software as a service ) cloud-based CRM today. Salesforce is known for its CRM platform that includes the Sales Cloud, Marketing Cloud, Service and Community Cloud, Data Cloud, Analytics Cloud, App Cloud, and IoT (Internet of Things) .
The company chose SFDC rather than SF alone to avoid confusion with the current acronym of its hometown, San Francisco!
Salesforce – A Definitive CRM Solution !!
Until now, any CRM tool was just another application built on legacy technologies and was using local databases to store all sorts of transnational data. Then with the inception of Salesforce application, it changed the way CRM tools work until recent times .
Salesforce is nothing but a CRM housed on cloud , they have come up with this revolutionary idea of housing the application and the entire data on to the cloud . This essentially makes Salesforce stand out to be the best in class CRM in today's world.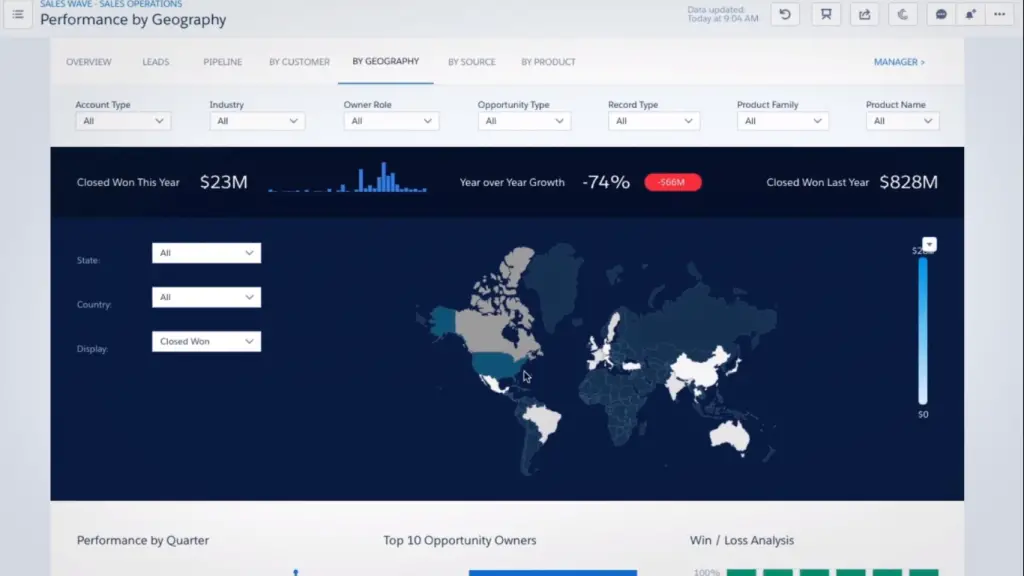 Salesforce is in the cloud, so your team can use it from anywhere with access to the internet . Salesforce seamlessly integrates with 3rd party apps.
If you want to integrate Salesforce with Gmail you can do it, if you want to integrate it with your accounting software you can do that too. On the other hand, integration is tough with other CRMs.
Salesforce Einstein Analytics – The Need Of Real Time Data Analysis !!
There is a huge growth rate of Data and Information stored and processed every second and this is increasing rapidly . Hence, analysis of the data becomes a necessary thing for the companies to stay in the right pace with the market requirements .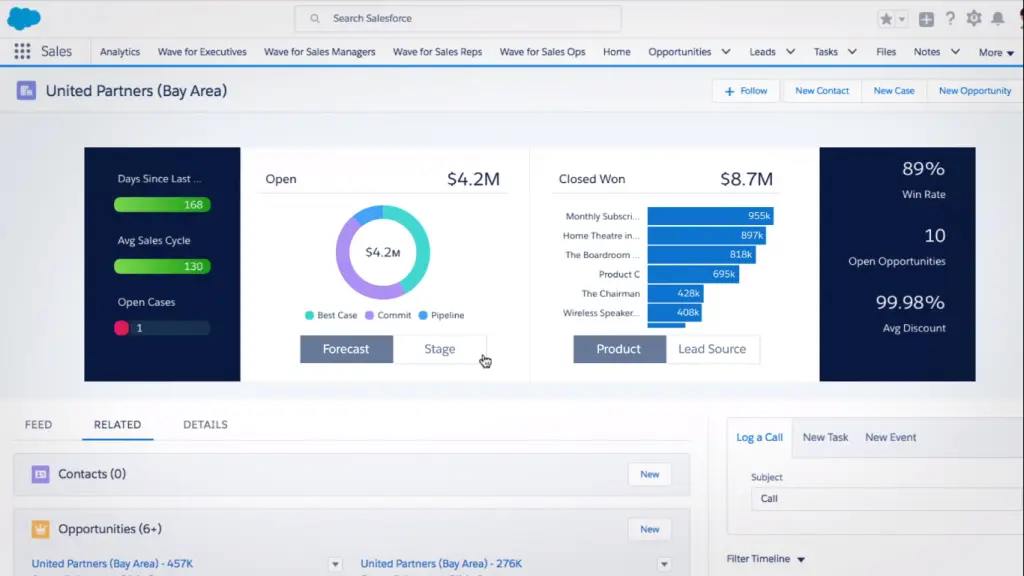 Companies hire the best Data Scientists to analyze the generated data and to abstract the insights.
Do you know ? 
Facebook processes 500+ terabytes of data each day.
Salesforce Einstein can be treated as your own personal data scientist for every single company out there in the market which uses Salesforce. It basically makes use of the advanced Artificial Intelligence algorithms on the data to deliver a notion that can be adopted by other companies .
Salesforce Einstein analytics basically helps in providing the sales-related data-driven by various factors that can be used by your sales team to close any deal faster. The sales team can have a deeper understanding of the customer needs and can take actions in the whitespace analysis.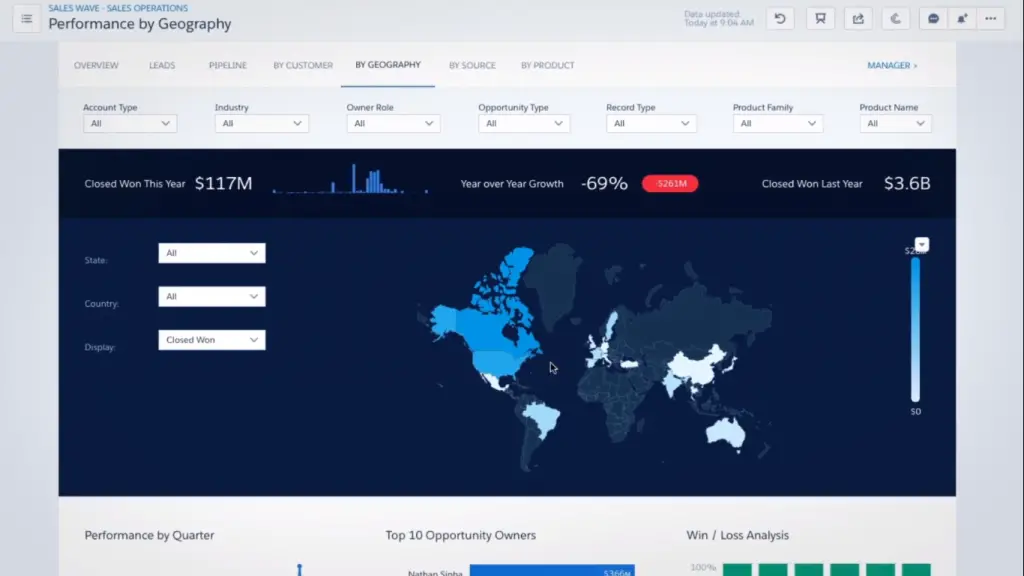 Managers can easily explore the entire pipeline and can evaluate the team's performance. Executives can able to view the sales and service KPI's .
They can even view stats and analyze operations in a different geography, products or teams . They can easily counter the bottlenecks and take further actions to smoothen the marketing process.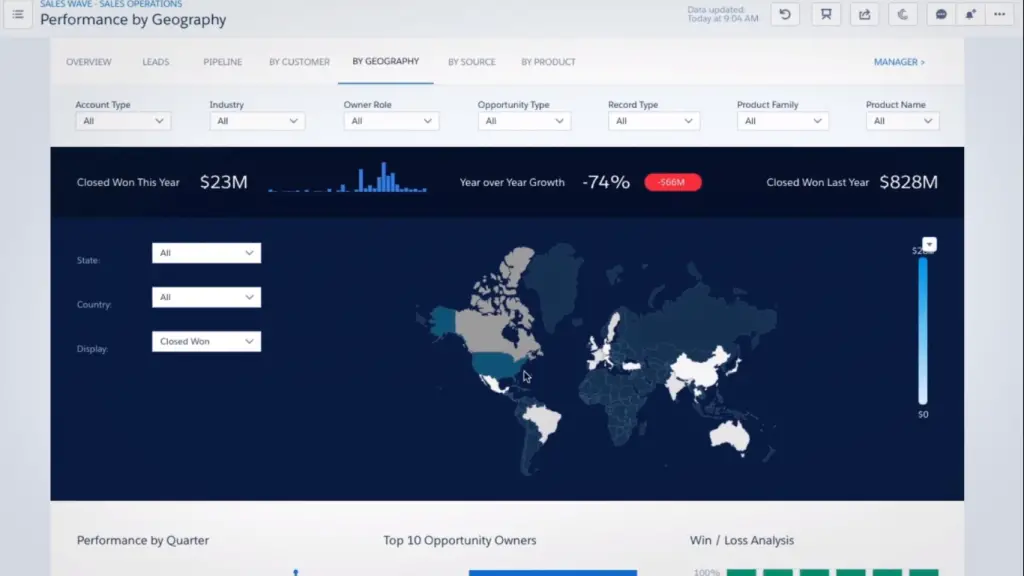 With Einstein discovery , you can easily get notified by the various trends, relationships and opportunities, can view the performance in real-time, and then take immediate action in the dashboard with the various advanced features .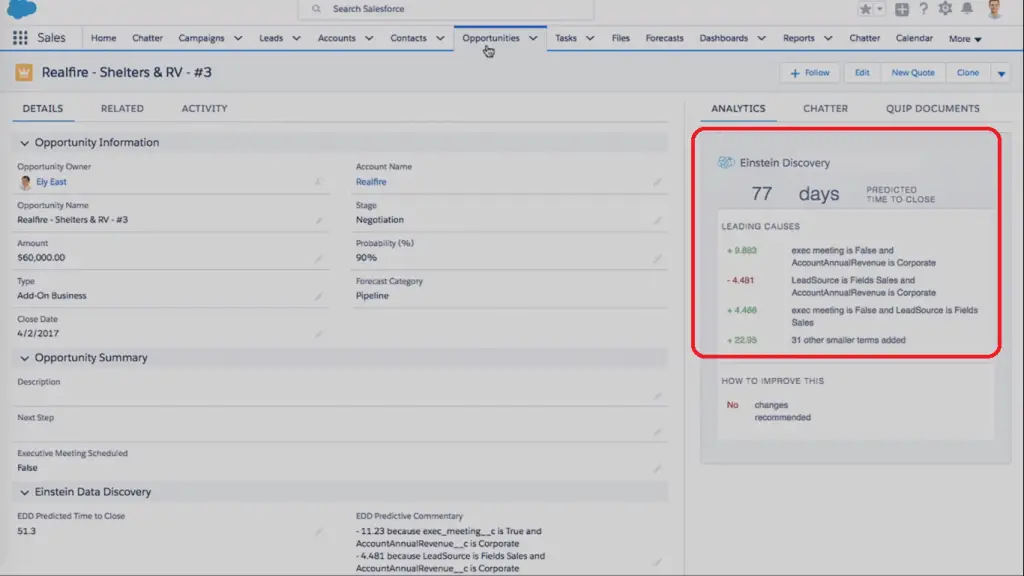 Use Of Artificial Intelligence In The Salesforce Einstein Platform !!
Artificial Intelligence is an inherent technology that is embraced by the Salesforce Einstein analytics. Artificial Intelligence (AI) is the simulation of human intelligence processes by machines which includes learning, reasoning, and self-correction.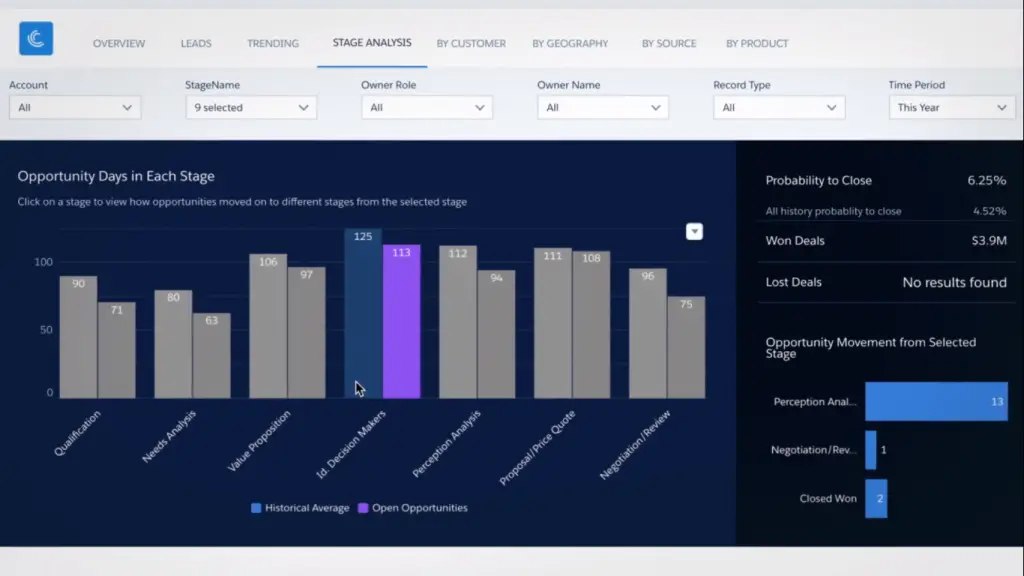 The use of AI in Einstein analytics basically enhances its performance by saving time , helps us in making quicker decisions and it can process lots of data more quickly. With AI you can easily make recommendations based on the user's interest (used by Netflix) , helps in showing products based on the customer's buying behavior (used by Amazon)  etc .
Do You Know ? 
IBM's cognitive computing system Watson ,  competed in an American Quiz show Jeopardy and won the first place prize of $1 million  
Salesforce makes use of the AI methodologies in an adequate way for product analysis . So Salesforce makes use of this AI based Einstein platform in the following way :
Efficient analysis of specific data from any organization. They aid the salesperson by averting Information Overload for them. It also saves the crucial time by effective processing of customer data.
The essential elements for the data-driven analysis in Salesforce Einstein Analytics mainly includes the following modules :
1. Data : For statistically more accurate results, Einstein demands sufficient data. It needs a minimum of 1000 instances for the powerful processing and suggestion of improvements.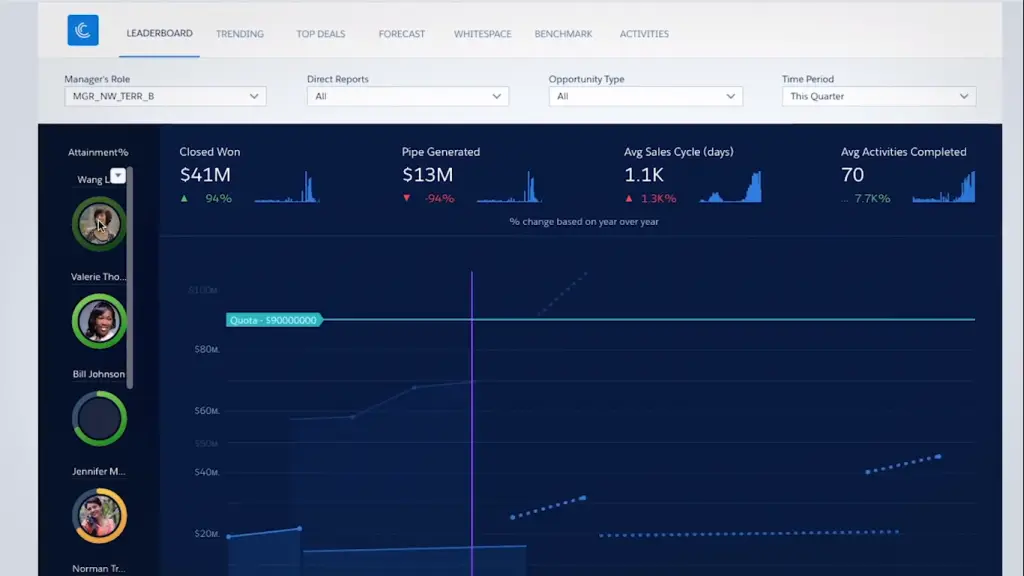 2. Computing Capacity : It becomes an indispensable thing when it comes to the matter of Scalability. As the Customer increases, we must scale up, to accommodate them efficiently. Salesforce further uses the Amazon Cloud Services in order to achieve the desired scalability .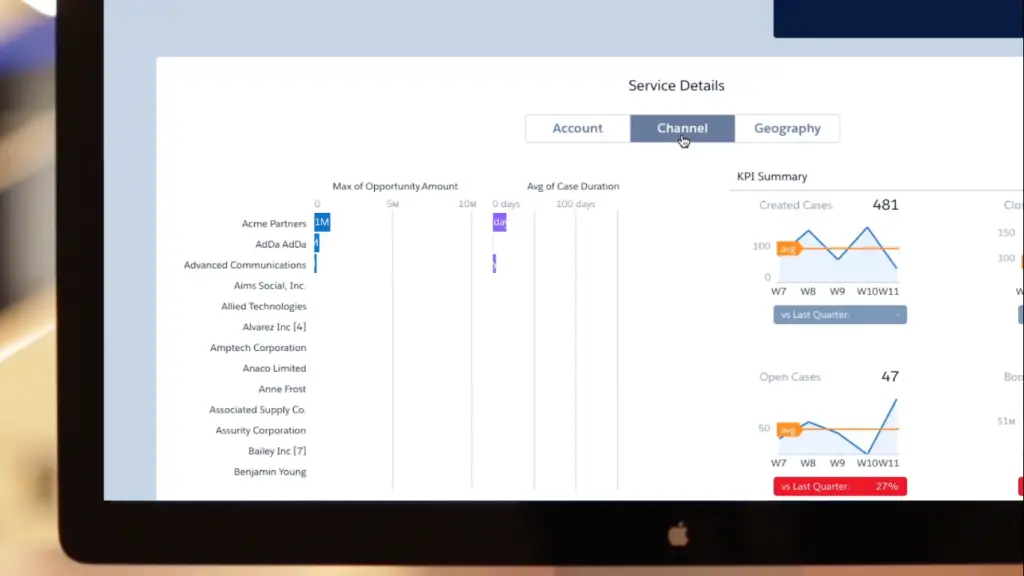 3. Data Science : In order to implement the principles of Data Science , Salesforce in recent times acquired the companies like :
BeyondCore
Demandware
PredicationIO
RelateIQ,
this essentially helps them in analyzing the billions of data in seconds to give equitable answers and make the recommendations.
4. Time : Salesforce Einstein processes the information in no time to give us valuable recommendations for the improvement .
Einstein works with our data in a practical way. The following techniques are made on the data to turn them into insights.
1. Discover: Gives the new clarity to the company.
2. Predict: Helps users to decide with confidence by predicting future incomes.
3. Recommend: It recommends the best action for the user to focus on the success.
4. Automate: They help us in automating tasks which saves time in processing the data.
Einstein works more smartly by continually learning and by giving us the best recommendations. They do show us the intelligence by analyzing the background information of how recommendations are made. Evolving to give us the best recommendations every time and providing the best timely insights .
Einstein serves the different types of cloud namely:
Sales Cloud
Marketing cloud
Community Cloud
Commerce cloud
Einstein Platform Services
Einstein delivers different functionality for various clouds. In the next sections, we will understand each of these cloud services in detail now.
Salesforce Einstein Sales Cloud Features !! 
So if you are managing a sales team, you may find the task of keeping track of various sales accounts, insights to enhance sales tasks etc very tedious to handle. With the Salesforce Einstein tool, you can easily manage all the sales task easy to manage and execute . 
Some of the key features of the Einstein Sales Cloud as follows :
1. Opportunity Insights : Opportunity Insights in Einstein makes use of historical sales data to discover the unique patterns that can contribute to the decision making of an organization. Opportunity Insights are specific to a team because the sales process differs among teams.
2. Lead Scoring : Prioritizing the best leads helps the company to grow more productively . This is where our Einstein comes into a picture by doing the Lead Scoring. Einstein uses the AI to analyze the data of past sales automatically and discovers patterns out of it to determine whether a lead is capable of converting into opportunity. 
Note : Lead Scores are updated in an hourly time period as and when a new lead joins in . Lead scoring basically helps in increasing the conversion rate . 
3. Automatic Email Calendar Sync : Einstein Activity Capture has a direct integration with Gmail and Office 365 to log your emails and calendar invites automatically.
4. Automatic Contacts : Automatic Contacts of the Einstein is the super simple concept in the Salesforce Einstein. Einstein Automatic Contact analyzes the emails and calendars of yours to suggest contacts or events that you may have failed to add into your Salesforce account
5. Account Insights : Account Insights are created by analyzing thousands of news articles each day, identifying major events, and changes in accounts that are important to users.
Salesforce Einstein Marketing Cloud Features !! 
In order to market any product to prospective customers , we need to first understand customer's behavior . So with Salesforce Einstein analytics, you may rest assured regarding this. Einstein Recommendations recommends the best item or advertisement content for each individual in the web via email, messages, mobile apps and so on . 
Different types of recommendations that Salesforce Einstein provides are:
1. Add-on
2. Complimentary
3. History based
4. Similarity based
Salesforce is not the only company that provides recommendations. Take the example of Amazon. In Amazon, when you make a purchase, you can see a recommendation of other items along with it. It is a type of personalized campaign to make the users buy it . 
Note : It's important to note here that the Salesforce DMP is an integral part of the Salesforce Marketing Cloud, where other Salesforce solutions like Sales Cloud, Service Cloud, and AppExchange Marketplace seamlessly integrate within the ecosystem . (Salesforce DMP will be discussed later in this post)
Salesforce Einstein In Community Cloud  !! 
Salesforce communities help organizations to form intelligent communities and portals for them to be connected.
For example, if you have expressed your interest in hiking in the Salesforce community, you need not worry about not having a partner for the next hike.
Salesforce Einstein will recommend you the best partner. Have you ever noticed these facts:
While reading twitter, it suggests some trending Hash Tags.
Some trending articles get recommended on reading online newspaper.
Einstein can make a way through it by attracting customers. Einstein helps in analyzing the trending posts that benefit us in the ways of increasing engagement , sales , driving sales, and saves time overall .
Salesforce Einstein can train itself with keywords or phrases to gain the immediate attention of customers. Salesforce Einstein renders content to what customers are looking for. 
How To Use Salesforce Einstein Analytics Studio ?
If you want to use the Salesforce Einstein Studio , you have to follow a three-step process as mentioned below :
Connect any Data
Explore and Visualize
Share the story
Let's get our hands-on the Salesforce tool to get the best insight out of it.
Login to Saleforce using the appropiate credentials.
Click on the App Launcher in the home page.
Choose Analytics Studio.
The picture depicts the page of Analytics Studio with various tabs namely:
1. Apps : Only the creator can see private apps . Anyone who has access can see the shared apps .
2. Lenses : Saved explorations from the Dataset is stored in Lens. They contain Measures  (aggregation of data) , Dimensions (Grouping of data) and  Filters (Data to be included)
3. Dashboards : This is the main central panel , from where you can see all the stats and sales insights you want to view . From here you can manage various marketing tasks and you can set any new advanced campaigns etc .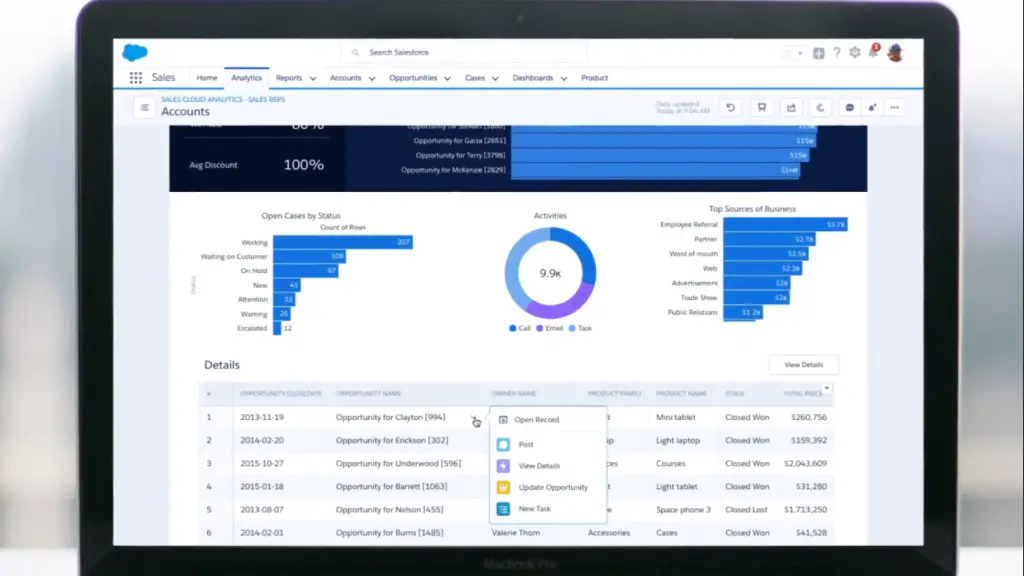 4. Datasets : Datasets contain the most formatted and optimized data from different sources like MySQL, Hadoop, and CSV. 
Salesforce DMP – Everything You want To Know !! 
Salesforce DMP  is the Data Management Platform , that can be used to collect and process an enormous amount of customer data . Advertising and marketing are all about targeting the right audiences with your campaigns .
For targeting any specific market segment, you need to gather adequate data related to the audiences in advance through market research  .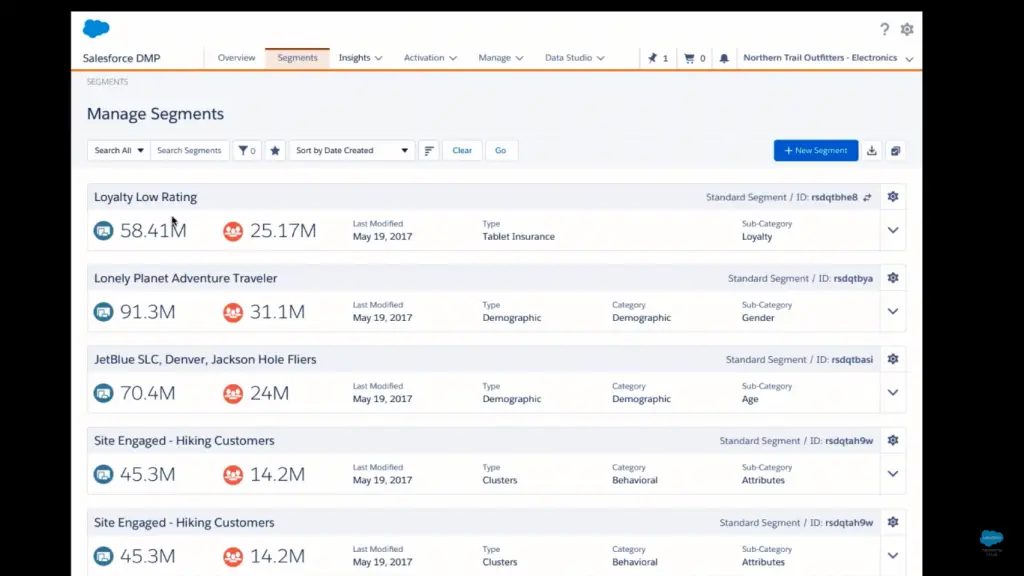 Why DMP is required today ?
DMP is simply required today since we have many platforms like a customer that may be using a tablet , mobile phone , smart TV etc . So from various digital mediums, customers are engaging digitally and accessing the content.
Further there is an intense competition present in order to target any audience segment . So implementing a DMP  will eventually help in targeting a specific segment in the market . 
What Is Salesforce DMP ?
Salesforce DMP helps in gaining audiences through inbound marketing channels to your desired niche efficiently . With this, you can gradually enhance the conversions rate by customizing the marketing campaigns (as per the data gathered by the DMP which further increases the likelihood of conversion)  . There are mainly four core principles in this :
1. Collect Data : It will first gather data from the websites , retailers , feeds , CRM tools, and from many other channels . Then this data gets stored in the Data Management Platform .
2. Unify Data In A Profile : Now the collected data will get mapped to a perfect matched audience . There is a unique identifier to differentiate the user using a website with the person using mobile . This compiles information from its own and external sources to create detailed user profiles . 
3. Create Audiences : DMP now process the enormous collected data , it then create audiences based on the data usage . For this kind of market segmentation, it uses smarter technologies indeed . 
4. Push To Marketing Platforms : Now, the data will be pushed to various multiple marketing channels. With this data, you can now able to efficiently start your inbound CRM marketing process . 
Salesforce DMP can manage a large volume of data from its sources as well as partners that use the same tool and complete the information about our users that we have our disposal more deeply than similar programs.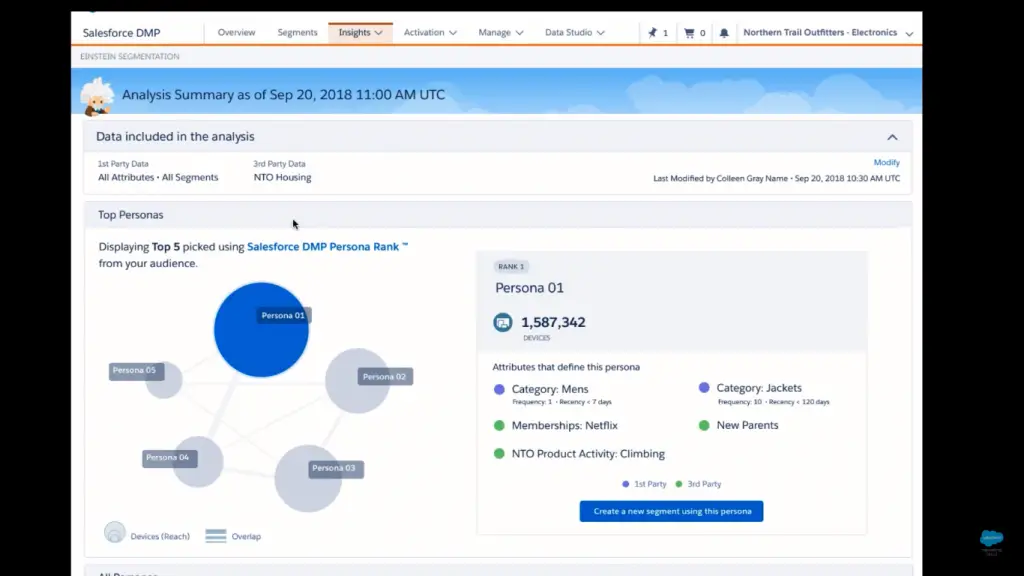 Salesforce DMP's primary characteristic is that it processes anonymous data from other sources (besides its own) and unites them to complete the information we already have. 
So with the data studio , you can create personalized audiences using the data collected from other trusted sources . You can even protect data sharing by managing the accessibility of the data . 
With the Salesforce Einstien DMP Segmentation , you can use the Einstein technology (discussed above) that uses Artificial Intelligence and machine learning to process the data by applying automated learning. Salesforce Einstein AI mainly permits you to define a brand's audiences, letting firms personalize their marketing campaigns . 
Hope you really liked this post . Stay tuned for more interesting stuff in this series .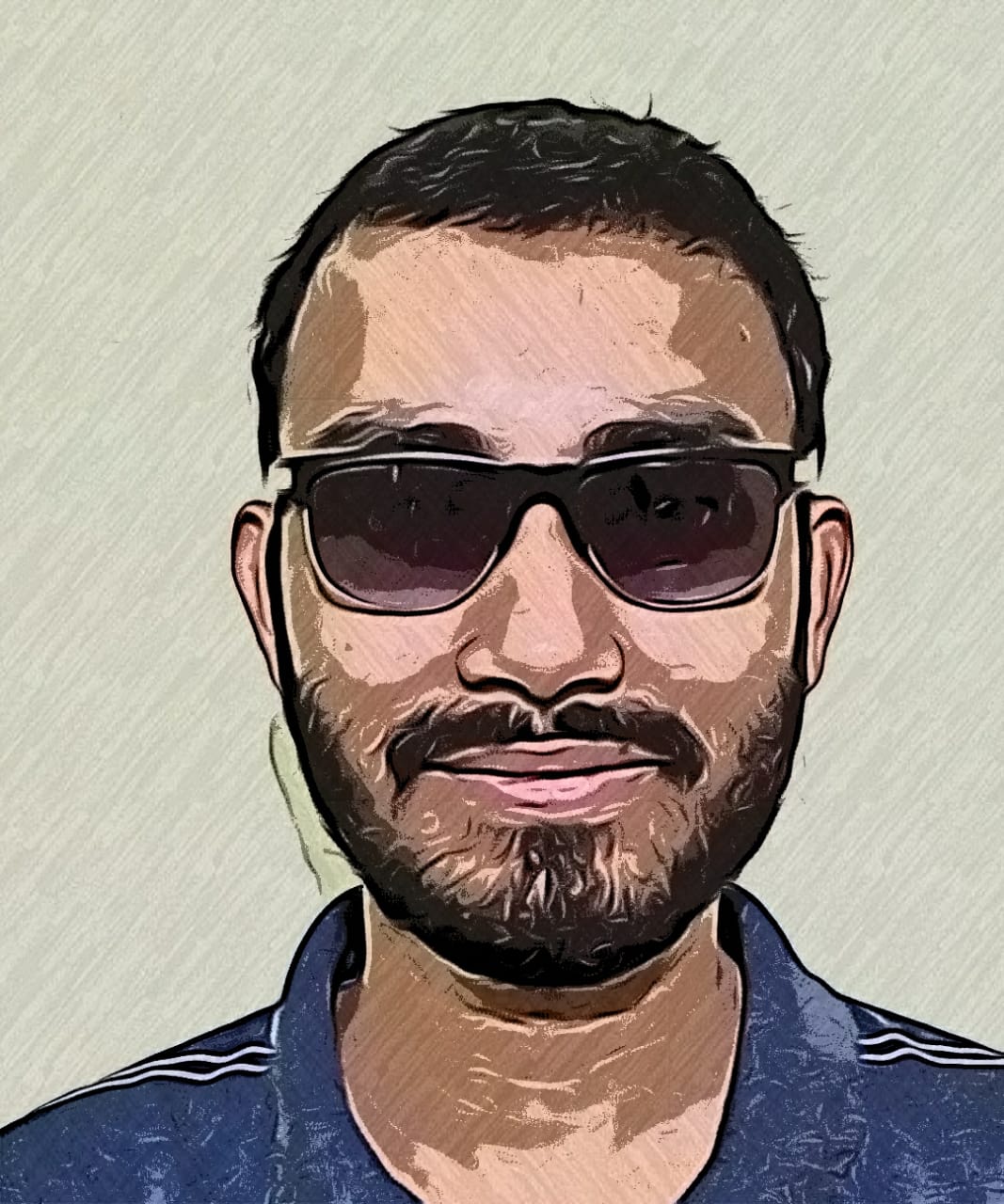 Aric is a tech enthusiast , who love to write about the tech related products and 'How To' blogs . IT Engineer by profession , right now working in the Automation field in a Software product company . The other hobbies includes singing , trekking and writing blogs .