Best Adblock For Chrome – Get Rid Of Annoying Ads Now !! (Best Google Chrome Adblock Extension Available)
As we all know that Google is basically an advertising agency rather being a search engine. The only source of income for any free blog post like ours is the advertisements that are displayed on the site (post). And this is indeed disturbing and annoying for some individuals.
So if you are one of them, then you will ideally search for an ad blocker , at some point in time . Provided there are so many choices available, in this post, we will explore the list of the best Adblock for Chrome available. So sit back and enjoy reading the AdBlock Chrome extensions you may use.
Note : Blocking Ads may improve your user experience (ads-free browsing) . But at the same time, it will hamper the revenue of the free publications and thereby risk the ability of media to provide otherwise free content.
What Are These Adblock Chrome Extensions ??
Before we look into the list of ad blockers on Chrome , let us first understand what exactly they do . There are so many features available with these ad blockers apart from only blocking ads .
You can easily select the kind of ads you want to block and the sites you want to view as ads free . (by whitelisting them)
You can further stop the browser to keep a track on you and the cookies history (cache data) by modifying the settings in your ad blocker easily .
So these ad blockers further help you to stop the data tracking malicious bots to steal your confidential data . (thereby providing the privacy and peace of mind)
So if you want to get rid of the spammy pop ups , video ads , banner ads etc . Just proceed further for the consolidated list of the top AdBlock Chrome extensions you may implement in your device at once .
List Of The Best Adblock Chrome Extensions Available !!
It is really difficult to make a wise decision of choosing the best ad blocker for Chrome.  So to make your task easier , we have a well-sorted list of the widely used ad blockers here . From the tons of choices out there , here come the best ones :
AdBlock 
AdGuard
Ghostery
AdLock
uBlock Origin 
AdBlocker Ultimate
 Trustnav
AdBlock Plus 
We will now dig deep into each of these for their merits and demerits respectively in the later sections .
List Of Free Adblock Chrome Extensions Available !!
Now we will look into the list of free ad blockers here :
AdBlock 
Adblock Plus 
Ghostery
Adguard
AdBlocker Ultimate 
Note : The above list is in a specific order based upon the usability and features they offer. So you can select any of the above as per your requirements and usage .
Detailed Analysis Of  The Google Chrome Adblock Extensions Available !!
Now its time to explore the detailed review of each of the AdBlock Chrome extensions mentioned above . So sit back and read further .
1. AdBlock – The Best Chrome ad blocker in our List !!
As the name suggests, Adblock is the best ad blocker for Chrome in our list . This is completely free and offers many features to keep you away from the disturbing online advertising  The top feature we liked about it is the online streaming services adblocking .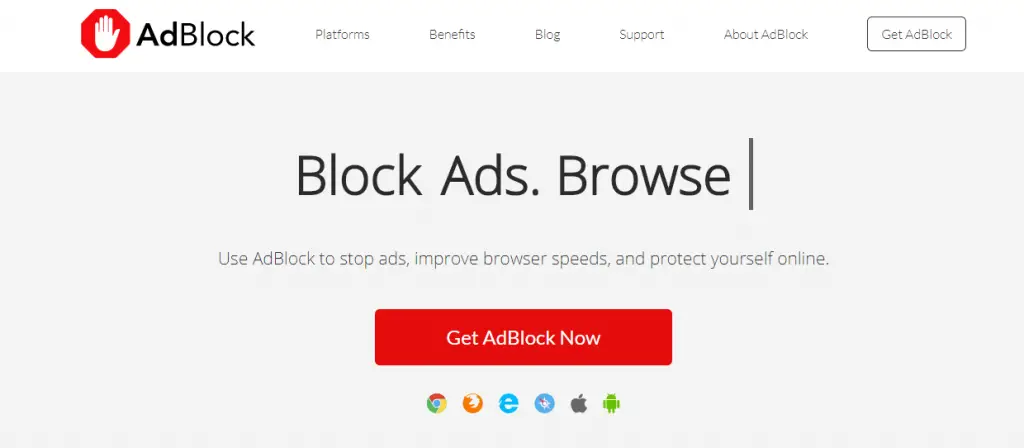 So with Adblock , you can even block ads on Youtube and other streaming service . From its settings , you can easily filter the ads you want to see , even you can whitelist the sites where you want to see ads . There is a default option of ' Acceptable Ads ' present here . (this is built-in)

By default, Adblock comes with an optional "Acceptable Ads" feature that allows certain safe and non-intrusive ads. This can be turned off in the settings if you want to block all ads .  There is also a preset filter available and this is little resource heavy to use .
The other best things include the customization options present in this , you can easily customize your web browsing experience so that only ads you like are shown, or uncheck it all and block just about everything.
Additionally, AdBlock doesn't store any of your browsing history and never asks for any personal info while installing the extension in Chrome .It prevents the banner ads from downloading within the content you're reading and stops commercials from showing .
So it is highly recommended ad blocker in our list , just install the extension and be rest assured of the regular updates . Moreover it is completely free , just go ahead and enjoy the ads-free experience right now .
2. AdGuard – A Good adblock Chrome alternative !!
AdGuard is the next feature-rich ad blocker for Chrome . In this, you can even block the sites from capturing your tracking details . With its tracking protection filter , you can easily stop sharing your tracking details online . You can easily block any online advertising .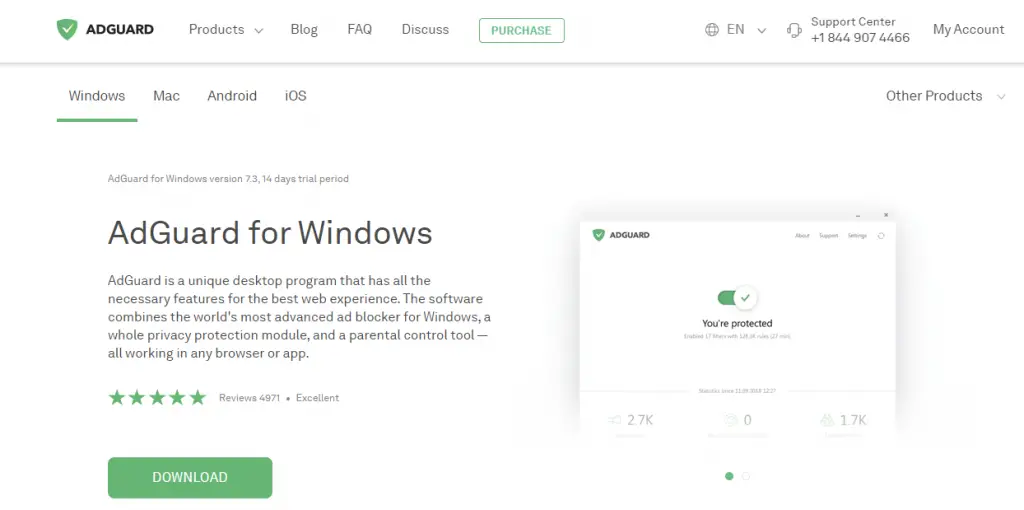 So with AdGuard , you can precisely block the Youtube (on any online streaming application) , Facebook , static page ads , social networking ads etc  . You just need to install its lightweight  Chrome extension and enjoy its ads blocking services efficiently. 
You may even install its web clients or the mobile application to further use its enhanced and more advanced features seamlessly . AdGuard claims its adblocker tech as the most advanced in this space (not verified) . So with this AdBlock Chrome extension, you can further increase your web browser speed . 
It has an advanced function called Element Blocking that prevents any unwarranted or undesired content from appearing on your screen. So with this, you can easily block the spammy adware and pop up ad networks . 
3. Ghostery – One of the Innovative Adblock For Chrome !!
Ghostery is the best tool for blocking web trackers and cookies capturing sites , thereby providing the required privacy you desired always. It further stops site analytic programs and prohibits video ads from automatically starting. It blocks both pop-up and banner ads in online content .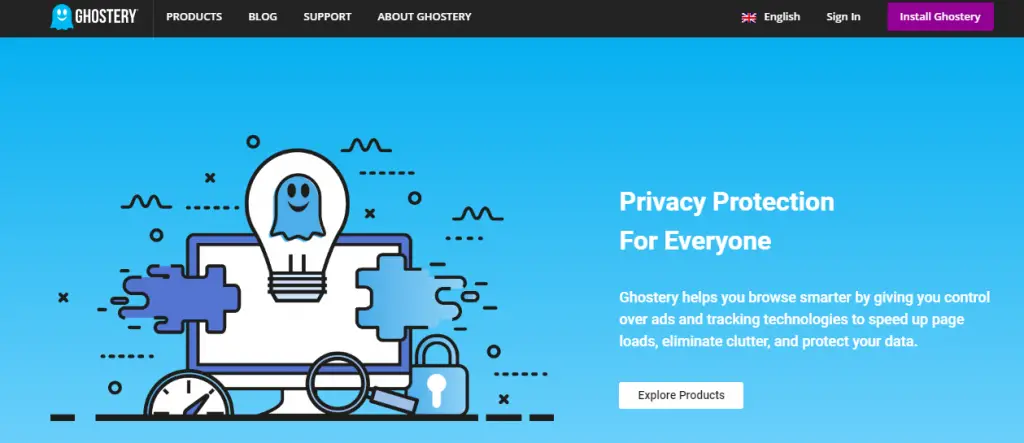 The Ghostery extension efficiently blocks online ads , adult contents ,and site analytics trackers easily by changing the settings in the Ghostery application . This is highly customizable , and you may initially find it difficult to get used to it . 
Additionally , there is one thing that is indeed praised worthy i.e Ghostery will not capture your browsing history or any data (unlike other ad blockers) to enhance their offerings and improving their service . Ghostery breaks down every page you visit with detailed information on the types of trackers and ads being employed by that particular site . 
4. AdLock –  A worthy ad blocker option indeed !!
Adlock is also a strong contender in the adblock Chrome extension space .  With this, you can easily block the annoying ads and even set protection filters in the advanced option . This further comes with the tracking protection feature . 
This little app will shield your data from phishing and malicious websites, all kinds of spyware and malware while also removing nasty advertising from the web pages. There is also a feature called ' safe browsing option ' , this is totally based upon the Google's list of malicious sites . 
So it is present for Android and Windows platforms as of now. Whenever you try to access any malicious site , AdLock will give you an alert message by warning you the same . You can then decide if you want to open it or not.  
5. uBlock Origin – The most advanced Chrome ad blocker !!
uBlock is a free and open-source adware blocker application . With this you can easily block the intrusive ads , trackers , malicious codes , annoying pop up ads etc . It further allows its users to choose separately whether they block pop-ups, large media elements, remote fonts and JavaScript, all while remaining lightweight on the browser.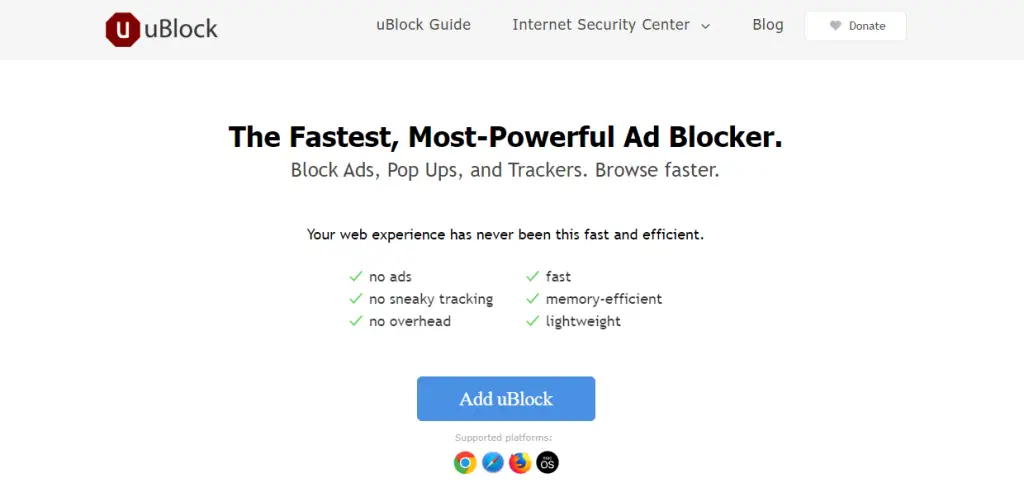 Individual sites can be whitelisted by hitting the big power button inside the tool itself, and there are detailed stat breakdowns .
You can easily choose the lists of ads you like to block, including the banner and online video ads, but can create your own filters based on lists of host files. uBlock Origin also stops some malware and trackers to steal your browsing data . 
6. Adblocker Ultimate – A truly Great Chrome Ad Blocker in the list !!
 Adblocker Ultimate will block all the ad types for you , i.e. banner ads , pop up ads, etc along with all the clutters that exist along with the adware codes completely. It doesn't have a whitelist , so there is no way to make an exception for an ad or pop-up to get through .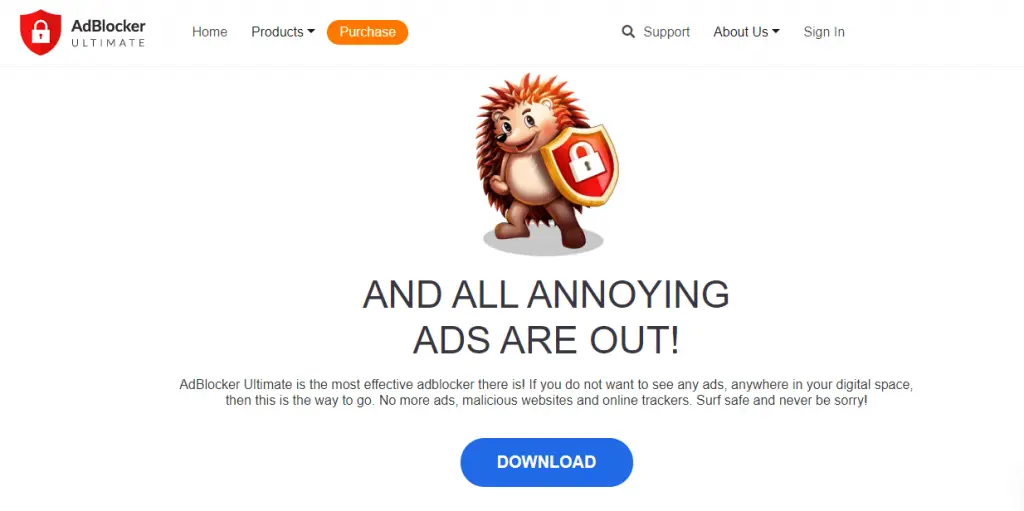 It is specifically designed to furnish you the enhanced security and privacy  features . It will block all the spam ads and phishing codes that can anyways cost you a lot , at the same time giving you an ad-free experience . It is present in almost all the browsers as extension i.e in Chrome , Safari , IE , Firefox etc . 
7. Trustnav – A good Chrome ad blocker !!
Trustnav is the next option in our list of ad blockers available . You can use Trustnav to get rid of banner ads, popup windows, video ads and stop advertising companies from tracking your moves online . It also offers tracking protection for its users.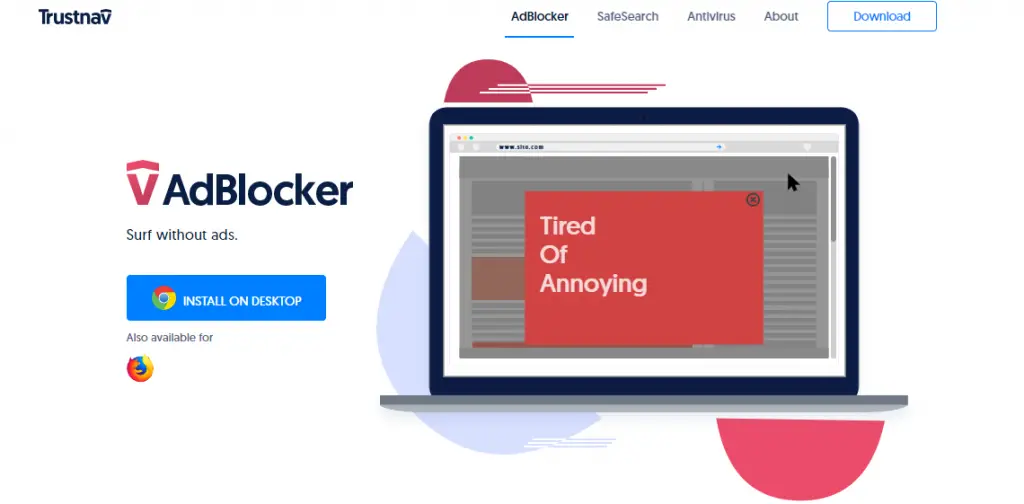 It claims to be the fastest Chrome ad blocker present (not verified) , and also very light weight to use overall . So it is not so resource-heavy to use . With this, you can even block the Youtube ads and protects against phishing attacks and malware . 
It further saves your bandwidth and eventually improving the web browsing speeds to offer you the required privacy and security . 
8. Adblock Plus – Last but not the least !!
Adblock Plus is our second most recommended Chrome adblocker application . It is indeed very simple to use and has a user-friendly UI . You can easily block the annoying pop/text/video/social network ads , and can also set domain list to filter out the blocking functionality.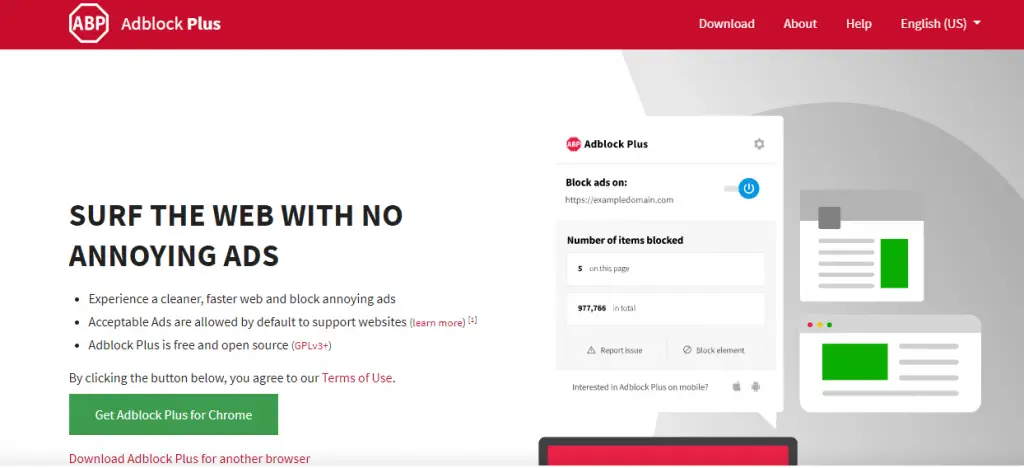 Please don't confuse this with the Adbock we mentioned earlier in this post . Both are completely different . AdBlock Plus blocks ads with trackers and malicious downloads attached to them but does allow legitimate, or acceptable ads through that tend to help websites earn a little bit of revenue . 
There is a feature of ' Acceptable Ads ' , which is on by default. Due to this, it displays some safe ads on the web pages . This you can however block by changing the settings .  So with its whitelisting option you can decide the sites that you want the ads to be displayed . 
It offers a comprehensive ad-blocking service to all who install its Chrome extension by blocking the unwanted ads whatsoever. So go ahead and try this great AdBlock Chrome extension . 
Do You Really Need An Adblock Chrome Extension ??
Every free blog post offers you the valuable information you search for , in return they display ads to earn some sort of revenue (ads is the sole monetization for any website to earn some penny) But sometimes it may happen that the ads displayed are indeed very intrusive or includes abusive adult content . 
Ads can also hamper your online productivity by distracting your mind . Further, there may be sites tracking your browsing data and cookies history to offer you the matching content and ads . To get rid of all these you can surely opt-out for a nice feature-rich Google Chrome adblocker extension .   
So if you really want your Chrome browser to remain ads-free and also not providing your system resources to load these unwanted ads in the web pages , then a good Adblocker is what you should try asap with out any second thought. 
Best Adblock  Chrome  Extension – Final Thoughts !! 
So if you are really concerned about your online privacy and security , by not sharing your tracking details and cookies history with your ISP and search engine . Then it is indeed imperative to install one Chrome ad blocker form the above-given list . 
You can easily avoid the malicious adware (ad codes) , phishing sites, and spam links to steal your confidential data by implementing a well praised and feature-rich ad blocker right away . Some websites are even utilizing crypto code to mine cryptocurrency in the background, at the expense of your hardware and your electricity. 
Hope you can now make a sagacious decision of choosing a good Chrome adblocker from the above list quickly . You can enjoy all the basic functions in the free version itself , but if you spend some extra penny then you can get even more advanced features .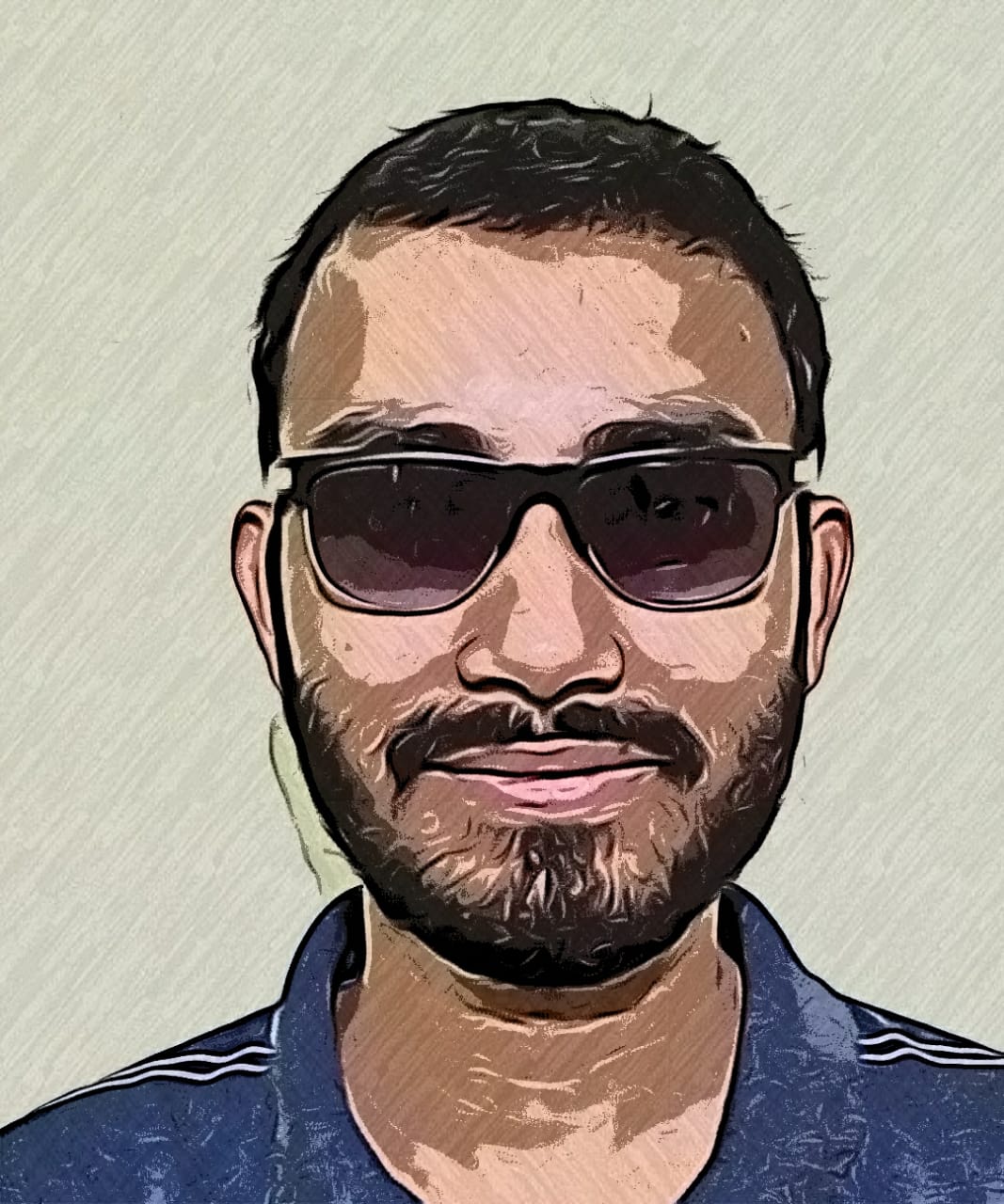 Aric is a tech enthusiast , who love to write about the tech related products and 'How To' blogs . IT Engineer by profession , right now working in the Automation field in a Software product company . The other hobbies includes singing , trekking and writing blogs .