Top 10 Most Popular Network Mapping Software In US – Network Map
Spoiler – This post is long yet interesting !!
We already know that network topology basically conveys how any number of networking devices is arranged and interrelated to each other. In order to manage any large interconnected network , network management plays an indispensable role. In the nutshell, we can say that network mapping software is indeed the backbone of any complex network in today's world.
When any organization/company expands to multiple geographies, it becomes really impractical and very hectic to maintain an active network map of all the devices. Moreover, in order to debug any static network diagram in a scenario of any network failure or performance issues is simply a daunting task completely.
What Is a Network Mapping Software ?
Before we dig deep inside each software, you may want to have a basic idea of what we are exactly talking about. So Network mapping is basically a methodology used for the visualization of the virtual and physical network connection of the networking devices.
Network mapping mainly helps in simplifying any complex network into smaller pieces and thereby making the management and maintenance process much simpler and less tedious.
Most network management and monitoring tools include this inherent network mapping functionality in it.  Scanners usually detect the network with all its components and prepare the list of devices. This can further be utilized for the creation of network topology or a network map.
Network mapping tools thus help in the integration process of scanning and mapping and it then maps any network automatically.
There are many automated network mapping software present in the market , but still, sometimes it's better to manually create the complete network topology mapping using the mapping software present.
Manually created mapping is many times more efficient and realizable (my personal view though).
If you are short of time, then you may directly skim through the network mapping software list given below and can read through each of them in the later sections of this post.
SolarWinds Network Topology Mapper
Microsoft Visio
NetProbe
Lucidchart
Intermapper
netTerrain Logical
LANTopoLog
LANFlow
ConceptDraw Diagram
Network Notepad
Network Topology Basics
Let's first recap some of the basics  regarding the  different topologies  (you may directly go into each of these by clicking on the link) :
So now with enough ammunition in our bag, we are now ready to jump into our main topic i.e the top 10 network mapping software used in US. So let's have a sneak-peek into each of this one by one :
1. SolarWinds Network Topology Mapper
This software scores a ton over all other software present in the market . It provides a much-needed solution for network mapping along with some cool reporting features. It can also automatically map any network and further it has the ability to create the hardware inventory.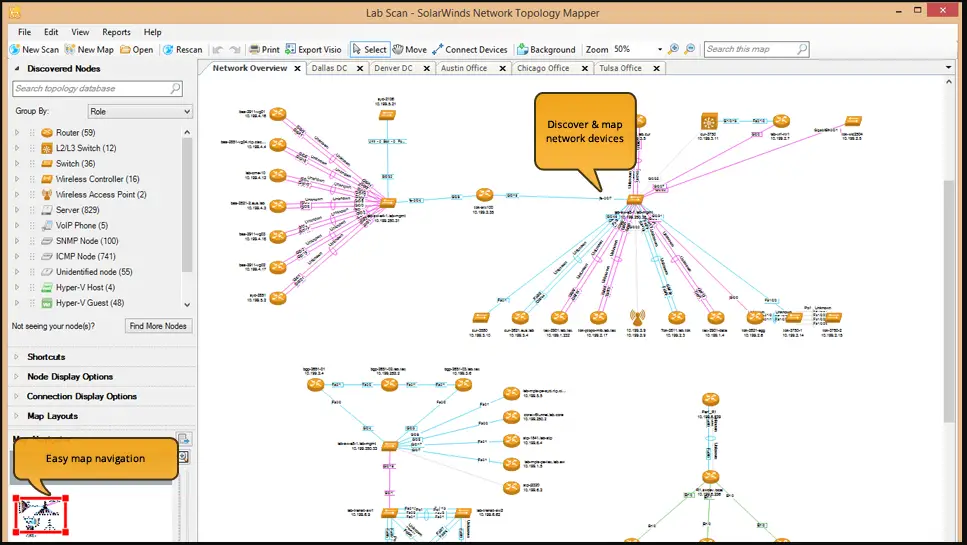 You may want to locate the devices by choosing whether the discovery procedure uses SNMP or ICMP . The mapping discovery procedure can also plot the infrastructure that composes maps and virtualizations, clients, to hosts for VMWare and Hyper-V implementations.
The resultant maps can be exported into presentation formats (and can be shared among the required task owners ) .
The map processing environment supports different network plans and can execute several perspectives from one scan. The icon library has a suitably diverse set of device representations to enable you to distinguish between types of network equipment visually on the map.
It basically scans a specific network and then generates network map reports. It then exports maps to  SolarWinds Network Atlas, PDF format, and MS Vizio. Further, it can also schedule tasks to detect any changes in the network (if any) . Lastly, it then generates inventory reports.
The discovery process implements several polling mechanisms including  WMI, LLDP, SNMP, and VMware enabling network topology mapping to detect each individual device on a network along with important information like device type and hostname.
This network mapper is further compliant with FIPS-2 and PCI standards. This software runs on the Windows environment and you can access it on a 14-day free trial.
2. Microsoft Visio – A Worthy Network Mapping Software !!
Microsoft Visio is mainly used to produce simple or complex diagrams. It also offers a wide variety of built-in shapes, objects, and plans to work with. You may further make your own charts and import them.
The main idea behind the emergence of the Visio is basically to make diagramming as easy as possible for the user.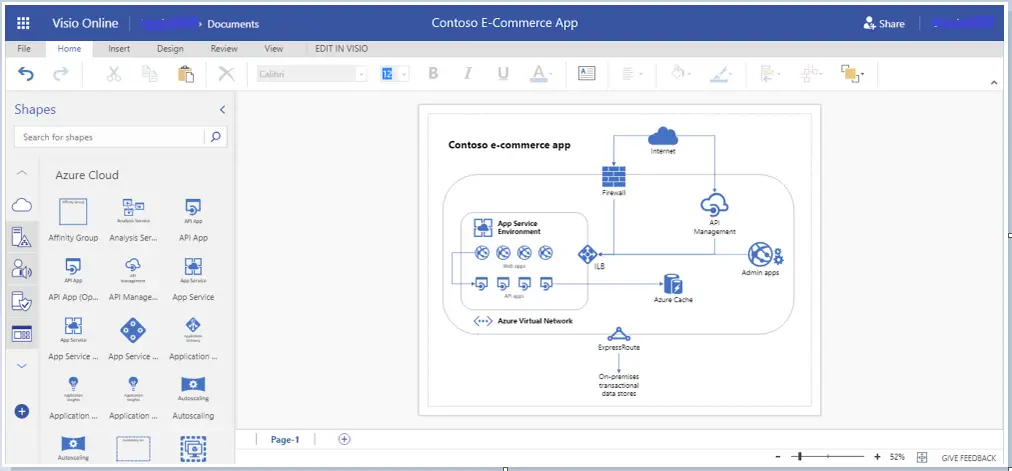 Microsoft Visio is a high-end chart and map generating tool and is very much in use throughout businesses for a variety of tasks. Many other external applications enable the network topology maps to be exported to Visio, so you can surely use this tool in order to consolidate the required information from any range of sources.
Basic networking devices like Hubs , Bridges, and Repeaters in brief here !!
Visio can be used to create 3D map diagrams, with the help of the built-in tools for this are limited. It works well for simple maps that you might print on a brochure or campus directory.
It further includes the IT icons and built-in network design templates to speed up your mapping tasks. Visio runs on Windows environments and is also available online. It can be bought individually or added to Microsoft Office 365 at an additional cost.
Lastly, it should be mentioned that with this tool we can easily integrate (by pulling) the live data from any database or any external excel sheets within our network chart for mapping purposes.
Check out the SDN network details here !!
3. NetProbe – A Feature Rich Network Mapper !!
It is a networking device monitoring methodology for integrating graphs, alarms, GPS tracking, notifications, and actions onto a rich graphical representation available through a Web browser as well as a dedicated application.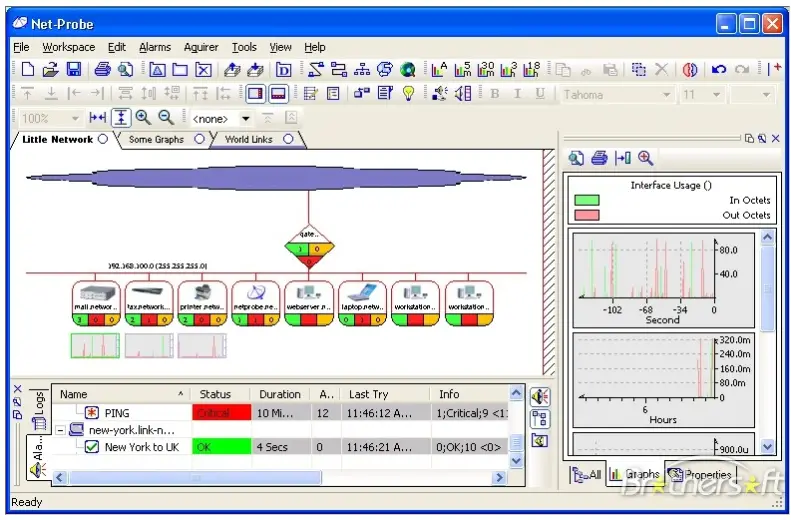 The type of information collected by the Netprobe is determined by the Plug-ins that are activated. For the majority of cases, the Netprobe needs to be installed onto the server to be monitored. For some Plug-ins the Netprobe can be installed onto any server that has access to the required information
There is also a classic network diagram format already built in the tool. The autodiscovery feature will further execute a hardware inventory for you, so if you are organizing your network, you can ignore the generated topology plan and work from the hardware list. A live map will show device statuses on equipment icons and also list alerts on a separate screen.
The software runs on Windows and the Standard version is available for free. This will monitor up to eight devices.
Steps to clean Safari browser cache !!
4. Lucidchart
Lucidchart is a web-based platform used for generating charts and sharing drawings online. This tool further enables the live data to integrate into the flow charts and drawings as required.
Its import/export feature is one of the unique features it offers. However, you may miss the auto-discovery feature like in other tools for the monitoring devices.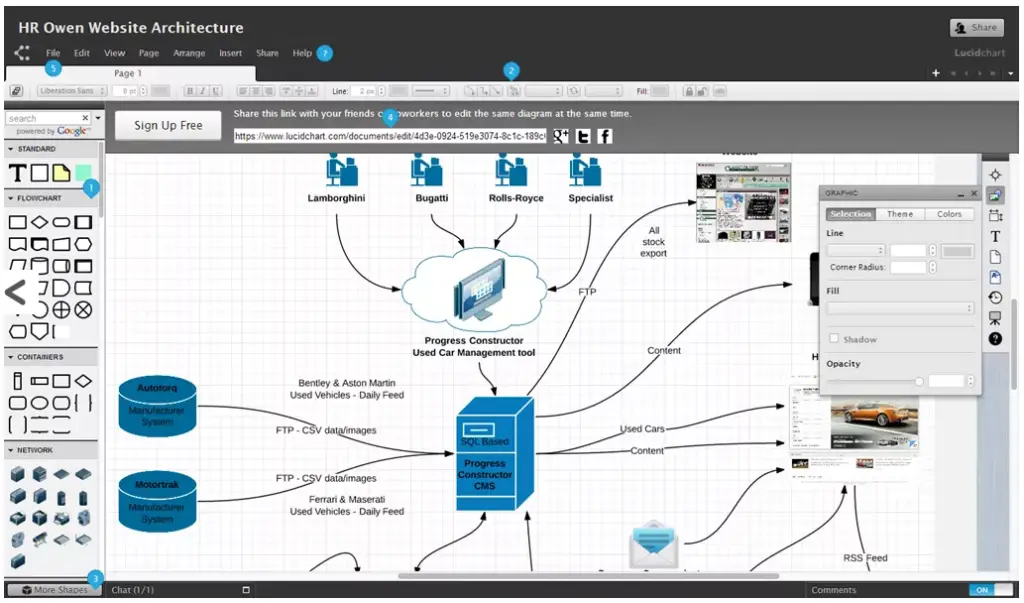 It is simply a flowchart generation tool that has a specialized icons repository for a range of industries, including network topology. You can import and export maps in a range of formats, including Visio. It also enables you to import/export plans from an existing tool.
In the free version, you can not get the import/export functionality. It will charge you on a per-account basis. The software for the service installs on Windows, Linux, macOS, Chrome OS, iOS, and Android. You can try the paid version for free for seven days.
5. Intermapper
This tool is basically available in two flavors i.e both the free and paid versions. It can also automatically generates the required topology mapping and helps in furnishing the discovery services for any complex network .
Additionally, you can also build your own customized map starting from scratch with the help of various customization tools and inventory lists.
Check out the details about ICMP and Network topology here !!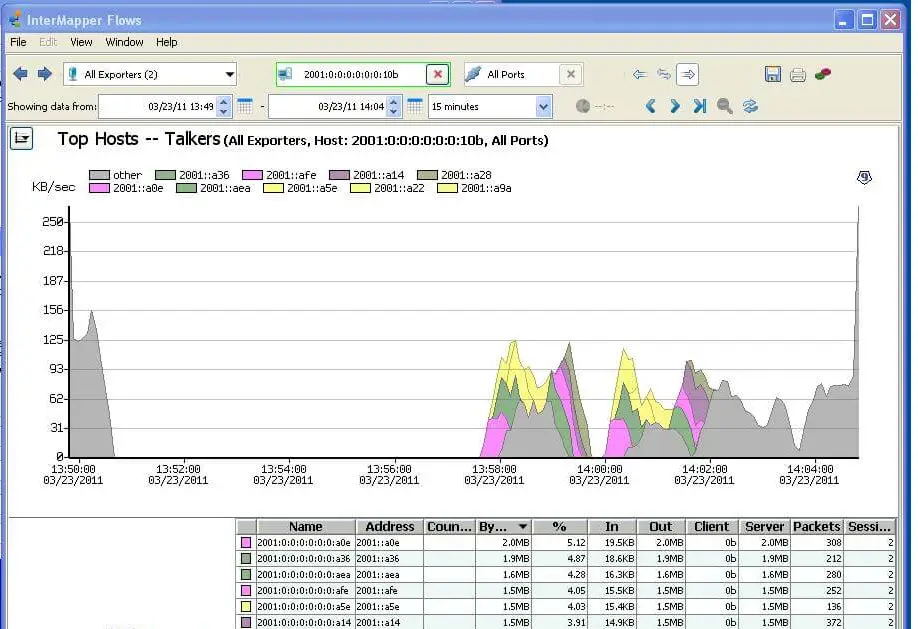 The free version provides monitoring services only for a limited number of monitoring devices (10 I guess) . For the paid version, you may pay the fee one time and it will charge you on a per monitoring device basis. This tool can be operated in macOS , Windows, and Linux environments.
It also has a facility to store the monitoring data and thereby helps in providing the maintenance and planning services for any respective complex monitoring network.
It is a software that provides live network mapping and monitoring for Windows, Linux, and Mac. Intermapper by helpsystems provides network managers a true picture (by means of the live report) of what's happening on the network at any time. The software is easy to install and very user-friendly.
6. netTerrain Logical
This product is provided by Graphical Networks along with much other monitoring and network management software.
This tool basically combines the feasibility of a powerful drawing tool along with the automation of the discovery tool for any network monitoring device.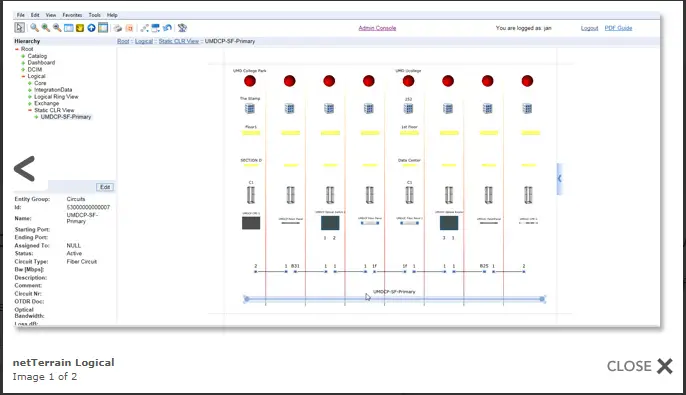 With this tool, you have the flexibility of visualizing everything and implement the changes from one single panel. It can further fetch any assets, ports, layer 3 links, and much more using protocols such as SNMP or by tapping into your existing operational tools.
Additionally, it will populate fields with data along with the import functionality from the Microsoft Visio and external excel sheets (and databases) . Also, you can experience real-time capacity planning dashboards.
Lastly, it also makes use of the Business intelligence design tool for customization and for implementing a wide variety of monitoring devices for topology mapping purposes. The tool installs on Windows Server 2008 and higher. You can get a free demo of the system to try it out before you buy.
7. LANTopoLog
The network topology discovery function works without any limitations in the unregistered version so LanTopoLog provides a free network mapper for an unlimited time. It provides the information displayed on the map gives you a very straightforward realization of all the network data that you need quickly.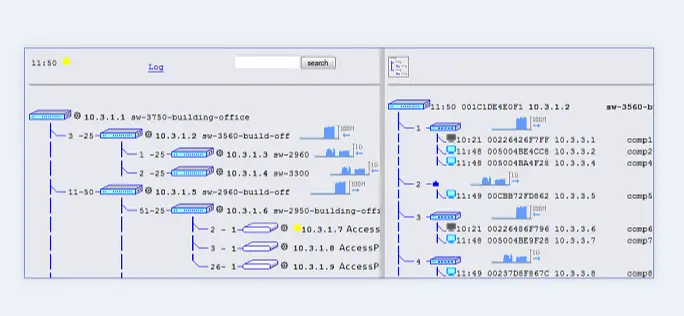 The tool includes a network discovery facility, which is based on SNMP. The resulting map, which is drawn automatically, shows each of the devices in your network and the devices that it connects to. It depicts the tree chart of all the host devices in the network along with the IP addresses of each of them. It also provides the port numbers and the hostnames.
Additional features include generating alarms when there are failures in the network and email notifications. Web browser-based access from anywhere in the network is also there .
It also notifies the administrator when traffic thresholds are exceeded. This tool is also very convenient and user-friendly in use. This software runs on Windows environments. It is completely free to use .
8. LANFlow
LanFlow Net Diagrammer is produced by Pacestar Software. LanFlow Net Diagrammer is a drawing and graphics tool for laying out and designing a network, LAN, internet, or other communications network system.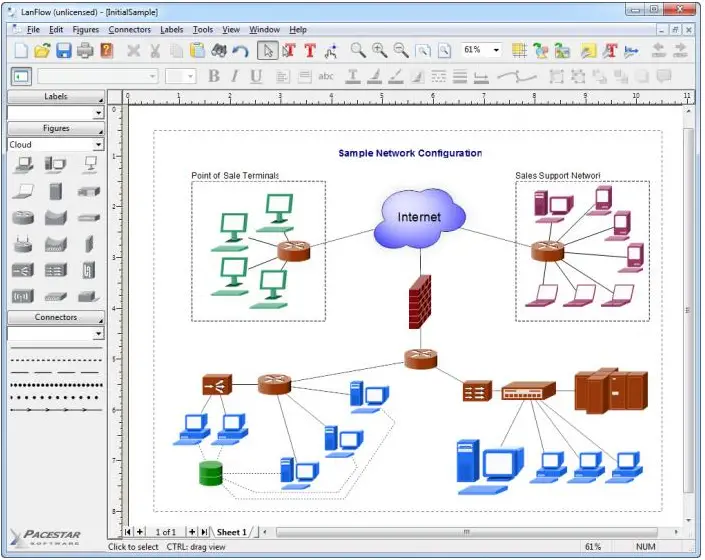 The package includes repositories of many 2D and 3D icons and formats to enable you to create your own network topology maps. You can also create your own icons or import them from other graphics tools. Drop-in components like computers, workstations, and servers and then connect them with lines and cables of all sorts.
You may choose your own components from the built-in symbols, icons, and clip arts or add your own using any Windows metafile, bitmap, or JPEG (web) graphic . The editor provides a drag and drop based functionality that allows you to select icons from a side navigation panel and drop them on the visualization board.
This is a paid product (but anyways you can get 30 days free trail) . In the free version , it will print a message in every network map it will create (hence not much recommended). The software installs on Windows . 
Check out the various Lan , Wan , Man and Pan network details here !!
9. ConceptDraw Diagram
ConceptDraw Diagram is a map-creating tool that has customizable icons and templates for network mapping. It supports its own embedded scripting language and the XML formats for complex designs and graphics . You can import and export maps in various formats, including Visio.
The tool also integrates with a range of visualizing software, including Google G Suite. It can be termed as diagramming software used to create business graphics and visualization.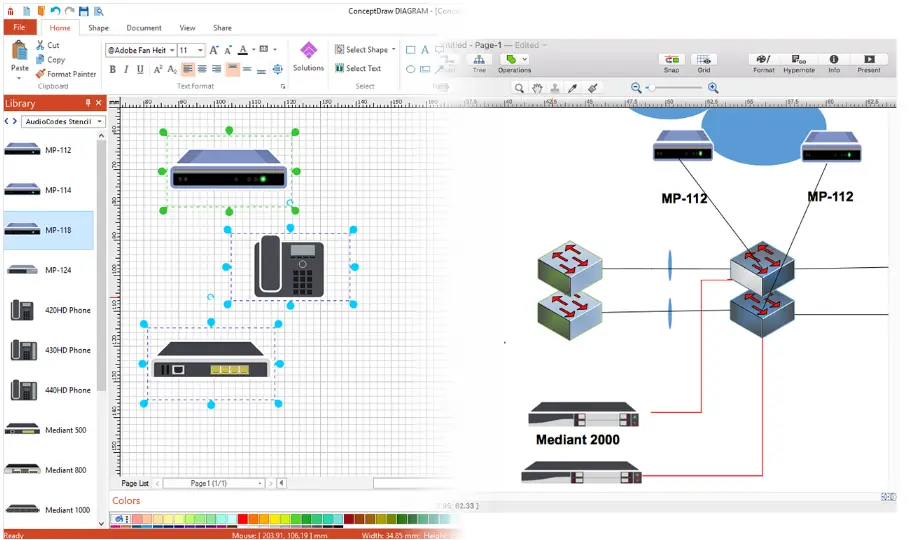 It also has import/export functionality in order to retrieve the existing graphics from the Visio format. This tool can be bought individually or as part of a tool package, called ConceptDraw Office.
That suite includes project management and planning features. The software can be installed on  Windows  or macOS.
Check out the best Adblock for Safari browser here !!
10. Network Notepad
Network Notepad is a utility for drawing interactive network diagrams, with user-definable management features such as point and click telnet, FTP, HTTP, and Ping.
The objects can be selected from the supplied library and dragged into the diagram, where they can be linked together using different link styles.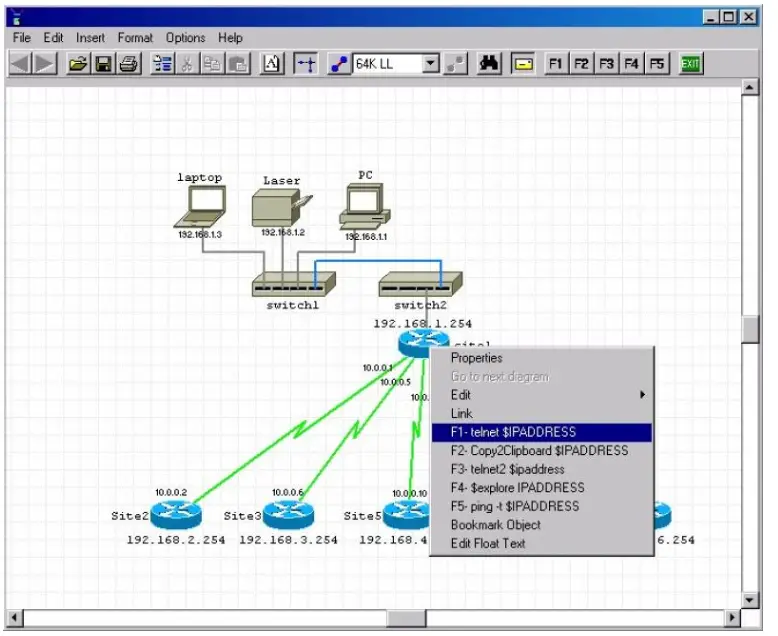 Network Notepad is further available both as free and paid versions. The software runs on Windows . You can expand the paid mapper, which is called Network Notepad Professional Edition, and make it into a network monitor by adding on NNMonitor, which is a Ping tool.
The diagrams can be linked with other diagrams and you can also call any third-party application with the IP address or object name supplied as the argument.
You can also export your network diagrams as a bitmap file. The editing screen gives you all of the icons that you need to clearly depict your network and the map is built using drag-and-drop.
Best Free Network Mapping Software
Despite all the above-mentioned mapping software, you can also have a look at the free feature-rich network mapping tool. The software which is worth mentioning here is Spiceworks Network Mapping. 
Read this for various networking devices like Router , Gateway and Hub in Network mapping !!
Spiceworks Network Mapping
Spiceworks mapping tool offers a wide variety of tools for IT Admins,  their Network Mapping tool is one of the best free options available today.
It auto-discovers your required network, and it also sends alerts to you of any changes or errors within it. Spiceworks Network Mapping allows you to create a map, check bandwidth usage, diagnose issues, and helps to debug the underlying network node details.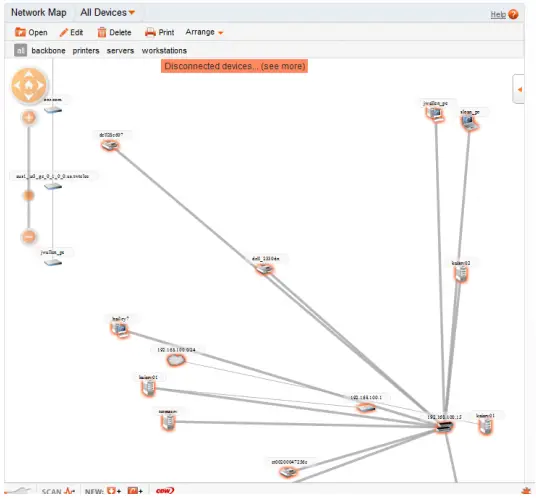 The design editor panel of the Spiceworks Network Mapping tool enables a user to adjust the generated network map. However, if you keep the automatic update feature on, then it will erase all your customized changes altogether (biggest drawback).
The map further provides live updates of the bandwidth usage of each device and thereby helps to find the culprits in any network model.
You can install the Network Mapping tool on Debian and Ubuntu Linux and on Windows and Mac OS. This is completely a free tool and with ad-supported (again a drawback) .
Check the solution for Adventure Sync Not Working Issue in Pokemon Go Here !!
Finally, we have reached the end of this long post. I hope you like it. Also, let me know which network mapping software you want to use personally in the comment section. So stay tuned for other interesting stuff ..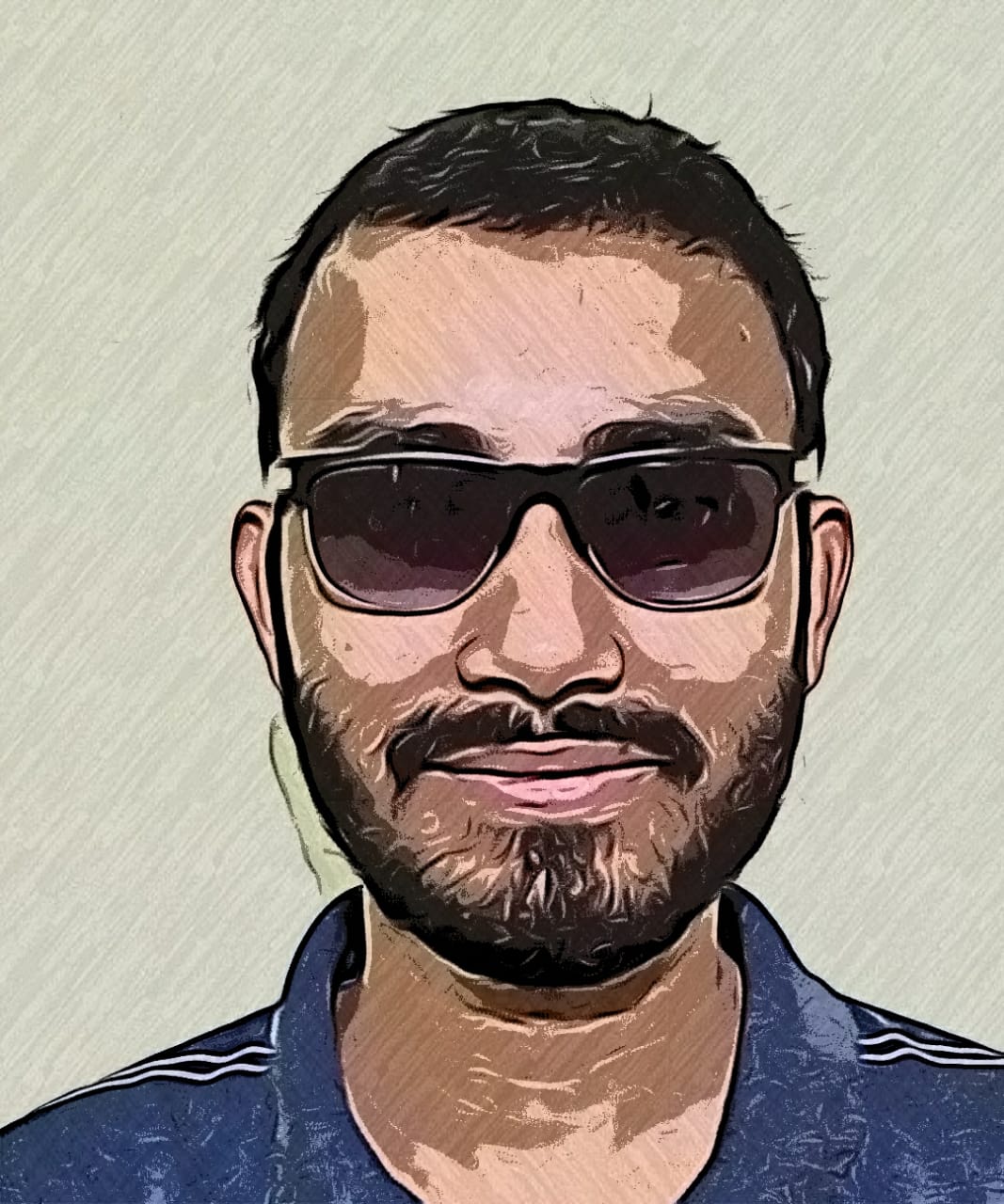 Aric is a tech enthusiast , who love to write about the tech related products and 'How To' blogs . IT Engineer by profession , right now working in the Automation field in a Software product company . The other hobbies includes singing , trekking and writing blogs .