The Art Of RPA (Robotic Process Automation) – A Definitive Guide !! ( RPA Tools , RPA Vs BPM , RPA Technology )
The concept of automation exists for quite some time now. But its outcome is indeed limited to mostly the production facilities, warehouses, and factories. A research done by Vrije Universiteit, Amsterdam has found out an interesting fact, the productivity has increased by 75% at factories , on the contrary, it is up by only 3% in offices .
Office productivity has not been improved much with the emergence of advance cloud computing and AI . In this post we will explore the various aspects of Robotic Process Automation (RPA) that can be implemented to achieve exponential growth in the office productivity segment .
Need Of Process Automation in Enhancing Productivity !!
We typically spend more time doing repetitive tasks like form filling , excel data entry , fetching data, and then feeding it to some other system etc . So these repetitive tasks undoubtedly consume our precious time and don't allow us to do any value additions to our skills.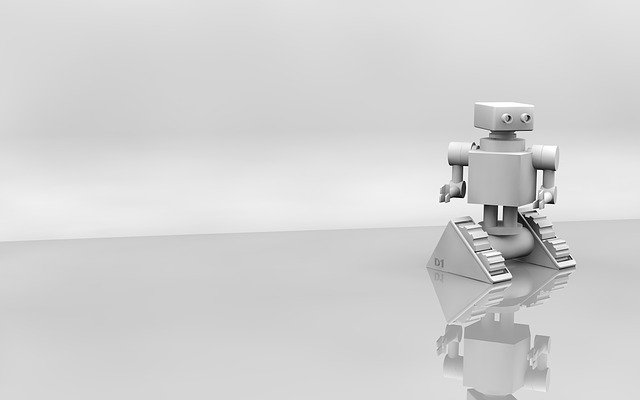 Here comes the role of the Automation process . Automation aims at changing your workplace as dramatically as machines of the industrial revolution changed the factory floor. Due to automation, there will be a huge impact on the jobs and also a rampant decrease in expenses for the businesses.
In order to achieve a high operating efficiency and support growth through optimal solutions , at the same time reducing the operating cost and drive in more value  , process automation is indeed the way forward.
Precisely there are two traditional automation processes being in use :
1. Enterprise Resource Planning : Integrated and well-structured management of core business processes such as product planning, resource utilization , sales, inventory management, and so on.
2. Business Process Management: This includes software application support in order to process the improvement and managing life cycle, which further assists in the integration of various enterprise applications.
The above-listed methods have their own limitations, process automation can further be achieved using the two genres of tools as mentioned below :
1. RPA (Robotic Process Automation)
2. Intelligent Automation (IA)
In this post, we will learn more about the Robotic Process Automation in detail.
Note : The process automation is no doubt more impactful than its counterparts i.e. AI and cloud computing , also automation not only affects the low-level jobs but it also helps to reduce 20% of a CEO's work (mostly paper works etc).
What Is Robotic Process Automation (RPA) ?
Don't get carried away with its name , there will be no robots that will accomplish your scheduled works . Rather you can term RPA as a software program that is tuned to work as a robot to carry out various stuff in office .
RPA can be defined as an application of technology that allows employees of an organization to configure a computer software (say robot), to capture , manage , synchronize and interpret any existing applications for processing a transaction, manipulating and  generating data, also triggering responses and communicating with other digital systems.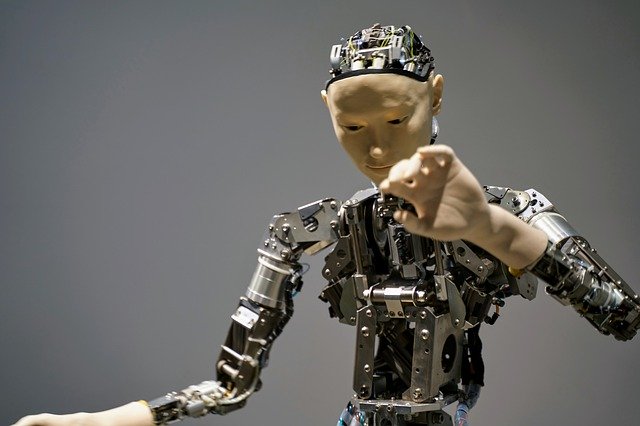 RPA accesses and addresses underlying applications through the presentation layer without modifying or affecting the core application logic and any specific business data whatsoever. RPA is a software that supports processes and it requires very minimal involvement of IT resources to get it up and running.
Features of Robotic Process Automation (RPA) 
1. Automate any process based on the predictive patterns and behaviors
2. Capable of learning, responding and adapting to new patterns , behaviors and situations
3. Can be configured to replicate various tasks that needs to be automated
4. It simplifies and makes the business processes dynamic which is more suitable for automation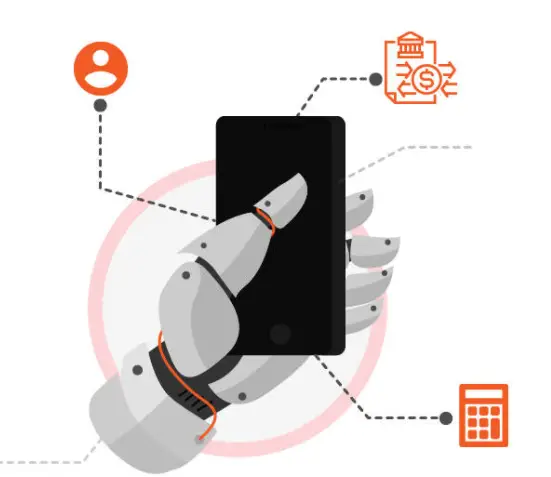 There are a total of three types of processes that can be automated using  RPA technology :
Repetitive: The same set of actions (repetitive actions) performed repeatedly.
Template driven: Data entered in specific fields (say patterns) in the same manner.
Rules based: Data processed by a pre-defined set of rules.
Some examples of the process that can be automated are conversions of file formats, reporting and tracking of data (including data analysis), email generation and extraction, periodic file storage etc
Different Approaches To RPA !!
Automation can be achieved through Robotic Process Automation indeed, but there has to be some initial trigger input to start the RPA process . Though a trigger is not necessary always. Based upon this factor there are two different approaches for the RPA to carry out the automation :
Assisted RPA
Unassisted RPA
Autonomous RPA
Cognitive RPA
Let us understand each of these first ,
Assisted automation basically runs on the user's desktop to support the manual activities (based on specific patterns). Series of automated steps triggered by users across multiple applications that leverage robots on desktops (software program). It enables a reduction in the task handling times (Example: call center).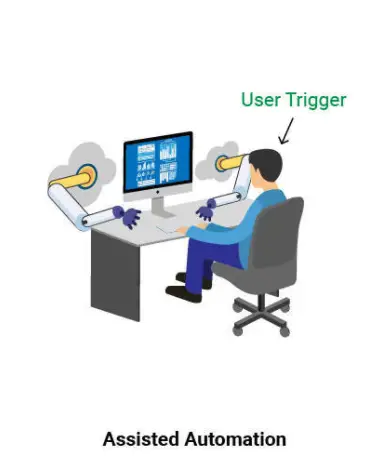 Unassisted automation processes performed by robots (software methods) on their own (fully automated). No user intervention (input trigger) involved except for scheduling and managing the robot workload. It enables the processing of structured data and information with clearly defined rules and protocols .
In Autonomous automation , there will be one master robot (central software program) governing, controlling, scheduling, and managing the workload of other robots to carry out the automation process efficiently.
Cogntive Automation is the most advanced approach of RPA , where Nextgen RPA tools are used and the robots have evolved to think and act (to take decisions).
Here the Robots can further perform complex tasks by applying natural language processing, data analyzing skills, and has decision making capability.
How Robotic Process Automation Really Works ?
A RPA module is placed on top of the existing applications that need to be automated. The need for creating and developing expensive platforms will be minimized. RPA mainly accesses the underlying applications through the presentation layer.
Then RPA performs structured tasks (based on repetitive tasks) as done by humans previously (through the UI using a login ID and password).
The programming logic of the underlying system application need not be modified. RPA tools don't store any data in its repository.
Different segments in Robotic Process Automation Module :
Developer Tools
Robot Controller
Software Robot
Now its time to deep dive into each of the RPA modules one by one in detail .
Role Of Developer Tools In RPA !!
In layman terms, developer tools are used to define jobs that have to be accomplished by RPA tool. You may now wonder what this job exactly refers to ? . So a job is nothing but a sequence of step-by-step instructions (steps or algorithm) to be followed for performing the business process (includes rules or conditional logic).
These developer tools are hosted on desktop PC and it simply provides detailed instructions to robots. A layered design is used to visualize any complex processes or tasks.
A layered design typically refers to the well-defined separation of functionality and logic into different parts that aids reuse .
The layer mainly includes processes(business rules) , subprocess (business logic) , objects (ways to perform a task), and components (individual screen interactions) .
The developer tool generally includes a drag and drop functionality, Simplified configuration wizards, and a Process recorder.
A Process recorder basically captures the sequence and behavior of user actions and speeds up the definition of a process (used in tools like Automation Anywhere and UiPath).
What Is Robot Controller In RPA ?
The robot controller can be termed as the key enabler for Robotic process automation and is also hosted on the server. Three key roles are:
1. Serves as a master repository of defined jobs. It mainly stores the credentials of various business applications. and also provides them in an encrypted form to robots when needed. It further assigns the appropriate roles and permissions to users. Further, provide the users with required controls, and workflow to govern and manage the process of:
1. Creating, Updating, Testing, Reviewing and Approving jobs that are assigned by the developer tools
2. Deploying jobs to the robot workforce and assists integration with mail servers, applications, and other systems to manage the users.
3. Assign jobs to single or group of robots and also keep a track on the robots , to Monitor and report on the robot's activities.
4. Prioritizes work queue based on the robot's status, capacity, resources availability , processes and transaction workload. ( like the Blue Prism helps to target important transactions first)
What Work The Software Robot Do Exactly In RPA Technology ?
Firstly , we may call these software robots simply as Clients or Agents.  The Robots reside on a desktop and carry out instructions by interacting directly with business applications based upon the specified jobs as seen above.
These client agents interact with the user interface first of a business application by Identifying the elements such as entry fields and buttons, based on their labels in the underlying application code.
Even if the fields are relabeled or buttons moved, these Agents are resilient and responsive. They are capable of performing ~600 actions at a stretch . Additional actions could be custom generated through code itself.
Robots are further capable of interacting with any wide range of applications. Agents could also record the details of actions performed and decisions taken, for process improvement or compliance and auditing reasons.
On virtual desktops where the Agents are not exposed to the application code, Agents still mainly rely on traditional methods such as pixel-based object location (relative to the edge of the screen or a position identified using simple image matching).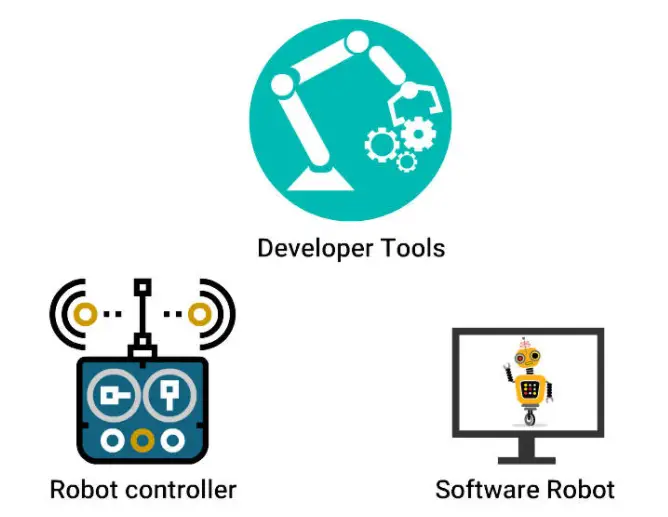 Some examples of tasks performed any these software robots are :
Opening emails, attachments, Logging into web/enterprise applications, Moving files and folders, connecting to system APIs , decisions and rules (Conditional Decision making if/then) , Extracting structured data from documents.
It can also includes extracting and reformatting data into reports or dashboards, Collecting social media statistics, Merging data from multiple places, Making calculations, Copy/paste data, Filling forms, Reading/writing to databases etc
Workflow Of A Typical RPA Module !!
The RPA workflow is briefly explained below.
Process developers must:
1. Specify detailed instructions to the robots for performing an action (defines a job to be performed).
2. Publish the required data to the robot controller repository.
The robot controller then assigns jobs to the robots and monitors their activities.
1. A robot located in a client environment (virtual or physical) performs the actions.
2. Finally, Business users review and resolve any exceptions or escalations.
Note : If you want to implement RPA for your business, you just need to configure the RPA tool instead of doing complex coding :-p
Robotic Process Automation Vs Business Process Management (RPS vs BPM !!)
You may now think that both RPA and BPM are interchangeable, but it is not so. Rather we can precisely say that RPA complements BPM and both are suitable for different business needs altogether.
Still there are some main key areas that we can look into :
RPA is all about creating software robots that mimic human behavior in a process environment. Whereas BPM is an approach to streamline business processes for maximum efficiency and optimal value addition to business .
RPA is designed for non-programmers to use, on the other hand, BPM required coding skills and IT expertise to implement the streamlining processes (like the CRM tools etc) . BPM solutions are developed by IT staff with coding expertise.
In layman's terms, we can say that RPA refers to the process automation by means of software robots deployed to carry out automation, whereas BPM includes all the hardware/software changes required to make the automation process feasible and easy for implementation by RPA .
RPA Tools Available In The Market !!
There are many RPA Tools present in the market, with the plethora of choices for you, here we will only list out the market leaders in the implementation of the RPA process automation :
Automation Anywhere 
Blue Prism
UiPath
Pegasystems
Nice
WorkFusion
Automation Anywhere (AA) is a market leader in RPA process automation technologies , AA's easy and seamless interface works over disparate platforms and applications. AA's primary targets are shared services such as procure-to-pay, quote-to-cash, human resources administration, claims processing, and other such back-office processes .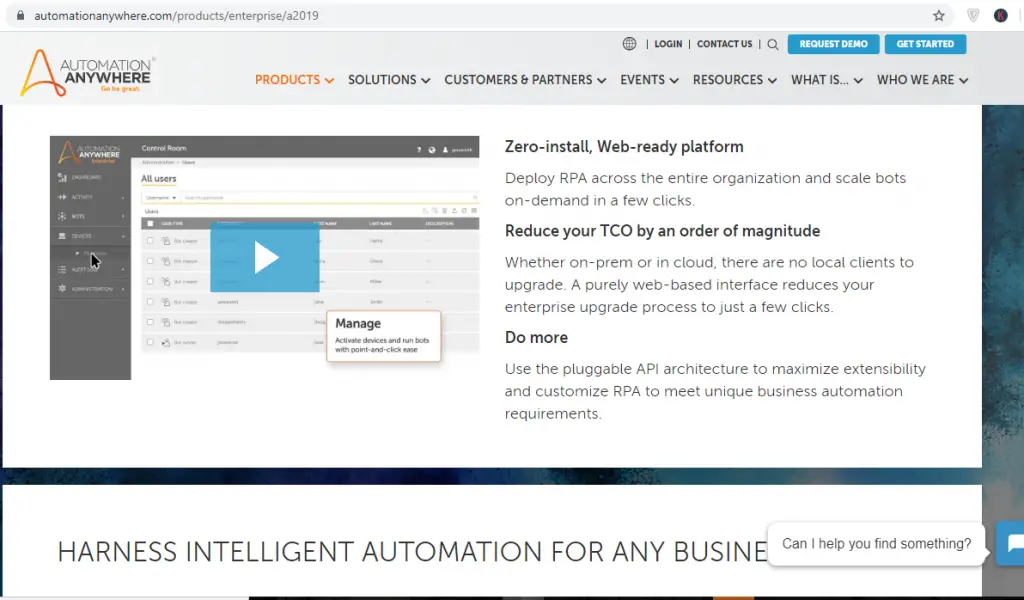 Blue Prism is second in our list , this offers robust, scalable and flexible automation platform that works across enterprise platforms in a non-intrusive manner . It focuses on secure, scalable, and central management of a virtual workforce of software robots in regulated industries .
UiPath provides rules based automation processes .It provides an open platform suited for complex automation. Robots run on desktops and do not require a separate virtual machine. UiPath hosts multiple products such as UiPath Studio, UiPath Robots, and UiPath Orchestrator.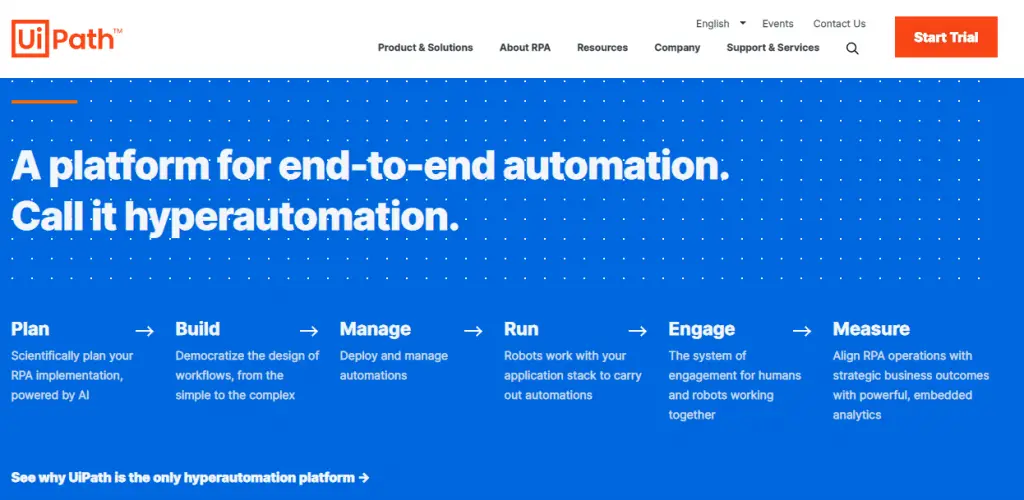 Use Of RPA Technology In Industries !!
The use of RPA is widely accepted in almost every field of business now . We will now explore the functioning of RPA process automation in some of the key domains .
Use Of RPA in HR Management !!
The aspects of RPA process autoation can be used in Timesheet administration, On-off boarding procedures, IT Management (password resetting , system management, access etc) , compliance reporting and benefits tracking etc
Use Of RPA In Finance Domain !!
In finance domain , RPA process automation can be used for Account closure and opening , Account audit requests claims and credit card application processing, statement generation etc .
RPA In Supply Chain Management !!
RPA process automation can be used here for Order Management , Items requirements planning systems , shipping notifications and customer complaints processing .
RPA Process Automation – Final Thoughts !!
Implementation of RPA is indeed the best thing you can incorporate in your office space to dramatically enhance efficiency and reducing the overall operating cost .
Better accuracy and high-quality Services you can furnish to your clients with increased scalability and reduced delivery risks to a large extent . Ultimately you can finally reduce overall IT workloads by increasing agility and improving accuracy .
Hope you really liked this informative post . Stay tuned for more interesting stuff in this series .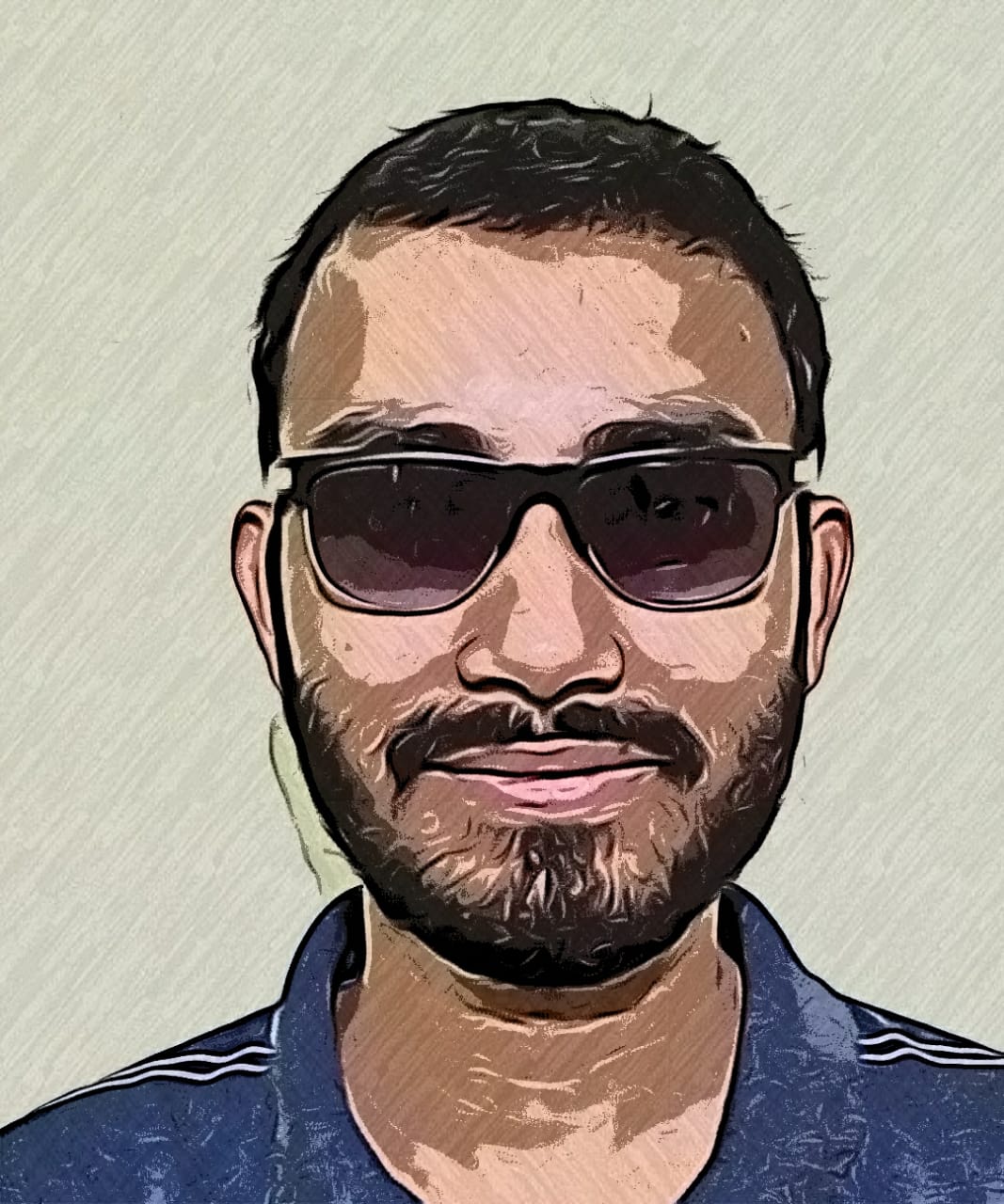 Aric is a tech enthusiast , who love to write about the tech related products and 'How To' blogs . IT Engineer by profession , right now working in the Automation field in a Software product company . The other hobbies includes singing , trekking and writing blogs .